On the road to natural gas in the waste and recycling industry
Insight from Cummins Westport President Jim Arthurs, on the origins, success and future of the driving force behind the switch from diesel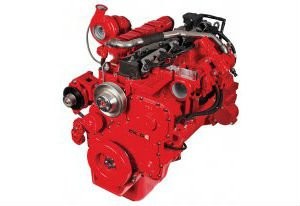 by Keith Barker, Editor, Recycling Product News
Cummins Inc., the global engine manufacturer, and Westport Innovations Inc., the Vancouver-based innovator of natural gas engine technology, both started working on natural gas powered engines in the 1980s. Westport began as a research project at the University of B.C. and became a company in 1995. In 2001, Westport formed a joint venture with Cummins to form Cummins Westport Inc. Since 2001, the two companies have worked together on the development and introduction to market of spark-ignited natural gas powered engines based on Cummins' diesel platform.
In the past 12 years since the joint venture was formed, over 34,000 Cummins Westport natural gas powered engines have been sold globally, mainly into the transit/bus sector. Since 2008 however, according to Cummins Westport President Jim Arthurs, one of the most active and growing segments for natural gas powered engines in North America has been the waste recovery and recycling industry, where the company has sold about 8,000 units to date.
The first natural gas engine from Cummins Westport went into a refuse application in 2002, and in 2007 the ISL G 8.9 litre natural gas engine was introduced. Currently, the Cummins Westport ISL G 8.9 litre natural gas, spark-ignited engine, which uses either compressed natural gas fuel (CNG) or liquefied natural gas fuel (LNG), is the "workhorse" of the non-diesel-powered refuse/recycle segment, and Cummins Westport is the only supplier of this type of engine in North America.
"This was the engine with the right kind of size and power profile for a refuse/recycle truck," says Arthurs. "Prior to that, the engines were a bit too small. The 8.9-litre gives us 320 horsepower and up to 1,000 lb-ft of torque, so it's a pretty good engine as far as power goes." "Then what we saw in 2007 was that things took off in refuse," Arthurs continues.
"To give credit where it's due, the initial player, the primary driver of this was Waste Management. They were the first to look seriously at using natural gas engine technology on a large scale. They made a very big commitment."
Waste Management is currently the largest single user of natural gas engines in the waste and recycling industry, with over 2,000 natural gas collection trucks in operation in North America, and recently announced the opening of their 50th private on-site natural gas fuelling station. Other large waste recovery and collection companies in North America, including major players such as Republic, Progressive Waste and Emterra, are also committing large percentages of their new fleets to natural gas powered collection vehicles. Progressive Waste, currently the company with the largest natural gas fleet in Canada, for example, has stated that by the end of 2013, they expect to have 150 natural gas powered trucks on the road, and that by 2014, they expect over 50 percent of new vehicle purchases will be CNG-powered units. The company is also planning to build one to two new natural gas fuelling stations per year, for the next several years.
The factors driving the switch to natural gas
According to Jim Arthurs, there are five main factors that have driven the trend towards the increased use of natural gas fuel in the waste/ recycle collection vehicle sector: lower cost of fuel, reduced emissions, reduced maintenance for after treatment systems, reduced noise of vehicles in operation, and finally, the ease of refuelling.
The single biggest factor currently driving the transition towards the use of natural gas engines in large class truck engines is simply the cost of fuel, particularly if a company's fleet is located near a natural gas pipeline. At the pipeline, natural gas is currently about 20 to 30 percent of the cost of petroleum, which means a great deal, especially considering the purchase cost of a natural gas powered truck is approximately 10- to 20 percent higher up front than the cost of a diesel-powered truck (the cost of the natural gas system adds approximately $30,000 to $50,000.) Considering this higher up front cost, as well as the lower price of natural gas, an ROI of about three years is generally thought to be accurate, based on usage of approximately 36,000 litres of diesel in one year.
To compare the cost of oil and natural gas, Arthurs explains, both need to be measured in dollars per million BTU. There are approximately 5.8 million BTUs in a barrel of oil. If you take the price of oil at $106 per barrel (August 12), divide 106 by 5.8, it equals $18.28 per million BTUs. This compares to natural gas at $3.35 per million BTUs (August 12).
"The general consensus is that there will continue to be a large disconnect between the price of natural gas and oil," says Arthurs. "Oil tends to be sold at a global price, whereas with natural gas, in North America, because of the advent of new recovery methods that have become dramatically more effective, the estimates are that production over the next three decades is going to increase by about 75 percent (compared to 2007 levels)."
When it comes to environmental benefits, fundamentally, methane (natural gas is made up predominantly of methane) is a cleaner burning fuel than diesel, generating less NOx, GHGs and other pollutants. However, considering the evolution of the diesel engine over the last decade as engine manufacturers have worked to meet increasingly stringent emissions standards, including EPA 2007, 2010 and 2014 standards, the difference in emissions produced when comparing natural gas and diesel engines is no longer so significant.
"The latest diesel engines are 99 percent cleaner than they used to be," says Arthurs. "If we go back a few years, the discussion was very much about emissions. Now, due to all of the emissions standards such as EPA 2010 and 2014, it has resulted in engines that are unbelievably clean, regardless of what fuel you are using. Things have changed a lot in a few years."
Arthurs also points to the unique opportunity in the waste recovery, waste-to-energy (and agricultural) segment, where he says Cummins Westport have a few customers already that are running their trucks on recovered gas being produced from their own waste materials. Currently, most natural gas, including methane recovered from landfills or produced by anaerobic digestion, for example, is sold into pipelines, but it can also be "cleaned" on-site to pipeline quality and used for fuelling a fleet directly.
Beyond lower cost of fuel and environmental benefits of running waste/recycle fleets on natural gas, less after treatment system maintenance is a significant benefit of switching away from diesel. Due to requirements of meeting modern emissions standards, diesel engines have evolved with fairly complex after treatment systems, which are used to make emissions cleaner. Diesel after treatment systems use selective catalytic reduction and a diesel particulate filter. On the ISL G engine, Arthurs explains, Cummins Westport uses a single three-way catalyst, which is similar to the catalytic converter on a car.
"In a refuse-type application where you're running stop-start all the way down the road, it's a lot easier to maintain our emissions systems. In particular, particulate filters have traditionally been a challenge to maintain in refuse, so there are some operational benefits to using the ISL G engine."
Arthurs also points to the lower noise benefits of trucks operating on natural gas, saying that in residential neighbourhoods, they are 10 decibels quieter on average than diesel engines. And finally, there is the refuelling factor. "If you go to a refuse truck depot where they've got natural gas, the vast majority use what's called a time-fill system," explains Arthurs. "They are on the pipeline and they have a network of hoses that go out into the area where the trucks are parked. What happens is the driver gets back at the end of his shift, parks in his stall, hooks up the gas hose, and the CNG tanks are filled up overnight."
"So you save a lot of labour because you don't have to be spending time refilling trucks. You don't need jockeys at night, or need drivers to line up in the morning to get filled up. It's done automatically."
CNG vs LNG
Currently, for waste and recycle collection truck fleets, CNG is a far more popular option than LNG. This has to do largely with the ease of refuelling (as above) and with the much more widespread available infrastructure. The major difference on the truck, between using CNG and LNG, is in the tanks required. Both LNG tanks and CNG tanks are larger than diesel tanks – LNG by about two times, CNG by about four times, for the equivalent amount of energy storage.
"When making the switch from diesel, you're going from a standard aluminum tank to a carbon reinforced high pressure fuel tank, with several mounted in a rack, so you're definitely adding weight, with either compressed or liquefied natural gas," explains Arthurs. "But with the typical trash/recycle truck, there's room enough for tanks to run all day on compressed natural gas."
"Where we see LNG in widespread use is on bigger trucks going further every day, and where they want more range. It's difficult to get much more than about 140 diesel gallon equivalents of CNG on a truck. This is where the space-savings of LNG kicks in."
"There are some customers in waste/recycling using LNG, but it may be because they have a station nearby, and they are looking for additional range," he adds. "There are reasons why people have gone that way, but I would say the vast majority are going with CNG. It makes sense. CNG really is a great fuel for the refuse industry and works very well in 'return-to-base' operations and in urban areas."
When it comes to infrastructure, there are currently over 1,200 CNG stations in North America. About half of these are private, and half are public access stations, with most of these being lower capacity operations, using smaller compressors, designed mainly for cars and small trucks. LNG stations are much less common, but with both CNG and LNG, new stations, both private and public, are coming online every day. (For data on alternative fuel infrastructure in North America see the U.S. Department of Energy's Alternative Fuels Data Center at www.afdc.energy.gov, or visit the Canadian Natural Gas Vehicle Alliance site at www.cngva.org.)
"In refuse and recycling, what we're seeing for the most part, with respect to companies like Waste Management, Progressive, Emterra and Republic, is that they are putting in their own fuelling infrastructure on-site. It just makes sense. The refuse segment is far less dependent on the development of the public infrastructure."
The future for Cummins Westport
"We just started production a few months ago of our 12-litre engine, which provides up to 350 horsepower in the refuse sector and 1,450 lb-ft of torque," explains Arthurs.
"Autocar has been one of our launch partners for that engine and it's going to come into the market on other chassis as well. This will provide a more powerful option for trucks that need a little more than a 9-litre, particularly for applications in transfer operations and the like."
"Essentially, if you look at Cummins' engine production line, they have four engine displacements in North America: 6.7, 8.9, 12 and 15. All of those engines will be available with natural gas options," he adds.
With respect to regional movement towards natural gas, Arthurs says the U.S. has moved faster than both Canada and Europe, with the state of California leading the way. In Europe, he notes that there has not been the same "shale gas revolution" as we have seen in North America in recent years, and that the price of natural gas is much closer to oil. Interestingly, he points to China as a standout in the sheer momentum of their move to natural gas, and a country to watch in the near future.
"There is a lot of natural gas in China, and obviously as a centrally managed economy, they've come to the conclusion that natural gas is a lower cost source of energy over the longer term than oil, so government entities like Petro-China have built a lot of stations," says Arthurs.
"They are building their infrastructure more quickly than in North America. Westport has another joint venture called Weichai Westport, which is based in China, and currently that joint venture is selling about four times the number of engines that we're selling in North America."
This year in particular, Westport has been very busy. The company has launched the Westport WiNG Power System in the Ford F-250 through F-550 Super-Duty pickup trucks in the U.S. and Canada, as well as the Westport iCE PACK LNG Tank System, the Cummins Westport ISX12 G, the Weichai Westport HPDI12L engine, the Volvo V60 bi-fuel car, and the company is working on an LNG Tender for rail. Currently also in development, Wesport has an LNG locomotive program, an automotive program with General Motors, an LNG system to supply a new 13L Volvo engine, an engine program with Tata motors, as well as a WP580 program with GAZ.
Related Articles
Traditionally, waste management companies have operated using a simple "management of waste" approach to operating a MRF. Throughput targets and continuous operation (minimal downtime) were the main driving forces. The industry has changed however, and the focus moving forward is now on optimizing system performance and reliability, in conjunction with increasing recycling rates and a drive for a "greener" and more sustainable tomorrow.
When considering the addition of, or upgrade to, an "intelligent" MRF, for municipalities or private operators, the main factors should always be the client's (operator) current requirements, and evolving market needs, which include throughput, reliability, output quality, and adaptability. Equally important is a full understanding of what is really expected from any proposed system. Having an engaged and focused mindset for the project with the client from the beginning, will impact and drive the entire design process. This then impacts the overall project result, through to the productive, efficient, ongoing operation of the facility itself.