Lithium-ion battery recycling technology recognized as a profitable solution to help protect the environment
Li-Cycle awarded Solar Impulse Label for 2021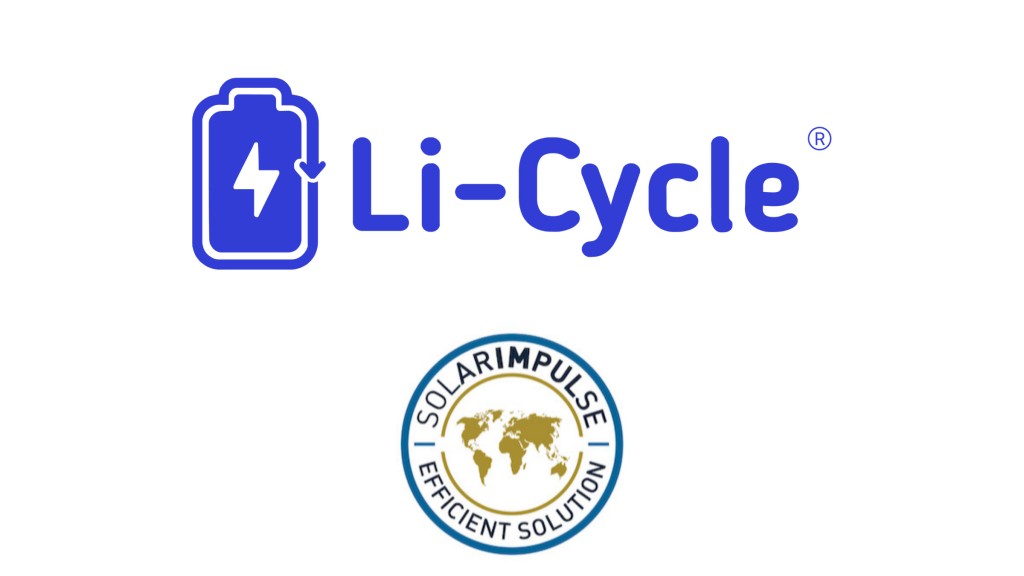 Li-Cycle Corp., the lithium-ion battery resource recovery specialist and the largest lithium-ion battery recycler in North America, has been named to the Solar Impulse Foundation's Beyond 1,000 solutions list for 2021.
The Solar Impulse Foundation, along with its experts and partners, have identified, assessed and labelled 1,000 technological solutions capable of protecting the environment in a financially profitable way. The technology solutions chosen are clean, efficient, cost-effective and available today, reducing the environmental impact of construction and mobility, industry and agriculture, water and energy consumption, while ensuring economic development and social prosperity. The Beyond 1,000 solutions list for 2021 is made up of products, processes, or services that work for both the environment and the economy.
Li-Cycle's patented Spoke & Hub Technologies offer a low-cost, safe and environmentally friendly solution, and its industry-leading innovations have made it uniquely positioned to support a key element of the growing international movement towards zero carbon technologies.
"We are proud to be a recipient of the Solar Impulse Label for 2021 as we believe this achievement further validates our recent successes and highlights the promising future ahead for our lithium-ion resource recovery technology for both our business and the greater impact it has on the environment," said Ajay Kochhar, President, CEO and Co-founder of Li-Cycle. "We have a great appreciation for what the Solar Impulse Foundation stands for and thank them for supporting our goal of closing the lithium-ion battery supply chain loop with our sustainable and circular solution that continues to gain momentum globally."
Li-Cycle's Spokes convert battery manufacturing scrap and end-of-life batteries into intermediate products, including "black mass," a powder substance which contains a variety of metals, including lithium, cobalt and nickel. The Spokes will supply black mass to Li-Cycle's future Hubs, the first of which is currently in late-stage development in Rochester, New York. The Hubs will process black mass through a hydrometallurgical circuit to produce critical, battery-grade materials, including lithium carbonate, cobalt sulphate and nickel sulphate, as well as other recycled materials that can be returned to the economy.
The imperative for economically and environmentally sustainable resource recycling is growing in lockstep with the rapid growth of battery manufacturing. Li-Cycle utilizes its proprietary Spoke & Hub Technologies to achieve the industry-leading recovery rate of up to 95% resource mass recovery and to produce the critical battery materials underpinning the global growth in electric vehicle production. Legacy recycling technologies have largely relied on thermal operations, which can emit harmful emissions and result in lower recovery rates. The Company's two-stage battery recycling model enables customers to benefit from a safe and environmentally friendly solution for recycling all types of lithium-ion battery materials.
On February 16, 2021, Li-Cycle announced its entry into a definitive business combination agreement with Peridot Acquisition Corp. Upon the closing of the business combination, which is expected in the second quarter of 2021, the combined company will be named Li-Cycle Holdings Corp. Li-Cycle intends to apply to list the common shares of the combined company on the New York Stock Exchange under the new ticker symbol, "LICY."
Li-Cycle strengthens leadership team with two strategic hires
Li-Cycle has appointed Carl DeLuca as General Counsel and Corporate Secretary and Lauren Choate as VP of Human Resources.
DeLuca and Choate are seasoned industry professionals bringing extensive relevant experience to each of their respective roles. DeLuca will lead Li-Cycle's legal and regulatory functions in support of the company's global expansion plans. Choate will lead Li-Cycle's human resources functions and will oversee talent management and acquisition to continue to attract industry talent to the company in support of its growth trajectory.