How to choose a concrete pulverizer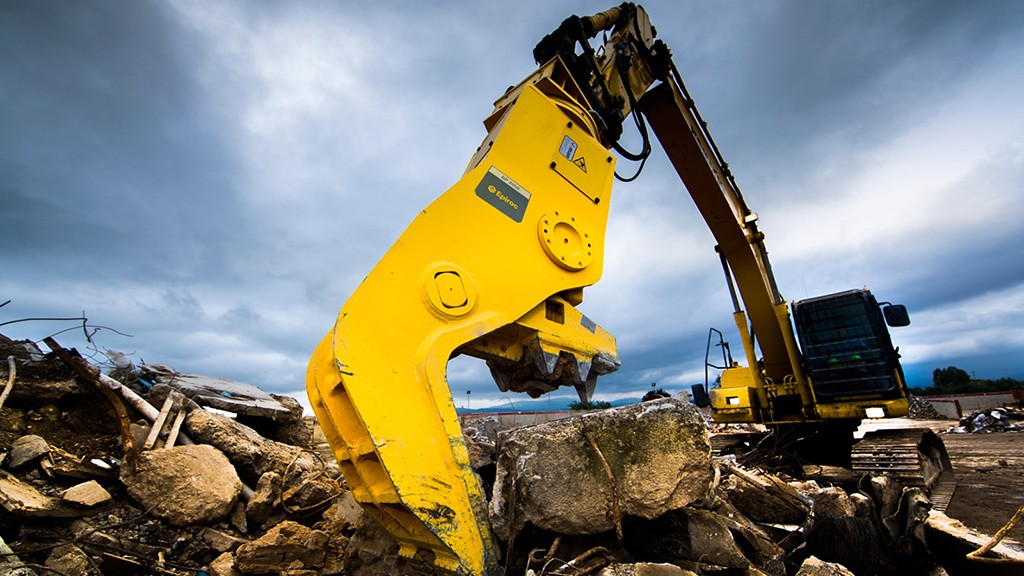 Destroying concrete is tough business. Concrete pulverizers can take care of primary demolition, chewing apart a building or wall, or destroy reinforced concrete at ground level, but what do you need to know before choosing a concrete pulverizer for demolition? I spoke with Crystal Sanders, Account Manager, from Epiroc Canada to get the scoop on types of concrete pulverizers and what you need to know to choose the right concrete pulverizer for primary or secondary concrete demolition applications.
What are the features and types of concrete pulverizers?
Sanders noted that Epiroc offers four different work tool types that can do pulverizing: demolition pulverizers, bulk pulverizers, combi cutters and concrete busters with options for machines ranging from 2 to 85 tons. The combi cutter multi tool comes with a pulverizing jaw; it can also be outfitted with a shear jaw or a cutting jaw. Concrete buster attachments are designed for very thick concrete walls or structures or when the operator has limited visibility.

DP demolition concrete pulverizer attachments for excavators are primary pulverizers for reaching up to grab the side of a concrete wall or structure to chew on it and tear it down. These pulverizers can further reduce rubble on the ground.

BP bulk concrete pulverizer attachments for excavators have an angled jaw which allows you to pulverize concrete that is already on the ground in a secondary pulverizing application, or for primary demolition at ground level or below grade. The angled shape of the BP pulverizers allows the operator to change the angle of material more easily and provides greater flexibility for reducing reinforced material at ground level. If you have concrete slabs on the ground, the angled jaw can slide underneath and start chewing.

These two types of pulverizers have different tooth designs and pulverizing angles, but both crush concrete and rebar between one fixed and one moving jaw and tear through rebar with a blade in the throat.
What you need to know about the job site and materials for demolition or reduction
You will need to know some general information about the application – what is the material, what is the hardness of the material, where is the material located, and how thick is it? Size, thickness and presence of plate or rebar is also important to know when selecting a concrete pulverizer.

Whether the demolition needs to be done at height or below grade, as well as job site conditions, are other factors. Will the work be done in water, or will you be close to other buildings? Are you in a residential area?
What you need to know about your excavator when choosing a concrete pulverizer
Epiroc Canada works through dealer partners to assess the right attachment for a customer. Once the customer's application and materials for demolition or reduction are established through the dealer, Epiroc Canada can then assess the equipment that the contractor has available and make an attachment recommendation.

Key factors include excavator weight, hydraulic requirements and the capacity for that machine to run the attachment and carry the load. Most of that is usually identified with the dealer technician that sets up the attachment on the machine. Sometimes secondary hydraulics have to be added to excavators. For example, many demolition attachments have 360-degree power rotation that requires secondary hydraulics to operate both the rotate and open and close functions.
Maintenance needs of concrete pulverizers
Concrete pulverizers require high-quality grease on every shift, and beyond that maintenance depends on utilization and the materials that the attachment is used for. Wear parts on a concrete pulverizer are replaceable. The small blade in the throat of the attachment behind the tooth plate, which cuts through rebar-reinforced concrete, is reversible and replaceable, and jaw teeth can be replaced as needed.