Volvo straight boom excavator reaches higher on demolition jobs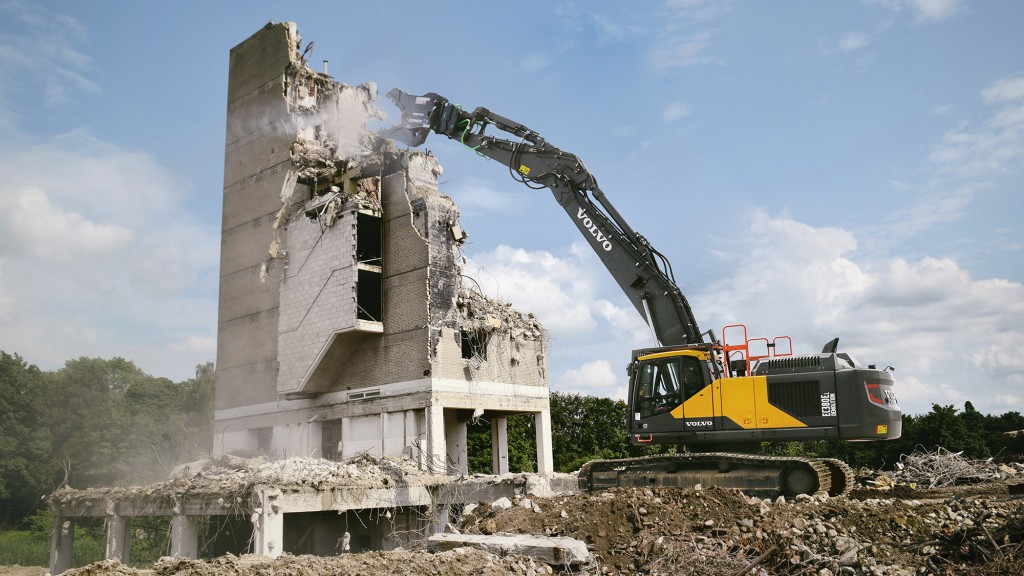 The Volvo EC380E Straight Boom purpose-built demolition excavator is a new factory-configured version of the company's standard EC380E machine. This straight boom configuration provides the operator with greater reach at height than the standard model. Additional key features include guarding, a hydraulically removable counterweight, dust suppression system and fully automatic coupler option installed in the factory.
Straight boom advantages
This demolition excavator has a 23-foot (7 m) straight boom to deliver a reach advantage over the conventional 380 machine.
"When our customers ask for additional reach without sacrificing stability or performance, we work hard to make it happen," said Tony den Hoed, national demolition account director. "The EC380E Straight Boom is a great example. Added reach while protecting operators means demolition contractors can now take on even more challenging jobs with total confidence."
Factory-fit guarding, reinforcement and safety features
The cab is protected against falling debris with a frame-mounted Falling Objects Guard, and thanks to large windows with a wiper and washer, operators have an excellent view of the job site. The roof window and front one-piece glass are made from P5A, which is resistant to high impacts.
Nighttime visibility is aided by standard LED lights on both the boom and platform, and additional lighting for the cabin and counterweight are available options.
The heavily reinforced main frame is made of heavy-duty plate steel with bolt-head protection. It also features heavy-duty undercover protection, a durable belly guard and a full track guard. A slew ring cover and heavy-duty side doors with screens and louvres offer added protection. The bolt-on Side Impact Protection system protects the superstructure from damage, and the machine is further guarded against damage from debris by additional protection on both bucket and boom cylinders. A reversible cooling fan ejects any debris stuck in the radiator, helping to keep the radiator clean and the engine running at optimal temperatures.
Removable counterweight
The EC380E Straight Boom can perform demolition tasks with a heavy tool at higher reach thanks to a 22,046-pound (10,000 kg) counterweight that is hydraulically removable for transporting the excavator.
Integrated dust suppression
Standard features include X1 and X3 auxiliary piping, a quick-fit and oil drain line, and water lines connected to a dust suppression system.

The dust suppression system features a 7.9 gpm (30 litres per minute) lifting pump feeding water to four arm-based nozzles that create a fine mist to contain dust. The system can work in either manual or auto mode, where water is only sprayed when the attachment is operating. The system also comes with a high-pressure water gun mounted behind the cab for cleaning the machine.
Fully automatic quick coupler option
To take full advantage of the machine, owners can have either a Steelwrist or OilQuick fully automatic quick coupler installed at the factory. Owners can still pin tools on without the Steelwrist or OilQuick coupler, or can outfit their machine with a Volvo quick coupler.