30 BC businesses win Top Collector Awards from BC Used Oil Management Association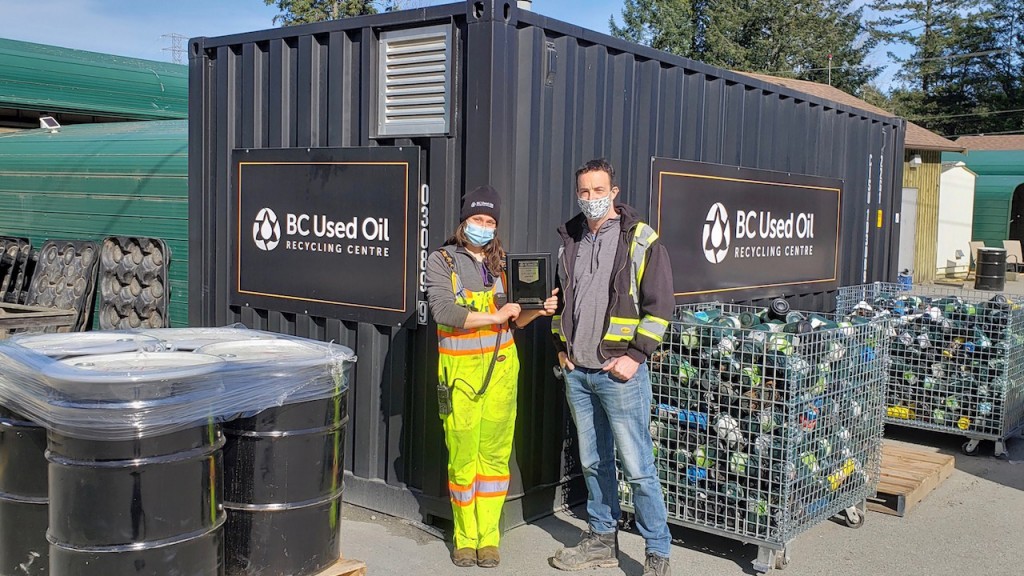 BC Used Oil Management Association, a not-for-profit group dedicated to the collection and recycling of used lubricating oil, oil filters, oil containers, used antifreeze and antifreeze containers in British Columbia, has announced the winners of their second annual Top Collector Awards.
30 B.C. Return Collection Facility (RCF) businesses received Top Collector Award plaques, and were honoured for their exemplary performance and commitment to the collection of used oil and antifreeze materials across the province throughout 2020.
In addition, BCUOMA added two new award categories in 2020 - Most Improved Award for the RCF that increased its collection rates by the largest percentage, and Long Time Service Award that recognizes six RCFs that have been dedicated program members since BCUOMA's inception in 2003.
"These B.C. organizations are some of the most dedicated used oil and antifreeze Return Collection Facilities in Canada," said David Lawes, CEO, BC Used Oil Management Association. "They continue to provide convenient, environmentally-friendly and easy-to-use infrastructures for their DIY customers to return their used oil and antifreeze materials. Their efforts were even more impressive throughout 2020 due to the pandemic, as they had to navigate their way through many additional challenges to ensure their customers were comfortable and safe while returning their materials. We feel proud to work with such professional businesses across the province, and we are honoured to provide them with these awards that recognizes their commitment to BCUOMA's RCF program, and their continued outstanding performance."
BCUOMA's criteria for being a RCF top collector include:
The total amount of used oil, oil filters, oil containers, antifreeze and antifreeze containers collected at the RCF location.
The total number of years participating in BCUOMA's RCF program.
A demonstration of continued support of BCUOMA and other recycling stewardship related programs.
BCUOMA continues to look for opportunities to upgrade and improve RCFs across the province in order to provide British Columbians with reasonable access to convenient and free used oil recycling centres.
Used oil is a valuable resource and if it is recycled at one of BCUOMA's dedicated RCFs it can be recovered and re-used. Used oil can be re-refined into new lubricating oil or sold as raw material inputs for manufacturing or energy products. Additionally, used oil filters contain reusable scrap metal that steel producers can reuse for metal products like rebar, nails and wire. Plastic oil and antifreeze containers can be recycled into new oil containers, drainage tiles, and parking curbs. Used antifreeze can be refined and reused as new automotive antifreeze.