Wood recycler doubles production with switch from horizontal to tub grinders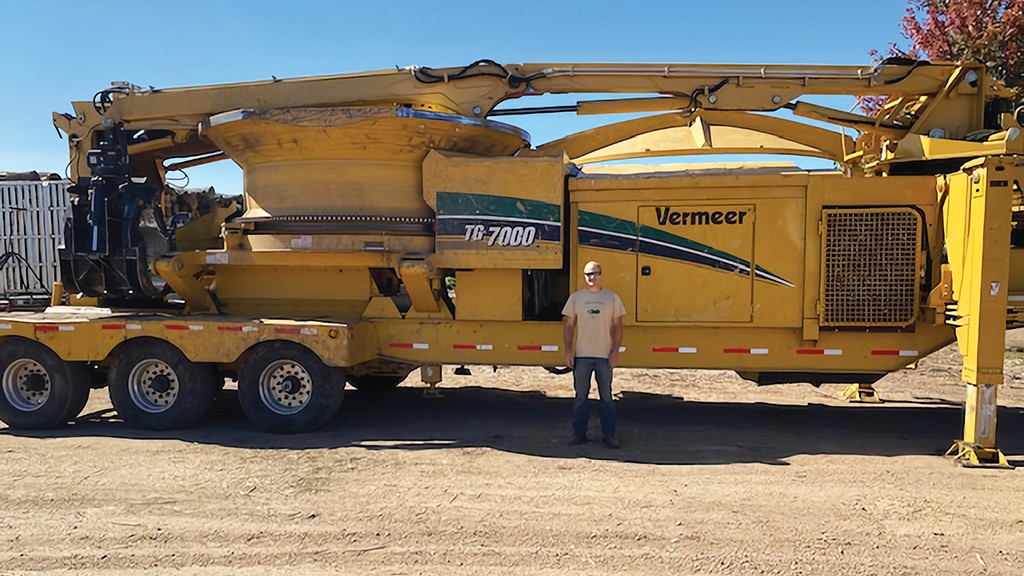 If there is one thing successful business owners know, it's that having the right equipment to do the work at hand is essential to operating efficiently. For companies like Pine Products, a full-service landscape supply company based in Waconia, Minnesota, it's why they have worked so hard to get their fleet mix right.
Established in 1991 by father-and-son team Ron and Larry Dubbe, Pine Products was initially a business that delivered bulk sawdust to dairy farms for animal bedding. Over the years, the company, which is now run by Larry's sons Aaron, Tyler and Ben, has kept true to its original model and continues to provide bagged and bulk pinewood shavings to area stores, farms, ranches and businesses.

But they also saw an opportunity to do something with the wood waste created by area lumber mills and construction businesses, as well as the excess of pallets from their own operations, and raw materials from land-clearing project sites like brush, logs and stumps. Recently, Pine Products expanded their operations to include the manufacturing and selling of mulch made from recovered organic materials.
From smaller grinders to tubs
Taking on this new venture required the company to invest in new equipment to grind and process wood in order to turn it into a usable commodity.

"We started with a smaller grinder because we didn't have as much volume of materials to grind in the beginning," said Ben Dubbe, who oversees the company's marketing, sales and finances as the company's president. "As our operations grew, we knew we needed to find a high-production equipment solution that could handle grinding a wider range of wood waste material."

After talking with users and machinery producers, tub grinders caught the company's attention, and they called RDO Equipment Co. Vermeer for a demo. According to Dubbe, RDO allowed Pine Products to demo a Vermeer TG7000 tub grinder with a loader for a decent amount of time. This worked much better for Pine Products than watching a machine at the factory or on someone else's yard. He said the RDO team also took the time to educate the Pine Products crew, really going through what this type of machine could do and making sure everyone understood how to properly operate it.

"When we first demoed that machine, we were a bit intimidated by it," Dubbe said. "It was a good chunk of money, and we wondered if we were going to be able to use it. It didn't take us very long to realize what the tub grinder was capable of. Once we started punching the numbers on production and running costs, we decided to purchase it."

Even though Pine Products had had a lot of success previously in growing their business with their smaller grinders, once they tried higher horsepower tub grinders, Dubbe said they were hooked. Since investing in their first machine they have found they are best suited for their operation and now they currently run Vermeer TG5000 and TG7000 models - and have doubled their production rates.
Success with tub grinders
According to Dubbe, their success with Vermeer tub grinders has been based on the machines' production rates in producing quality mulch with limited fines. "When we first started in landscape, we purchased most of the raw materials and brought everything in - smaller grinders worked well for that," he said.

But using tub grinders enabled Pine Products to open new doors and begin sourcing materials from more than one place, as well as take in supplies from new vendors. For example, Dubbe noted, their grinding crews often get into different species and separations of barks, which means there's some really high-end stuff they have for specific needs and uses. They also get more basic, run-of-the-mill materials to grind, like a city brush pile someone wants to get rid of.

"Once we started processing our own materials and changing our fibre source, getting more into logs and brush, as well as going off site and finding jobs to produce our own materials, we needed a high-horsepower, large-capacity machine that had the ability to grind whatever we put in it at a high level of production.

"We've really gone from A to Z on the level of material quality we take in," he continued. "No matter what we put in our Vermeer tub grinders, the primary grind is a larger shred with fewer fines, and the final product also has fewer fines."

In most cases, Pine Products not only does the first grind but also the regrind work to resize the material for whatever they need to produce. On the single grind material, the company uses either 6-inch or 7-inch (15.2-cm or 17.7-cm) minus screens on their tub grinders, and on the regrind, they use 2-inch (5-cm) minus screens. Then they screen ground products through Vermeer TR626 trommel screens. This process removes fines and dirt for a desirable end product.

"We've really honed in the process to make a better product faster," said Dubbe. "It makes a big difference in our operational efficiencies to control costs and increase customer satisfaction."
Managing operating costs for year-round production
Pine Products keeps their Vermeer tub grinders busy throughout the year, running daily until it freezes, slowing a bit in the colder months, but picking right back up again as soon as the temperatures warm up. One practice that has enabled year-round production for so many years is carefully and skillfully managing their operating costs - including labour, machine setup, maintenance, and yard configuration - as well as being as efficient as possible with their equipment.

"The bigger the company gets, the less time we have, so time and resource use are really important," said Dubbe. "We try to be as competitive as possible with our labour rates to make sure we hire quality employees, and we will pay extra for employees who are a good fit and productive. Having knowledgeable tub grinder operators who know how to appropriately fill and safely run the machines on staff can reduce a very large chunk of our cost inefficiencies. It's an investment that saves us time and money."

Machine setup is critical to Pine Products' operations being efficient, especially as the company likes to recoup their investment within four years. For example, their tub grinders overall consume less fuel and have a lower cost of operation than the grinding equipment the company used to operate. And when it comes to machine maintenance, Dubbe said the company does its best to be preventive and make sure they have most wear parts on hand.

"We try to use our slower times of the year to go through machines and make sure they are up to par. We depreciate the machine over the life expectancy but always account for replacement costs, regardless of the machine age."

Working with the right vendors is also critical. "RDO's ability to provide the necessary parts for our Vermeer tub grinders has helped keep Pine Products' costs down and made sure our company keeps producing," said Dubbe. "Having people knowledgeable about the equipment we run is great because they can typically walk us through a problem over the phone in a quick fashion and get us back up and running quickly."

Their yard configuration is also extremely important in controlling the company's costs. For example, Dubbe explained that they position their tub grinders as close to the piles as possible to decrease the loader's drive time and wear. When the materials need to be transported, they also work to position the loading ramps close to the piles for quicker load times.

At the end of the day, Pine Products works to produce quality products they can profitably sell their customers.

"We have really formed our business model around production," concluded Dubbe. "We're a little disappointed in ourselves that it took so long to switch to tub grinders, because having the right equipment in our fleet saves time, fuel and wear and tear on the machines, and it allows one person to get more done in a day. As a result, business has been good, with solid growth through the years."

Kennedy Phillips is a product marketing specialist at Vermeer.
This article was originally published in the March edition of Recycling Product News, Volume 29, Number 2.