ROPAX traversing compactor helping haulers get more in every container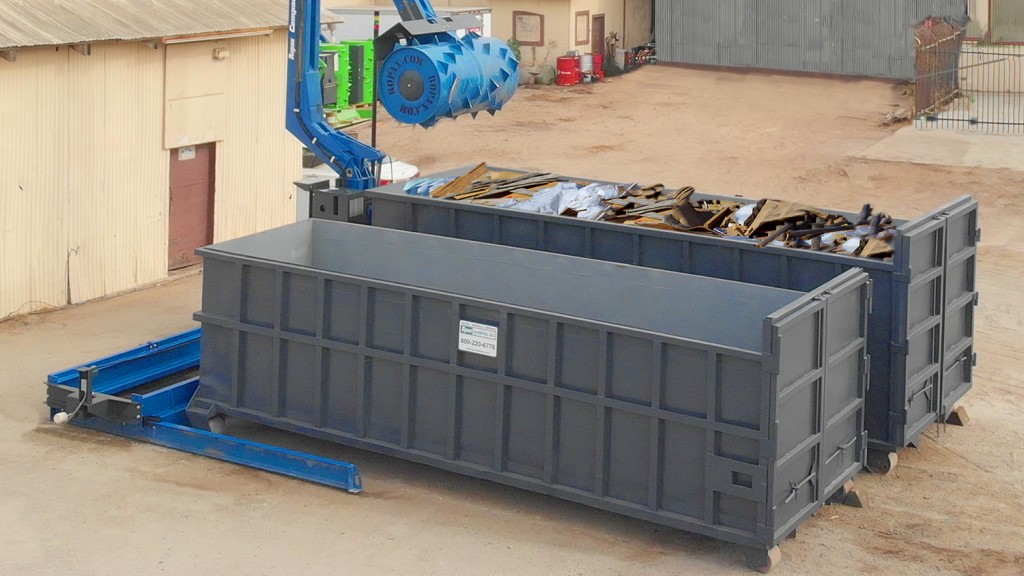 ROPAX traversing compactors from Epax Systems significantly reduce the level of waste in open top containers, according to the company.
These rolling compactors employ a traversing system which allows them to be configured to service from two to eight side-by-side containers.
Waste is compacted by a two-ton rolling drum with sharp metal teeth attached to an articulating boom which moves it from one end of the container to the other and back again crushing and compacting items along the way.
The compaction module - drum, articulating boom and control panel - is mounted on rails and is moved from one container location to the next via a powered gear and chain system. When the compaction module is in position at the desired container, it is locked in place by a steel pin to prevent any lateral movement which could damage the compactor or waste container.
ROPAX compactors provide effective compaction of a wide variety of items including cardboard and other packaging, wood pallets and crates, cable reels, paper, film and foil, green waste, encapsulated polystyrene, household goods, light metals, appliances and other bulky items. They are ideal for municipal waste facilities, recycling centers, distribution centers, warehouses, manufacturing facilities, hotels and restaurants, apartment and condo complexes and retail stores. They require no special site preparation and take up only minimally more space than the containers they service.
Prior to compaction, most containers have large voids and air pockets resulting in container utilization of only about 20 percent of actual capacity. The high compaction rate of ROPAX rolling compactors allows for significant improvement in container utilization - up to 80 percent. This dramatic improvement means containers need to be replaced or emptied less frequently resulting in less downtime, improved worker productivity, and reduced waste hauling and disposal charges.
More from Collection & Hauling
Single-Ram and II-Ram High-Capacity Balers
At Machinex, we've been designing sorting systems for over 35 years, so we know how essential it is for MRF operators to have a baler they can trust and not worry about its operational reliability. This is why we design and manufacture reliable single-ram and II-ram high-capacity balers to specifically help optimize their operations.
Watch the video of our expert who presents the main features of Machinex balers delivering these important benefits:
Easy & accessible maintenance
Reduced maintenance & bale handling costs
Energy savings
Optimal bale density
For C&D recyclers, waste haulers, demolition contractors and landfills, there is a growing opportunity to profit from rethinking processes. Although every operation is different, by streamlining the front end of the C&D operation processes with purpose-built technologies, recyclers can tap into new end markets, accommodate higher material volumes, stay ahead of regulatory restrictions, increase recovery rates and add commodity revenue, while decreasing labor and other costs.
Download the new eBook to learn about:
Finding opportunities in the alternative to landfilling C&D
How facilities can increase their profits from C&D
Using the right C&D processing technology in the right locations