Recycling solution captures edge trim from face mask manufacturing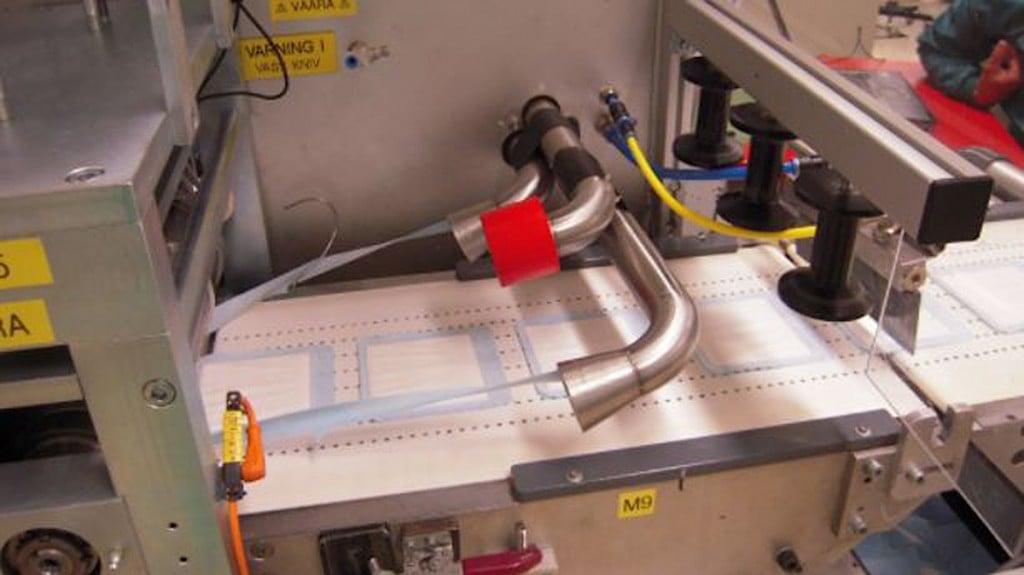 The WasteTech All-In-One trim removal system from Danish-based company Lundberg Tech, automatically captures edge trim waste generated during automated facemask production, cuts it into confetti and collects it for recycling or disposal, without interrupting production.
Conveniently installed next to the production line, the WasteTech All-In-One eliminates line stoppages for manual waste handling and removal and allows manufacturers to maximize the capabilities of their automated mask production lines. Unsanitary, unsightly accumulation of edge trim waste on floors or billowing over containers is also eliminated, along with the potential dust hazard.

Proven for manufacturing medical grade surgical masks, civilian facemasks, and other multi-layer, nonwoven personal protective equipment, the WasteTech vacuum waste removal system encompasses the inlet tubes, granulator with silencer, fan ventilator with silencer, air separator, cartridge dust filter, and built-in bag holder, all set within a clean, compact, attractive housing. The trim handling system is offered in five models to suit nearly any type of edge trim, label matrix, or other waste material, and meet nearly any production speed or requirement. The WasteTech All-In-One units are stocked in the company's Newark, Delaware facility and ready for delivery and quick installation.
Lundberg Tech, Inc. North American operations are based out of Newark, Delaware.
Related Articles
Traditionally, waste management companies have operated using a simple "management of waste" approach to operating a MRF. Throughput targets and continuous operation (minimal downtime) were the main driving forces. The industry has changed however, and the focus moving forward is now on optimizing system performance and reliability, in conjunction with increasing recycling rates and a drive for a "greener" and more sustainable tomorrow.
When considering the addition of, or upgrade to, an "intelligent" MRF, for municipalities or private operators, the main factors should always be the client's (operator) current requirements, and evolving market needs, which include throughput, reliability, output quality, and adaptability. Equally important is a full understanding of what is really expected from any proposed system. Having an engaged and focused mindset for the project with the client from the beginning, will impact and drive the entire design process. This then impacts the overall project result, through to the productive, efficient, ongoing operation of the facility itself.