Latest BCUOMA used oil recycling facility open in Aldergrove, B.C.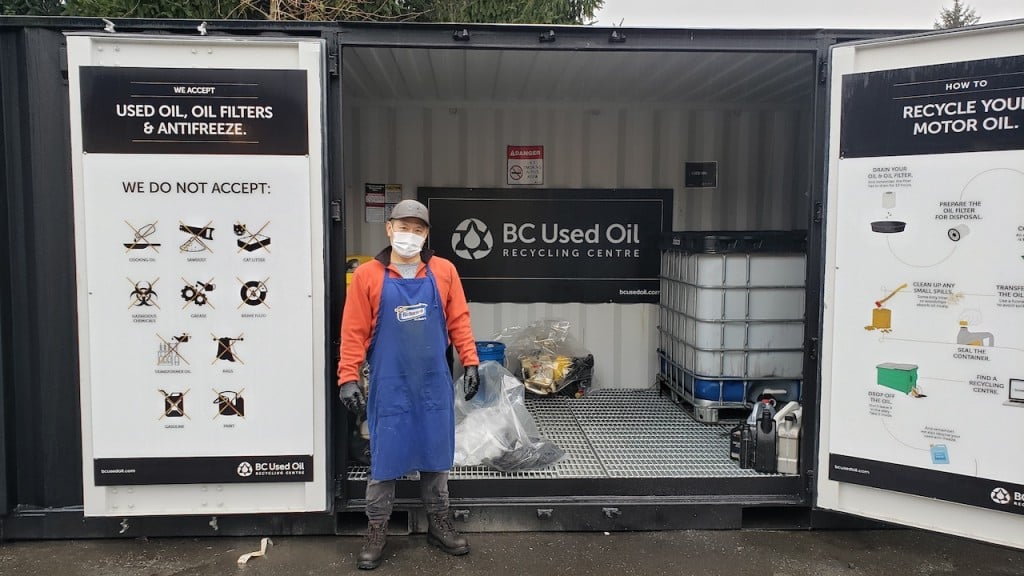 The Aldergrove Return-It Depot located at 27482 Fraser Hwy, Aldergrove, B.C., recently received a Return Collection Facility (RCF) grant from BCUOMA (BC Used Oil Management Association) that provided them with a 20-foot modified sea container and two 1,000-litre tanks. This new RCF will provide the residents of Aldergrove and the surrounding areas, including Langley and Abbotsford, with an easy, free and eco-friendly system to return their used oil and antifreeze materials.
"BCUOMA continues to add new RCFs to locations across the province to ensure British Columbians have convenient, safe and environmentally friendly depots available to them to return their used oil," said David Lawes, CEO, BC Used Oil Management Association. "This was a geographic area that has seen an increased demand for convenient oil recycling options and we're very pleased to have Aldergrove Return-It Depot join our network of publicly-accessible collection facilities."

"Some of our customers requested that we open a used oil recycling facility, and so we delivered," said Sung Kim, Owner of Aldergrove Return-It Depot. "This new RCF infrastructure makes it extremely easy and quick for customers to swing by and recycle their used oil and antifreeze materials, and it doesn't cost anything to drop these materials off."

According to the BCUOMA, used oil is a valuable resource and if recycled at one of the organization's dedicated RCFs, can be recovered and re-used. Used oil can be re-refined into new lubricating oil and used as a fuel in pulp mills, cement plants and asphalt plants. Any vehicle maintenance facilities, automobile owners, and other machinery maintenance operations that use oil also can use re-refined oil.
Additionally, used oil filters contain reusable scrap metal, which steel producers can reuse for metal products like rebar, nails and wire. Used antifreeze can be reprocessed to produce new automotive antifreeze. Plastic oil and antifreeze containers can be recycled into new oil containers, flowerpots, pipe, guardrails, and patio furniture.
Each year, approximately 50 million litres of oil, and 3 million litres of antifreeze are collected and responsibly managed through the approximately 300 public collection facilities and over 4,000 generators across the province, which are managed by the BCUOMA program. In 2019, BCUOMA collected more than 51 million litres of used oil, which was the highest total amount in the program's history.
Used oil recycling depot in Creston receives upgrade
The BCUOMA also recently announced that Comfort Welding, located at 120 Collis St., Creston, B.C., received a Return Collection Facility (RCF) grant from BCUOMA and has upgraded its facility with a 20-foot modified sea container and a 2,200-litre tank to replace the outdated collection infrastructure.
This updated used oil recycling facility will provide the residents of Creston and the surrounding areas with an easy, free and eco-friendly system to return their used oil and antifreeze materials.
"Since 2004, Comfort Welding has provided its customers with a used oil and antifreeze recycling facility and it continues to make changes and improvements to ensure DIY consumers have a convenient and eco-responsible infrastructure to recycle their materials," said David Lawes, CEO, BC Used Oil Management Association. "It is a pleasure to work with businesses like Comfort Welding that understand what the recycling needs are within its community, and are committed to creating sustainable solutions."
"When Ron Comfort started Comfort Welding over 40 years ago he didn't hesitate in taking risks, and making sure that the business had the products and services that our customers wanted," said Gerry Storm, Comfort Welding co-owner. "To this day, we continue to go out of our way to offer our customers a diverse selection of items and services. Having a full-time used oil and antifreeze recycling facility on our property makes sense, and upgrading it was an easy decision to make. Our customers are happy and we know that the used oil materials are being collected in a safe and responsible manner."
Related Articles
Traditionally, waste management companies have operated using a simple "management of waste" approach to operating a MRF. Throughput targets and continuous operation (minimal downtime) were the main driving forces. The industry has changed however, and the focus moving forward is now on optimizing system performance and reliability, in conjunction with increasing recycling rates and a drive for a "greener" and more sustainable tomorrow.
When considering the addition of, or upgrade to, an "intelligent" MRF, for municipalities or private operators, the main factors should always be the client's (operator) current requirements, and evolving market needs, which include throughput, reliability, output quality, and adaptability. Equally important is a full understanding of what is really expected from any proposed system. Having an engaged and focused mindset for the project with the client from the beginning, will impact and drive the entire design process. This then impacts the overall project result, through to the productive, efficient, ongoing operation of the facility itself.