Commentary: Will 2021 be the year we solve the mattress recycling problem?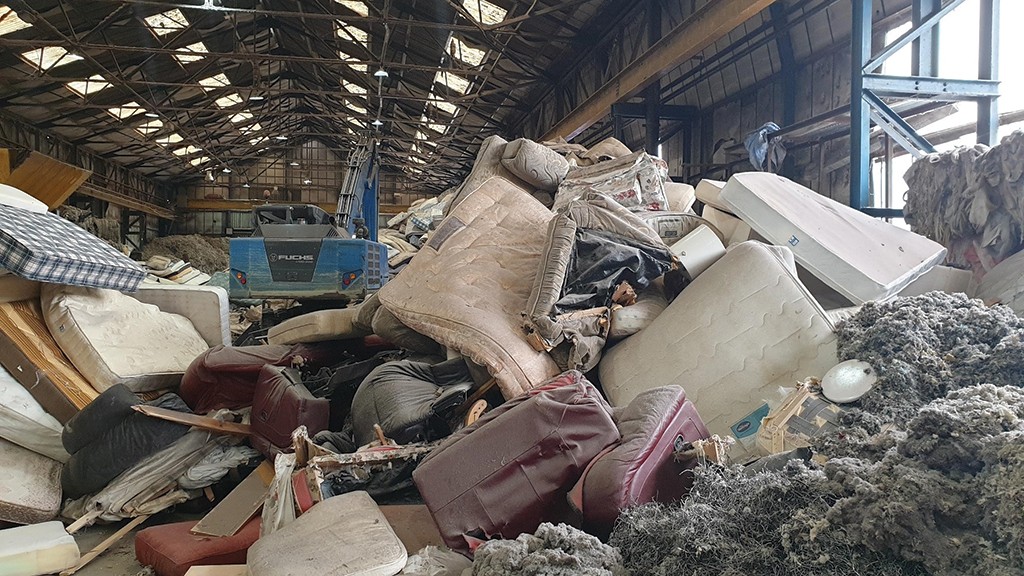 Like many other bulky waste streams, end-of-life mattresses notoriously prove to be a headache for the resource sector. Given their size, and because they contain multiple composite materials, they are tricky to store, handle and recycle. Some operators would even go so far as to say they are economically unshreddable.
The resources locked inside
Mattresses range in dimensions, from small, infant-sized products through to super-king size and above. The composition of mattresses is also extremely varied, not least because pocket sprung items - which represented only 10 percent of the market 15 years ago - are now exponentially common.

Flexible, robust equipment, capable of handling multiple input materials is crucial. If we invest in the right shredding technology and downstream separation equipment, it is possible to extract metal for smelting and remanufacturing. The foam can be broken down and transformed into carpet underlay or animal bedding. The wood can be separated and shredded to produce landscape mulch or a biomass resource. The textiles/fibres can be salvaged for reuse in oil filters.

For alternative fuel manufacturers with a strong environmental agenda, it is even possible to re-shred any residual material down to a 13/16-inch clean flock. With its high calorific value (30mj), this can be mixed to create a solid recovered fuel (SRF). This means the process achieves a 100 percent recovery and landfill diversion rate, while reducing the world's reliance on ever-depleting fossil fuels.

The million-dollar question is how to achieve all of this.
Designing a revenue-generating recycling line for mattresses
By investing in machinery engineered specifically to handle this application, mattress recycling can quickly become a revenue-generating operation.
Following 18 months of research, design and development, for example, an automated mattress recycling line is now in full operation at Textek in the U.K.

Using two UNTHA XR3000C shredders at its heart, Textek's aim is to divert one million mattresses per year from landfill.

The operation - pitched by the organization as the U.K.'s most advanced bulky waste processing plant - can mechanically dismantle a mattress in as little as 30 seconds, compared to the seven minutes it would take for a skilled worker to manually break down this complex product type.

UNTHA's robust machines - with an almost 9-foot 8-inch-wide loading aperture, perfect for this bulky waste stream - will shred mattresses with ease down to a <2-inch particle size to liberate the steel from the flock. Sophisticated downstream technology then separates clean flock from contaminated material which is fed back for re-shredding to ensure a 100 percent recycling rate.

Commenting on their installation, Textek Director Allen Jackson said, "An estimated 7 million mattresses were disposed of in 2017, at a cost of at least £20m ($26.2m), before considering transport and handling. This, coupled with illegal dumping, not to mention the environmental and commercial cost of manufacturing new replacement products, means the impact of this waste stream is quickly spiralling.

"While government initiatives are gradually looking at improved strategies for bulky waste handling, we identified a need to move faster, so turned our attention to designing our own automated line.

"Following substantial investment, the facility is installed, tried and tested, and now stands to divert one million mattresses from landfill in the next 12 months alone. But we don't want to stop there - already we're thinking about the creation of additional dedicated bulky waste recycling lines in other parts of the country."

The industry needed a step change, and what Textek has done is truly inspiring. They rigorously vetted several shredders as part of the technology selection process, and the XR was deployed to the site for a one-week trial, to prove it could handle the variety of foam and sprung mattresses currently being disposed of in the U.K. Impressed with the results, Textek then took the machine back for a second trial to ensure the equipment could achieve capacity targets.
The innovation continues
Worldwide, it has been a monumental year for the environmental sector. While virtually every nation has been rocked beyond belief due to COVID-19, waste management contractors have continued to work hard, throughout it all, to collect household trash, keep materials moving, and recycle, recycle, recycle. The industry has shown just how crucial it is to the global economy.
When it became tougher to export and import resources, and a number of valuable recyclables were in short supply, many industry pioneers went back to the drawing board and innovated. As a result, other previously difficult waste streams - including tires, to give another example - are being re-evaluated for their resource potential.

So, the best thing about all of this, is that new-found mattress recycling methodologies are extremely exciting. But they're not the only game-changers set to transform what this industry can do, in 2021 and beyond.

Ed Donovan is sales manager at UNTHA America.
This article was originally published in the November/December 2020 edition of Recycling Product News, Volume 28, Number 8.