Doosan loaders key to managing corrosive environment at B.C.'s Central Composting
To make the compost used to grow culinary mushrooms, equipment and people are required to withstand harsh working conditions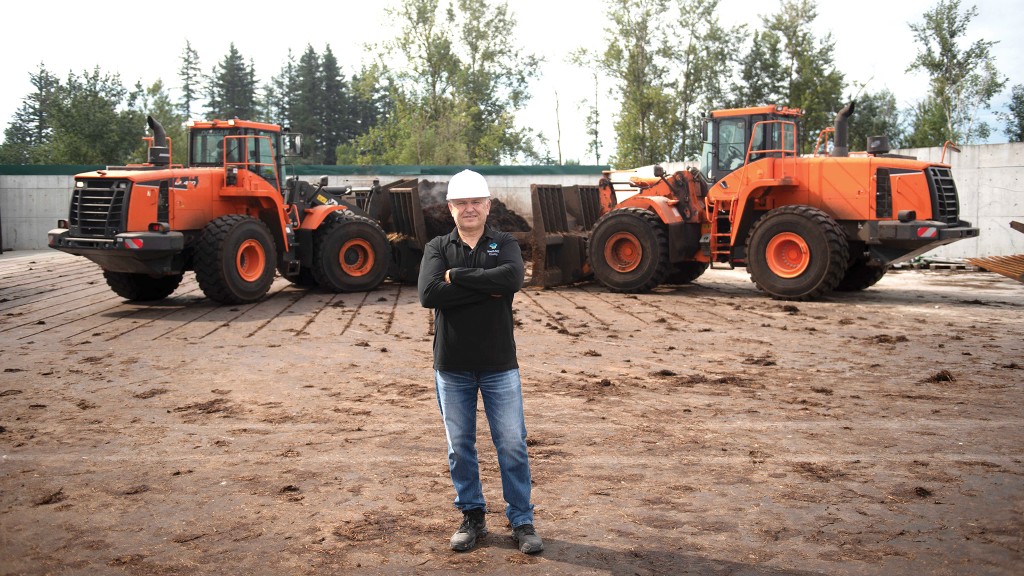 When people imagine the journey of how mushrooms make their way into a tasty dinner entree, its likely they picture something close to people walking around a forest harvesting fungi off rotting logs and in marshy meadows. They probably don't imagine that at the beginning of it all is compost material made from organic waste, mixed in a mixing line and eventually spread into tunnels, or windrows. The truth is, growing mushrooms en masse takes a lot more work than foraging in a forest. There are many steps and hours of work put into producing those hearty, earthy delicacies.
Central Composting is a company located in Abbotsford, British Columbia, that works alongside their parent company, Champ's Fresh Farms Inc., to help with the process of growing mushrooms. According to Zelko Fuduric, Central's GM and facility director, their heavy equipment, including a pair of Doosan wheel loaders, is the backbone of their composting operation.
Creating Compost
The main job of Central Composting is to create the compost for growing Champs Fresh mushrooms and transport it to the company's farming locations. This process begins with employees combining a variety of ingredients to start the compost mix. But this compost isn't just any random mixture. It turns out that mushrooms can be picky about what they eat, which means Fuduric, who has been at it for about eight years, has to get the composition just right.
"The compost is a mushroom substrate," he says. "It's wheat straw, chicken manure and gypsum powder mixed with water. It's a special recipe for mushrooms. It's the only substrate mushrooms will grow in."
All the ingredients for this magic mixture come from local and regional sources.

"The chicken manure and gypsum are local, and the straw and wheat straw come from Washington and Oregon," Fuduric says.

Once all the materials are assembled, it's time to mix it up. The Central Composting team adds ingredients to a large mixer to combine everything together and create the substrate that will become fertilizer for growing mushrooms.

To move ingredients for creating compost and for transporting finished material, Fuduric's operators use Doosan DL420-3 and DL420-5 wheel loaders, outfitted with forked buckets, which he says are absolutely vital in their process.
Harsh conditions for workers and machines
Mushrooms thrive in a damp, dark place with decomposing material that they can feed on. To create this setting, Central Composting uses tunnel farms for the fungi. Employees deliver composted material as fertilizer, which is kept moist for the mushroom crop.

While this may be the ideal environment for the fungi, it certainly makes things hard for the crew and machines. The biggest challenge for the company's 25 employees is the harsh environment in which they work and operate their wheel loaders. After the team makes the compost that is used as the fertilizer to grow the mushrooms, the next step is to transport composted material to the farming tunnels.

There are 12 farms in the Fraser Valley area where compost is placed in special growing tunnels. There, they have enough shade and moisture to create the right growing conditions for the mushrooms. Unfortunately, this process produces high amounts of ammonia, which further contributes to a tough environment for both workers and the machines.

"It's like having equipment in a salt mine," Fuduric says. "The environment that we work in is extremely harsh. The machines corrode very, very rapidly. It's like putting your car in a salt bath. The ammonia eats away at the metal, it eats away at the joints, it eats away at the electronics.

"My guys all have to wear special monitors and masks," he continues. "That's why the biggest challenge is the actual working halls and the conditions of the equipment. Corrosion is a big part of that, so I need equipment that doesn't fall apart."

He adds that not only is their work environment harsh, but the crew often has long days, sometimes 10- to 12-hour shifts, six days a week. But while the workers can wear protective gear, the machines are directly subjected to the damp, ammonia-filled environment.

Because of this, Fuduric and his team must constantly keep up with routine equipment maintenance to make sure their wheel loaders are ready to work. While routine maintenance helps to keep the machines running day to day, anything beyond the basics, he says, is handled by their local Doosan construction equipment dealer, Westerra Equipment.

According to Aaron Kleingartner, product and dealer marketing manager, Doosan Infracore North America, "Machines in this application may acculumate more hours than other industries. It's important for customers in this line of work to closely monitor the machine and keep up with preventive maintenance."

He says customers can monitor their machine's performance with DoosanCONNECT telematics. "For example, an owner can see when a scheduled maintenance is coming due. The telematics system also alerts owners if there's an issue with the machine, and they can access the system on their smartphone or on a desktop computer. They can also be alerted via email when an issue arises and can track the operator's machine usage.

"They can see if an operator is letting a machine idle when it's not being used. Unnecessary machine idling wastes fuel and burns through warranty hours."

Kleingartner says operator and productivity benefits of these machines for composting applications are many, "Wheel loader operators need exceptional visibility from inside the cab when they're handling material, which is especially true if the wheel loaders are working in or around buildings and other objects. Doosan wheel loaders provide enhanced visibility from inside the cab." He says Doosan wheel loaders can also be equipped with a rearview camera, and operators can activate the camera and see the view on the LCD screen, which can improve jobsite safety. Plus, many Doosan wheel loaders are available in a high-lift configuration. "This feature provides additional dump height and reach for the operator, which can improve productivity when loading material into mixers or trucks."
It's about the mushrooms
After Fuduric and his team lay the groundwork for the mushrooms to grow by producing the compost needed, they let the fungi do their thing. Once they are grown and harvested, Champs Fresh mushrooms are sent off to be packaged and delivered to grocery stores and restaurants.

The mushrooms that Fuduric and his team help to grow with their compost are mainly portobellos, criminis and white buttons. He says with their efficient process, they are able to crank out about one million pounds of mushrooms per week to be distributed for culinary purposes, and there's a whole team of hard workers, specific knowledge and heavy equipment behind them. So the next time a mushroom is on your fork, think of composters like Zelko Fuduric - and maybe a wheel loader or two.

Rena Sletten is a strategic communications professional and writer based in Des Moines, Iowa.
This article was originally published as the Cover Story "Tough Environment, Tough Equipment," in the November/December 2020 edition of Recycling Product News, Volume 28, Number 8.
Related Articles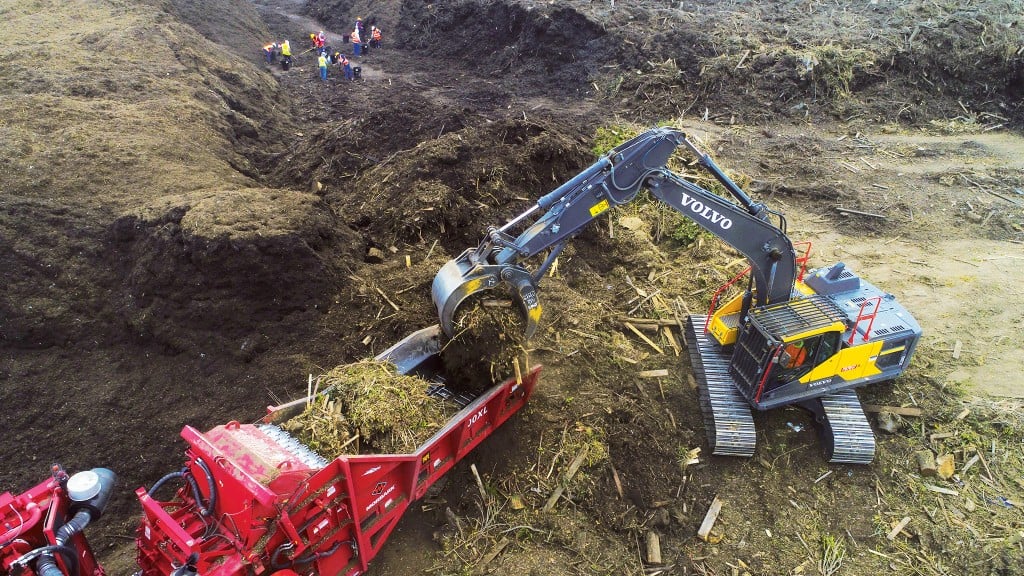 How Agromin is using Volvo equipment to drive sustainability in the compost industry