Exodus Machines changes name to Exodus Global to reflect expansion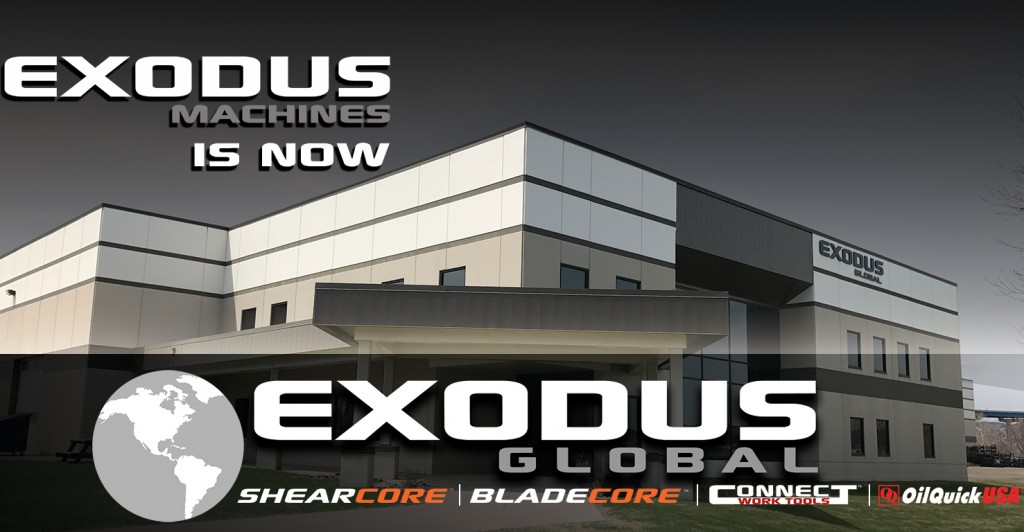 Exodus Machines has changed its name to Exodus Global to reflect its expanding manufacturing operations. Exodus Global is a privately held, local family business that includes ShearCore, BladeCore, OilQuickUSA and Connect Work Tools.
"Exodus Global seemed like a natural fit as we pay homage to our past of building Exodus material handlers and look forward to the future of building a world-class organization with ties across the globe," states Kevin Boreen, CEO of Exodus Global. "Our companies have done a great job of building a strong presence of our US manufactured Fortress line in Australia, Canada, and Europe. We are also the sole distribution partners of premier products into the United States from the United Kingdom, Sweden, and South Korea."
ShearCore manufactures the Fortress mobile and demolition shears. BladeCore offers replacement blades for mobile and stationary shears and is the exclusive blade provider for Fortress shears. Connect Work Tools sells hydraulic breakers, compactors, grapples and pulverizers. OilQuickUSA is the United States distributor of the OilQuick automatic quick coupler.
More from Industry News
Single-Ram and II-Ram High-Capacity Balers
At Machinex, we've been designing sorting systems for over 35 years, so we know how essential it is for MRF operators to have a baler they can trust and not worry about its operational reliability. This is why we design and manufacture reliable single-ram and II-ram high-capacity balers to specifically help optimize their operations.
Watch the video of our expert who presents the main features of Machinex balers delivering these important benefits:
Easy & accessible maintenance
Reduced maintenance & bale handling costs
Energy savings
Optimal bale density
For C&D recyclers, waste haulers, demolition contractors and landfills, there is a growing opportunity to profit from rethinking processes. Although every operation is different, by streamlining the front end of the C&D operation processes with purpose-built technologies, recyclers can tap into new end markets, accommodate higher material volumes, stay ahead of regulatory restrictions, increase recovery rates and add commodity revenue, while decreasing labor and other costs.
Download the new eBook to learn about:
Finding opportunities in the alternative to landfilling C&D
How facilities can increase their profits from C&D
Using the right C&D processing technology in the right locations