Terex Washing Systems launches HydroScrub 200 for wash recycling applications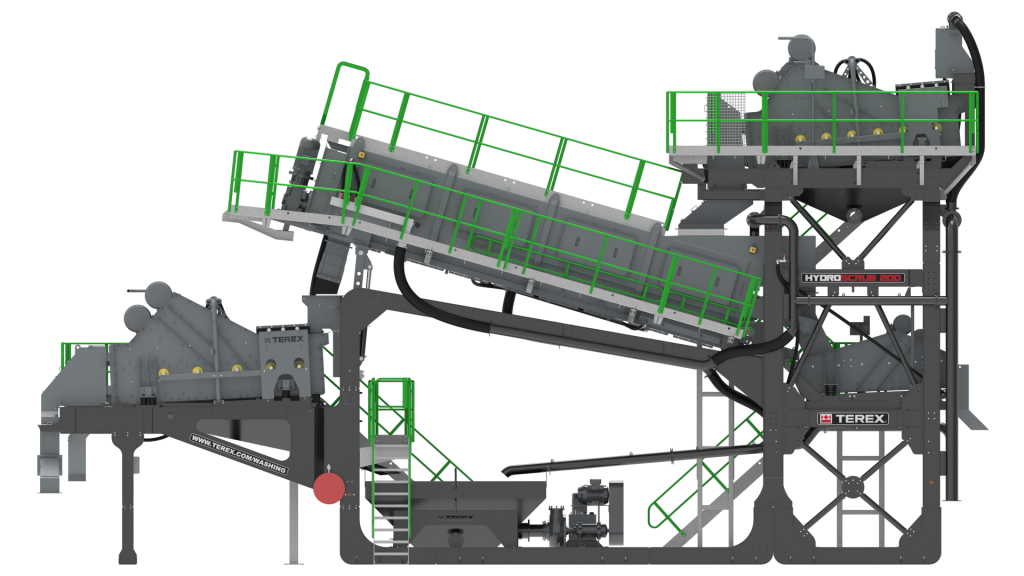 Terex Washing Systems has announced the HydroScrub 200—the latest addition to its Greenline range of products that has been specifically tailored to work in wash recycling applications.
The HydroScrub 200 uses the core principals of a high-performance log-washer with new features that offer dynamic adjustment and control, with flexibility that enables the customer to adjust parameters to optimize performance and suit various types of feed material.
Comprising of hydro floatation water injection, integrated pre and post screens, a high-volume trash removal screen, and single-pass processing for various feed materials, the HydroScrub 200 has proven performance in wash recycling applications ranging from C&D Muck away applications— where the challenge is liberating the valuable aggregates and light organics from difficult to break down fines and insoluble clay— to 'High Volume Lights' applications, where the level of attrition required to clean aggregates is less, but high volumes demand more water to create the hydro separation required to float these off effectively.
Barry McMenamin, business line director of Terex Washing Systems said, "We recognize that not only is there a huge growth in the wash recycling sector, but there is ever increasing diversity in the range of materials end users need to wash. The HydroScrub 200 offers the convenience of having one machine that can be easily adjusted to process different feed materials and provides opportunities for expansion— expansion in the range of customers you can provide a service for, and expansion in terms of the volume of material they can process. It is the epitome of what we strive to offer through our Greenline range of products—balanced, end-to-end processing systems that enables our customers to wash wisely."
Related Articles
Traditionally, waste management companies have operated using a simple "management of waste" approach to operating a MRF. Throughput targets and continuous operation (minimal downtime) were the main driving forces. The industry has changed however, and the focus moving forward is now on optimizing system performance and reliability, in conjunction with increasing recycling rates and a drive for a "greener" and more sustainable tomorrow.
When considering the addition of, or upgrade to, an "intelligent" MRF, for municipalities or private operators, the main factors should always be the client's (operator) current requirements, and evolving market needs, which include throughput, reliability, output quality, and adaptability. Equally important is a full understanding of what is really expected from any proposed system. Having an engaged and focused mindset for the project with the client from the beginning, will impact and drive the entire design process. This then impacts the overall project result, through to the productive, efficient, ongoing operation of the facility itself.