Brandi Harleaux receives ISRI's first-ever Young Executive of the Year Award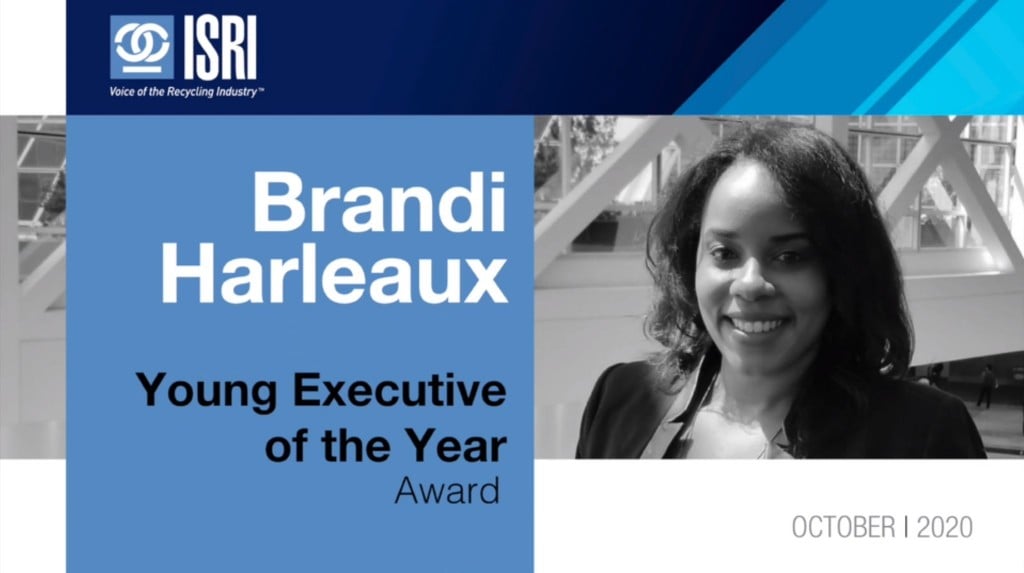 The award celebrates the dedication, accomplishments, and business and community leadership of young professionals who work for ISRI member companies. Brandi was recognized for her commitment to advancing recycling and her work in her local community.
"Young executives are both the present and future of our industry," said ISRI President Robin Wiener. "Brandi represents the best of ISRI and the recycling industry. She brings a plethora of professional and volunteer experience, a passion for the recycling industry, and a desire to leave a lasting impact on everything she touches. ISRI is thrilled to recognize her as our inaugural Young Executive of the Year Award recipient."
Harleaux is chief operations officer of South Post Oak Recycling Center, a nonferrous and ferrous recycler with two facilities in Houston. She manages the company's strategy, finances and leads a team who oversees operations, marketing, sales, and customer relations achieving up to 25 percent growth in the last two years. Brandi holds multiple ISRI volunteer leadership roles, including an Executive Committee member, at-large member of the ISRI Board of Directors, co-chair of the Challenges & Opportunities Committee, and is the marketing & communications chair of ISRI's Gulf Coast Chapter. She and her company have received numerous business awards in the Houston area, where she is on the board of the City of Houston Office of Business Opportunity, the Houston Metal Air Pollution Community Advisory Board, and the Recycling Council of Texas.
"I truly feel honored and privileged to represent the young executives as the first award recipient," said Brandi Harleaux. "My Dad said when I joined our company and the trade association that the best way to learn about the industry was to get involved. That's what I plan to continue doing - one day at a time. Connecting with both young executives & women in recycling to share perspective about my experience in this vast industry and learn about others is invaluable. I look forward to continuing to serve where I can, learn, grow and have an impact."