Recycling capacity tripled at Northeast Ohio MRF
CP Group technology upgrades at Lorain County Resource Recovery Complex have contributed to an increased recovery rate of recycled materials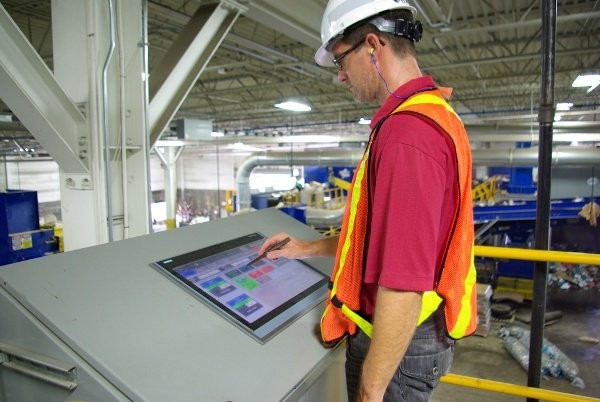 Recent CP Group technology upgrades at Republic Services' Lorain County Resource Recovery Complex in northeast Ohio have tripled recycling capacity in the first 100 days of operation. CP says the $15 million technology and building upgrades will enable Republic Services, Inc., an industry leader in non-hazardous waste and recycling, to process as much as 150,000 tons of recycled materials at the Complex each year.
The Lorain County Resource Recovery Complex is home to Republic Services' state-of-the-art Materials Recovery Facility (MRF). In March 2013, The CP Group equipped the MRF with a technologically advanced Supervisory Control and Data Acquisition (SCADA) control package to provide operators with seamless plant-wide optimization and data acquisition tools.
SCADA is a key component of the highly automated single-stream recycling system, which includes multiple high-tech screens, optical detection technology, air classification machinery, and high production balers. The SCADA control package utilizes cutting-edge Programmable Logic Controllers, with touch panels that enable MRF operators to more efficiently evaluate and track recycling output. It includes a belt scale which measures in real-time the processing rate of pre-sorted materials. It also provides operators with one pan-tilt-zoom camera, and three stationary cameras for a 360-degree eagle eye, high-definition view of the entire sorting system.
"The Oberlin facility is an advanced sorting system using our latest technology in mechanical and optical units, and it is also the first complete system on the CP Group iMRF™ (intelligent MRF) platform. The electrical control is seamless from the infeed conveyor to the baling stage, and includes belt scale, WI-FI touch screen, cameras and complete SCADA software with Office Interface System (OIS) station," says Patrick Nicol, CP Group Sales Engineer.
The OIS tracks all event logs with a time stamp, and production metrics such as tons per hour, bale weights, residual percentages, system power requirements and power consumption, and uptime as well as downtime, along with the reason for any downtime. The real-time data and system feedback enables operators to respond quickly to any events within the MRF.
"The CP Group Lorain County SCADA/OIS software has been custom developed through collaboration between Advanced MRF and Republic Services for system optimization and data acquisition. This data makes it possible to achieve the important information necessary to make informed decisions and run a very successful operation. The CP Group is proud to be a pioneer in control optimization," continued Nicol.
The CP Group is a Siemens Automation Solutions Partner. Control package solutions were integrated by Advanced MRF, a division of the CP Group. The CP Group of Companies is comprised of 5 industry-proven companies, involved in engineering, manufacturing and installation of technologically advanced Material Recovery Facilities worldwide. Custom turn-key solutions for residential recycling, commercial and industrial processing, municipal solid waste, engineered fuel and more, are designed and implemented by the Group. The CP Group is comprised of CP Manufacturing, Krause Manufacturing, MSS, IPS Balers and Advanced MRF.