ABB and Lion Electric partner to advance transition to zero-emission electric vehicles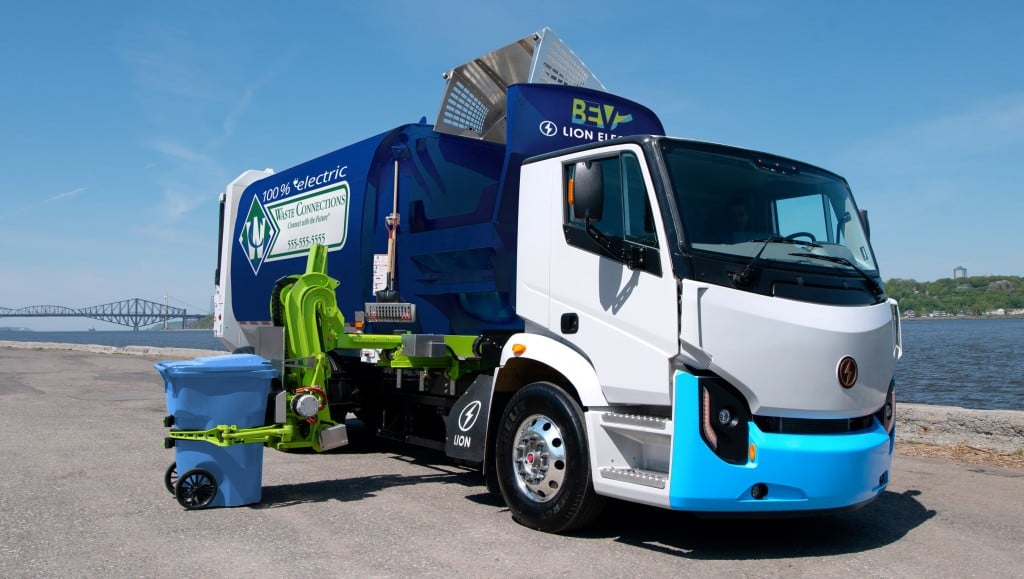 ABB has partnered with Lion Electric, a manufacturer of zero-emission electric-powered vehicles, to strengthen the transition to a zero-emissions future in North America.
ABB will offer its complete charging equipment product line to Lion Electric, to be sold under Lion Electric's new Lion Energy infrastructure specialty division, making the company a service partner for ABB.
Lion Energy, the heavy-duty vehicle manufacturer's end-to-end infrastructure solution is designed to streamline the process of EV charging station installation. Lion Energy packages charging infrastructure design and review, project management, utility coordination and customized consultation to its customers, easing the complex process of charging station installation. Lion Energy aims to ensure infrastructure installation is accomplished in tandem with the vehicle purchasing process, giving customers the capacity to meet the charging needs of current fleets and the ability to scale in the future.
ABB's portfolio and services span the entire kW chain from compact, high-quality AC wallboxes to reliable DC fast charging stations, Terra 54 (Fast Chargers) and Heavy Vehicle Chargers. ABB will supply the full range of solutions to support the Lion Electric fleet which ranges from small buses to 300kw battery trucks.
"Reinforcing our commitment to e-mobility, we are pleased to partner with Lion Electric as we share the same pioneering vision for an electrified future," said Bob Stojanovic, ABB's Head of EV Charging Infrastructure for North America. "Collaborating with innovative vehicle makers to ensure the vehicles and the charging work seamlessly is a crucial part of ABB's mission to ensure electric transformation succeeds."
"Over the past few years, Lion Electric has delivered hundreds of electric buses and trucks, and it has been a goal of ours to provide a complete turnkey charging infrastructure solution for our customers," said Marc-Andre Page, Vice President of Commercial Operations at Lion Electric. "With our deep experience in EV charging, we are proud to partner with a segment leader like ABB to provide premium EVSEs to our customers. We feel the Lion and ABB partnership was a natural fit as both companies are pioneers in electrification and share a common goal of decarbonizing transit. We are looking forward to deploying ABB equipment and to offer a state-of-the-art charging infrastructure solution to our customers."
Lion Electric will be trained to undertake the servicing of ABB's EV charging solutions. ABB's charging hardware and software are designed to meet the needs of e-buses and trucks. ABB will also support the end customers' installation of the charging equipment, making the implementation of electrification easier for school bus and transit fleets.
More from Industry News
Single-Ram and II-Ram High-Capacity Balers
At Machinex, we've been designing sorting systems for over 35 years, so we know how essential it is for MRF operators to have a baler they can trust and not worry about its operational reliability. This is why we design and manufacture reliable single-ram and II-ram high-capacity balers to specifically help optimize their operations.
Watch the video of our expert who presents the main features of Machinex balers delivering these important benefits:
Easy & accessible maintenance
Reduced maintenance & bale handling costs
Energy savings
Optimal bale density
For C&D recyclers, waste haulers, demolition contractors and landfills, there is a growing opportunity to profit from rethinking processes. Although every operation is different, by streamlining the front end of the C&D operation processes with purpose-built technologies, recyclers can tap into new end markets, accommodate higher material volumes, stay ahead of regulatory restrictions, increase recovery rates and add commodity revenue, while decreasing labor and other costs.
Download the new eBook to learn about:
Finding opportunities in the alternative to landfilling C&D
How facilities can increase their profits from C&D
Using the right C&D processing technology in the right locations