Permanent suspended magnets latest in Eriez Quick Ship product line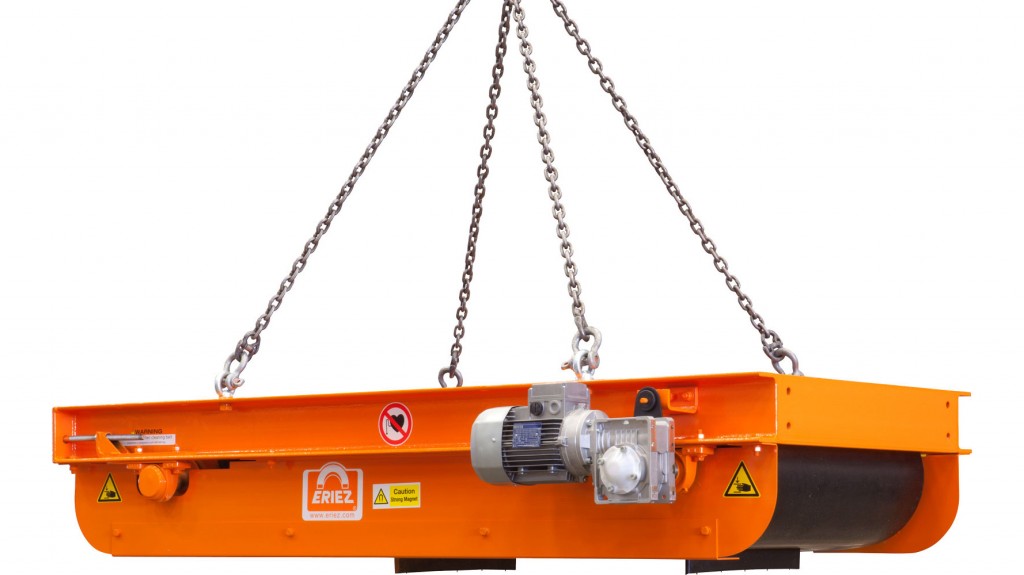 Eriez' permanent suspended magnets are now stocked as a part of the company's Quick Ship expedited delivery program. The permanent suspended magnets are the latest addition to the program which includes some of Eriez' most popular equipment for recycling and other applications.
The move follows a recent expansion by Eriez of its standard suspended permanent magnet offerings for North America, with TP-25 suspended magnets which the company formerly sold exclusively in Europe. According to Eriez, CP-20 and TP-25 suspended magnets offer the same power and performance as previous models at a more economical price.
"We are excited we can now add fast shipping options as another one of the many advantages of choosing CP-20 and TP-25 suspended magnets for your toughest challenges," commented Eriez Separation Product Manager Chris Ramsdell.
CP-20 and TP-25 suspended magnets in the Quick Ship line are available in both self-cleaning and manual cleaning designs. Manual clean magnets include a drawer type stripper plate and cable sling suspension, and all models are simple to install and require no power, keeping operating costs low with no interruptions in service.
Eriez says CP-20 and TP-25 suspended magnets have been proven highly successful in applications where ferrous contaminants must be removed from bulk products - either on a moving conveyor belt or chute. All self-cleaning models are available with either a standard electric drive or a hydraulic drive. CP-20 Series permanent magnets provide a continuous and uniform magnetic field across the feed belt to remove damaging tramp iron. TP-25 Series magnets utilize a powerful twin pole magnetic circuit to provide maximum ferrous removal at higher suspension heights.
"By including in stock hydraulic drive magnets as part of our Quick Ship Program, we can better fulfill the needs of our mobile crusher and mobile equipment market customers to keep production moving," said Ramsdell.
More from Metals Recycling
Single-Ram and II-Ram High-Capacity Balers
At Machinex, we've been designing sorting systems for over 35 years, so we know how essential it is for MRF operators to have a baler they can trust and not worry about its operational reliability. This is why we design and manufacture reliable single-ram and II-ram high-capacity balers to specifically help optimize their operations.
Watch the video of our expert who presents the main features of Machinex balers delivering these important benefits:
Easy & accessible maintenance
Reduced maintenance & bale handling costs
Energy savings
Optimal bale density
For C&D recyclers, waste haulers, demolition contractors and landfills, there is a growing opportunity to profit from rethinking processes. Although every operation is different, by streamlining the front end of the C&D operation processes with purpose-built technologies, recyclers can tap into new end markets, accommodate higher material volumes, stay ahead of regulatory restrictions, increase recovery rates and add commodity revenue, while decreasing labor and other costs.
Download the new eBook to learn about:
Finding opportunities in the alternative to landfilling C&D
How facilities can increase their profits from C&D
Using the right C&D processing technology in the right locations