Infinitus Energy and BHS bring revolutionary MRF to Montgomery, Alabama
New Renewable Energy Park will eliminate up to 85 percent of waste headed to the city's landfill
Ground broke July 17th on a revolutionary Materials Recovery Facility (MRF) developed by Infinitus Energy, for Montgomery, Alabama, that will eliminate up to 85 percent of waste headed to the City's landfill. The company says the Infinitus Renewable Energy Park at Montgomery (IREP at Montgomery), will be the first facility to combine several of the most technologically advanced systems available for waste recovery to create the most advanced integrated waste recovery facility in the country.
"The United States alone produced approximately 250 million tons of waste in 2010. The exponential increase in waste over time creates a sustainability crisis if we don't dramatically alter the current waste model," said Kyle Mowitz, CEO and founder of Infinitus Energy.
"Infinitus Energy is delivering an economical 'big picture' solution to the multiple problems facing our world now and in the future to the City of Montgomery. The Mayor's vision and commitment to our collaboration has made this possible, and we thank him and his capable staff, advisors and consultants in supporting us in our vision for a viable environmental and economical system and for the residents here."
Construction of the 81,992-square-foot facility is expected to be complete and operational by June 30, 2014. Once the facility is operational, residents will place all trash in one city-issued bin, which will be collected by the City of Montgomery sanitation department, and taken to the Advanced Mixed Materials Recovery Facility at the Renewable Energy Park. There it will be separated using the latest in screening, air and optical separation technologies.
The complete system, engineered, manufactured and installed by Oregon-based Bulk Handling Systems (BHS), sorts and recovers commodities such as cardboard, mixed paper, metals, aluminum cans, plastics and wood based on density, size, shape and material composition. Additional sorting will be done by hand at the site. Infinitus says the advanced technology used allows the facility to accept a larger variety and volume of potentially recyclable products than other recycling methods.
"The beauty of this project is that residents don't have to do anything differently. All of the separating takes place at the MRF," said Mayor Todd Strange, "and the 25-year partnership the city has with Infinitus ensures that materials will be recycled."
"IREP at Montgomery will provide recovery rates not achievable by single stream recycling programs that rely on residents to sort trash themselves, which addresses the recycling needs of the community without additional capital investment from the city," Mowitz added.
Infinitus says the project will significantly reduce the amount of waste in the city's North Montgomery Sanitary Landfill and extend its operational life by many years. The facility can process up to 225,000 tons of waste per year and municipalities and commercial businesses within a 90-mile radius from the facility may also contract to process their waste at IREP to achieve aggressive recycling rates.
"This is a long-term green investment in our city and state. With this project, Montgomery will be seen as a leader and trendsetter in implementing green technology for the benefit of both our residents and our planet," said Mayor Strange. "Diverting tons of material away from landfills and incinerators and turning those materials into valuable resources generates a host of financial, environmental and societal returns."
IREP at Montgomery sits on a 74-plus acre industrial site. The facility is pressurized and all waste is stored inside, thereby not emitting additional odour, contamination or noise to the area. The cost of the materials recovery facility is approximately $35 Million, and the project will create approximately 110 local jobs.
"This is another great day for Montgomery as we welcome Infinitus Energy to our growing business community," said Montgomery Area Chamber of Commerce Chairman of the Board Horace Horn Jr. "The cooperative spirit among our elected and community leaders makes it possible for us to continue bringing new jobs and innovative businesses such as Infinitus Energy to the River Region."
The high-tech facility brought together leaders in the recycling and recovery industry from all over the world. BHS designed, engineered and is manufacturing and installing the turnkey facility, using In-Line Tri-Disc technology from BHS and In-Flight Sorting technology from Nashville-based NRT, which the company says will provide industry-leading separation efficiency and recovery rates. The facility will also feature air separation technology from global leader Nihot, an Amsterdam-based company with more than 750 operational reference facilities throughout the world.
IREP is currently working with Zero Waste Energy, based in California, to install ZWE's Smartferm technology of anaerobic digesters as Phase II of the project, enabling the system to convert organic waste sorted at the facility into Compressed Natural Gas.
"Both populations and per capita waste are increasing and landfills across the world continue to reach capacity. Infinitus Energy has a clear vision of how to turn the challenges of waste disposal into an asset," added Mowitz. "This is leading edge technology that can have a direct impact on the quality of life for residents of the Montgomery community."
Infinitus Energy provides integrated waste processing solutions with economic and environmental benefits for municipalities and companies nationwide. Infinitus Energy specializes in designing, developing, financing, building and operating waste recovery facilities. The company's Renewable Energy Parks address the multiple challenges posed by the volume of waste deposited into near-capacity landfills across the globe. The Renewable Energy Parks convert waste into profitable resources; maximize high value material recovery at a rate of 95-99 percent with no required capital investment from the supplier of the waste stream; and are turnkey facilities managed and maintained by Infinitus. For more information on Infinitus Energy, also known as I-Energy, visit http://infinitus-energy.com.
Related Articles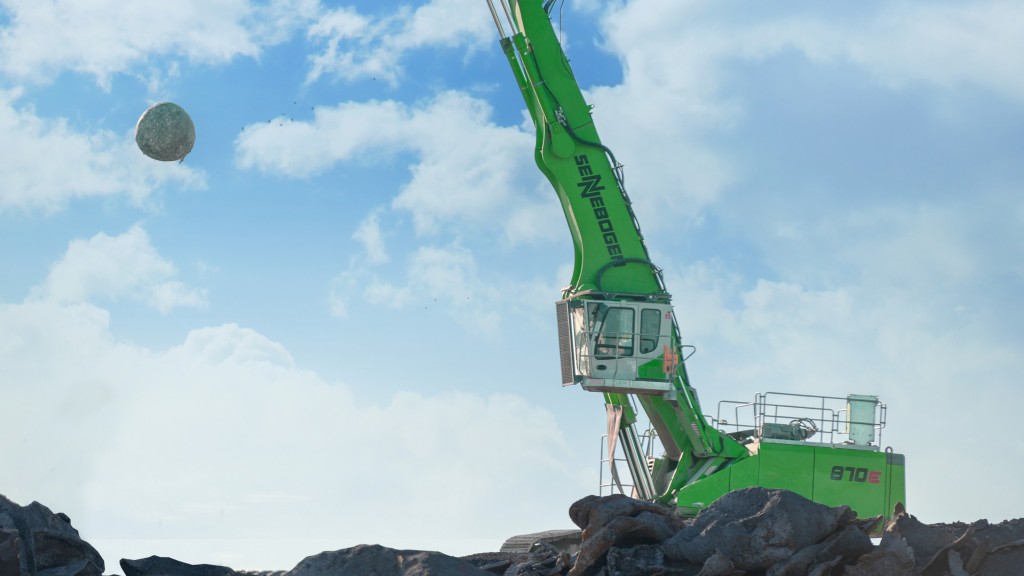 Levy Steel Mill Services replaces two drop ball cranes with one SENNEBOGEN material handler