6m/second sorting of fiber and plastics with TOMRA AUTOSORT SPEEDAIR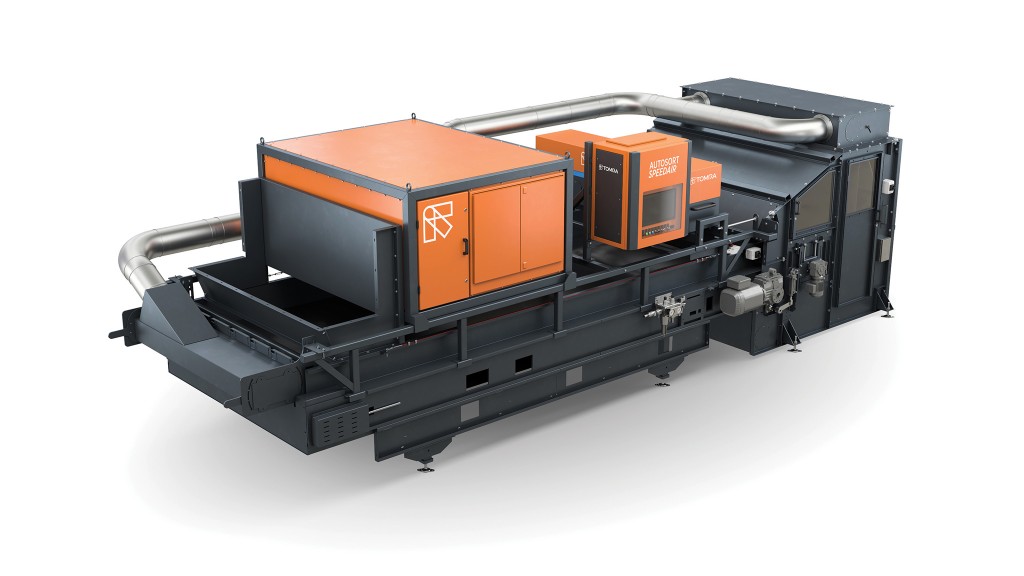 TOMRA's new AUTOSORT sensor-based sorting lineup for processing recycled fiber and plastics, now available worldwide, includes the next-generation AUTOSORT optical sorter, the CYBOT robotic sorter, and SPEEDAIR, a 6m/second high-speed belting system (our focus below.)
The AUTOSORT line is designed to be compact, highly flexible and upgradable, bringing together multiple technologies, including FLYING BEAM (NIR), SHARP EYE, DEEP LAISER, as well as updated Intelligent Object Recognition software, to deliver complex, artificially intelligent (AI) optical sensor-based sorting of recovered paper and plastics (including film and black plastics) at very high throughput rates.

AUTOSORT SPEEDAIR
TOMRA's newly introduced AUTOSORT SPEEDAIR is a highly customizable system designed to stabilize especially light materials such as plastic films or paper on a high-speed conveyor, thus generating higher throughput and enhancing sorting quality at the recycling plant.
"The SPEEDAIR uses an open-belt concept combined with recycled airflow from the top and back, to keep material from floating off the belt when travelling at higher speeds," explains Atienza.

He says the open concept allows operators to see exactly what is on the belt at all times, minimizes the chance for material blockage, and allows service technicians quick accesss to maintenance to reduce machine and circuit downtime.

"Throughput is important but so is detection," continues Atienza, adding that previously, with most optical sensors, the belt is moving at around 2.8 m/second, or maybe up to 3.2 m/second. "With SPEEDAIR we are doubling the belt speed and average throughput to about 6 m/second.

"However, detection at the end of the day is the most important, because you want to have the best sorting performance. AUTOSORT technology is able to identify and provide exceptional sorting performance at high belt speeds."

Atienza says TOMRA collaborated with a company specializing in high-flow air systems when designing this component of the AUTOSORT system, adding that the open belt concept is a unique selling feature for the AUTOSORT SPEEDAIR.

"Others have a covered belt to keep light material on the belt and avoid losing material when conveying at high speeds," he explains.

Due to its adjustable air recirculation capability, SPEEDAIR also provides the benefit of increasing overall flexibility at the recycling plant.

"We can adjust air recirculation depending on the density of material," Atienza says. "We don't waste air, and you can control the circulation on the belt. It's flexible, so depending on the type of film, or paper, or the type of application, operators can play with the air recirculation to optimize throughput."

According to Atienza, all their machines, including SPEEDAIR and the entire AUTOSORT system, can be linked to TOMRA Insight so that customers can better control their facilities.

"It is not only unit by unit control, but it works for all units from our line,"Atienza says. "We can connect it to our SPEEDAIR or FLAKE SORTER, providing a comprehensive view of what's going on in the entire plant.

"And the Insight platform provides capability to see not only one machine, or one MRF, it delivers the ability to preview production data from multiple locations simultaneously."
This article was originally published in the July/August 2020 edition of Recycling Product News, Volume 28, Number 5.