Ecowaste is growing beyond the C&D landfill
Taking it one step at a time in transitioning to C&D MRF, with the help of half a dozen Liebherr machines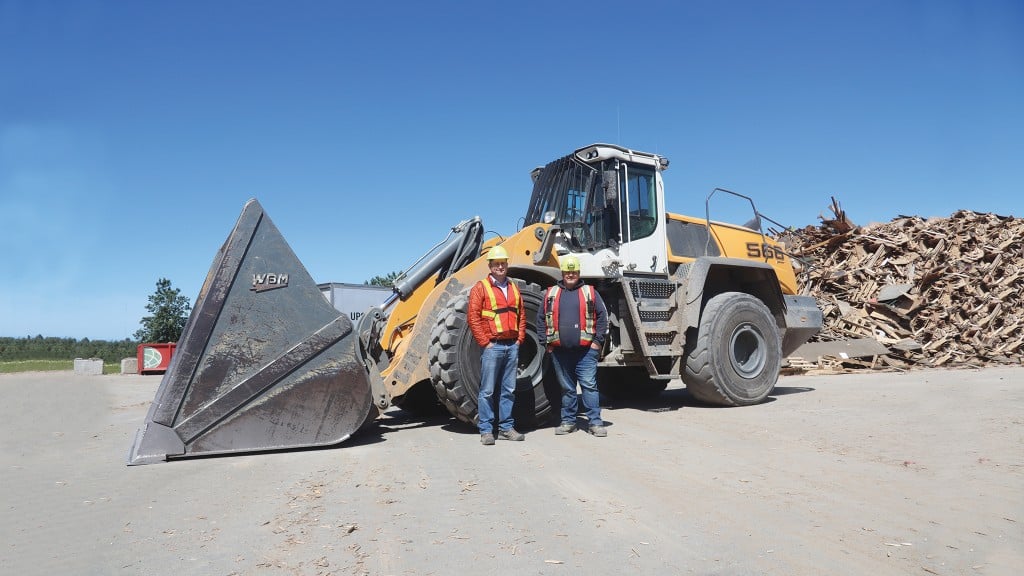 Ecowaste Industries is a privately owned, family-run C&D landfill operation that has been in the business for 50 years. The company currently operates on 330 acres in Richmond, B.C., with a small transfer station in nearby New Westminster (both municipalities border Vancouver).
According to Christian Dietrich, GM of their waste management division, one of the current goals is to transform from a company that is landfilling the bulk of their incoming mixed C&D stream to one that landfills only about 20 percent.
Dietrich says over the course of the last decade Ecowaste has started to take in an overall wider range of materials, including more mixed waste C&D materials from both residential and industrial sources. "Our main focus is on the construction and demolition industry, mostly in terms of landfilling of material," explains Dietrich. "We recycle roughly 25 percent of what we do handle and the rest is for landfilling."

Most of the mixed demolition waste they bring in, of which the largest volume is waste wood, comes through less than half a dozen privately run transfer facilities, in and around Vancouver and nearby Surrey.

He says they are currently in the permitting process for construction of an on-site C&D MRF that would process 250,000 tons of mixed material yearly. A wood processing line using a HAAS shredder, operating at the Richmond site, constitutes the beginnings of this part of the business. The line produces mainly biomass for waste-to-energy end markets, and makes up about 20 percent of the total infrastructure planned for a fully equipped C&D materials recovery facility.

Once this part of the business is fully operational, they will be able to efficiently pull clean wood out of their incoming stream, along with plastics and paper, to be further recycled or used as alternative fuels, and they will also be able to sort out all the metal for recycling.

"That's our goal and it's how we're going to eventually move the businesses more from just a disposal facility for C&D materials to a recycling facility."
One stop shop for heavy equipment
Since 2019, Ecowaste has brought online six Liebherr machines, including a dozer, two wheel loaders, two excavators, and a material handler. When he came to Ecowaste in 2018, there was a replacement schedule for equipment, and from the start Dietrich was intent on using one supplier for all their heavy equipment.
"I wanted to package everything together, not only for a potential discount, but when I first came here we had Cat, we had Kobelco, we had Kawasaki, Deere, we had just about everybody who made heavy equipment. I wanted to narrow it down to one, or maybe just a couple of different suppliers.

"We came up with a weighted scoring system to compare all potential machines. We compare price, operating costs, technical specifications, after sales support, supplier experience, health and safety features, warranty and ergonomics," he says. "It wasn't any one thing that stood out, or one aspect that we were looking at like fuel efficiency. We also scored suppliers on how many technicians they had available for servicing, and on spare parts availability. For equipment specific things, we looked at both fuel efficiency and overall weight.

"For the material handler, there was only two other manufacturers, and for me it was fairly simple on who we were going to go with, due to my experience with these machines in the UK," he says. "But I had to keep in mind that we also needed bulldozers and front loaders, an excavator and the whole package.

"We took everything into account and we created a scoring system and then out of that scoring system, we flushed out Liebherr to go with as a total package supplier.

"It wasn't actually even that close to be honest," he says. "I have had good experience with Liebherr in the past and I knew we were a 'waste business that needed to buy like a waste business.'"

Ecowaste got their first Liebherr machine, a used 566 shovel (wheel loader) in May 2019. They then placed orders for a new LH 22 material handler, a second wheel loader (model 556), as well as a PR 736 bulldozer with a landfill package and a pair of excavators - an R926 LC (with a custom rising cab) and an R924, both fitted with specific waste grab attachments.
Wood waste focus
Dietrich says roughly half of what they see in C&D waste in B.C. is wood. In 2019, Ecowaste made an investment in their HAAS wood shredding line, which is also part of the reason they brought in their LH 22 material handler. "Our biggest opportunity is definitely with wood," he emphasizes, adding that they do also compost on site, and they recently bought assets of a locally operated wood waste recycling business.

"We took over one of their sites in New Westminster, which is now our transfer station," adding that while they initially intended their material handler to work on the wood line in Richmond, it ended up finding its home at the transfer station instead. "Our LH material handler operators separate wood and garbage at the transfer station, we load the clean wood material out and bring it back to our HAAS shredder."

Ecowaste's clean wood output is sold as biomass fuel to customers located in the lower mainland, near Vancouver, with one in the B.C. interior.

"Our buyers for alternative fuels include energy producers, and there are companies that need it for their own production," explains Dietrich. He says they sell a lot of it to a paper producer and recycler in New Westminster.

"They make lots of paper products, but they don't use our wood for making paper. They burn the wood to produce steam for heat and energy."
Waste machines for the waste business
In North America material handlers, such as the LH 22, are used mostly in scrap applications, but not much in waste. But, according to Dietrich, who before Ecowaste, spent years in Europe and the U.K. working for major waste management firms including Veolia and Shanks, over there, it's all material handlers in waste.

"It seems strange to me that material handlers are used so much in waste in Europe, but they're not selling them into waste here. It just hasn't taken off. It will though," he predicts. "These machines are made for waste, where they are not needed to grab a ton, but grab 300 kilograms."

In the North American waste and recycling industry, he says, many still use excavators where a dedicated material handler, like Liebherr's LH model, would be much more effective.

"I've been to many waste and recycling plants in Europe, and all of them had dedicated material handling equipment. Here in North America, guys will take a soil excavator and try to run it handling waste materials. Waste doesn't need the big bulky, heavy boom or stick."

He adds that using a soil excavator for recycling can burn up to 18 litres per hour, compared to a material handler which will burn about six or seven litres per hour. At Ecowaste, they were initially intent on bringing in two material handlers and one excavator, but ended up going the opposite way based on the quick availability of one of the excavators and various circumstances.

"To feed our HAAS wood line, we went with a lightly used 926 excavator, and changed out the bucket for a waste sorting grab. The 926 is unique because it has a cab that rises up to about four metres off the ground," explains Dietrich. He says that while the machine is heavier, less stable and maneuverable on their site, and consumes more fuel than a material handler would, it was available quickly, and because of the rising cab especially, was a good choice for their needs.

He adds that there is a bit of a story behind their R 926 LC excavator. With its unique, customized cab riser, this particular excavator was brought over from France for a customer in South Carolina who wanted to dig dirt and be able to look into the trucks as they were loading. "But what they found, after they tried it a few times was that the operators just didn't feel all that stable, digging dirt, being four metres off the ground in the cab," explains Dietrich. The machine was sitting in South Carolina, and was scheduled for return to Europe, at which point their Liebherr Canada representative in Vancouver proposed it might be a fit for Ecowaste.

"He said we could get a good deal on it, or it was going back to France, so we put a grab on it and we brought it out here and it's working perfectly for us. As an excavator, it probably weighs too much and burns too much fuel, but with the extended cab we can look into our shredder while we're shredding wood. It gives us a really good idea on what's going into the shredding chamber."
The road ahead
At this point, besides his goal of bringing in another material handler to work alongside their LH model at the transfer station or on their wood line in Richmond, the new machine Dietrich is most looking forward to next is a telehandler.

"In 12 to 24 months, I'd like to get one," he says. "It would be used in our public drop-off area or our tipping areas where we're just pushing material around, and where pedestrian safety is really important, because you can see a lot better in those machines and they are more compact than with a wheel loader. It's just a smaller footprint. You get into areas that big loaders can't." He says that in Europe, community recycling depots use a lot of telehandlers with great success.

As it happens, Liebherr has just introduced their first telehandler models in North America, which they are targeting specifically at recycling and waste. This will allow Dietrich to stick with his goal of buying all his heavy equipment from one supplier. (See page 14 for details on Liebherr's new line of telehandlers.)

"If this kind of machine was available for us last year, I probably would have bought one instead of a second wheel loader because it ticks more of the boxes that are important to us: a lower price point, more pedestrian-safe and lower running costs."

"There's a lot of room for growth of material handlers and telehandlers for waste handling, outside of the scrap sector," concludes Dietrich. "I just had a call from another waste company, which asked if they can stop by our New West site to take a look at the LH 22. I think now that there's one in the area working in a waste application, there will be some interest."
This article was originally published in the July/August 2020 edition of Recycling Product News, Volume 28, Number 5.