Nine BC recycling facilities receive used oil recycling infrastructure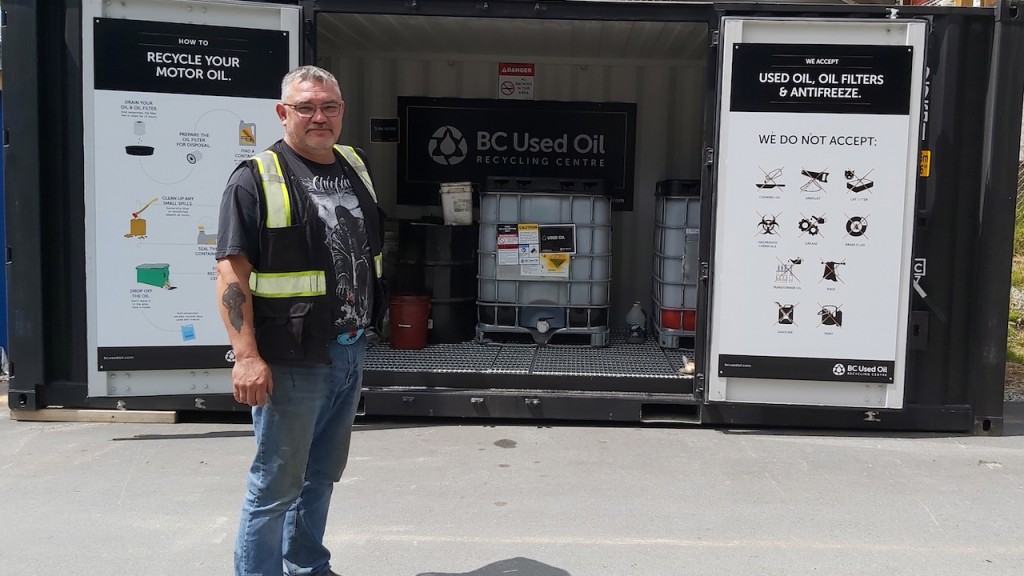 BC Used Oil Management Association ("BCUOMA"), a not-for-profit group dedicated to the collection and recycling of lubricating oil, oil filters, oil containers, antifreeze and antifreeze containers in British Columbia, today announced that over the past three months, seven used oil recycling facilities across BC have been upgraded with new environmentally safe infrastructure, and two new BCUOMA return collection facilities (RCFs) have opened.
Upgraded RCFs:
Hartland Landfill - 1 Hartland Avenue, Victoria
Great Canadian Oil Change - 45970 Alexander Ave, Chilliwack
Vanway Regional Transfer Station - 6556 Broddy Road, Prince George
Mackenzie Regional Transfer Station - 10 Cicada Road, Mackenzie
Nazko Lake Landfill - 9611 Baezaeko Road, Nazko
Lil'wat Nation - 10027 Xit'Olacw Road, Mount Currie
McBride Transfer Station - 500 NW Frontage Rd., McBride
Brand new RCFs:
Geraco Industrial Supplies - 3377 Laurier St., New Hazelton
Keremeos Landfill - 860 El Rancho Drive, Keremeos
"The Return Collection Facility infrastructure grants that businesses and municipalities received from BCUOMA provided them with a 10 foot or 20 foot modified sea container, and 1,100 - 2,200 litre tanks. These new and upgraded used oil recycling facilities will ensure the responsible collection and management of used oil, antifreeze, filters and containers," said David Lawes, CEO, BC Used Oil Management Association. "We are dedicated to providing British Columbians with environmentally safe, free to use, and convenient RCFs."

The RCF infrastructure grant program that BCUOMA provides requires the responsible environmental handling, collection, transportation, storage, processing and recycling of used oil and antifreeze material using economic, efficient and environmentally acceptable options.

BCUOMA continues to look for opportunities to upgrade and improve recycling facility locations across the province in order to provide British Columbians with reasonable access to convenient and free used oil recycling centres. BCUOMA has created signage for BC used oil recycling centres that explains how easy it is to recycle materials properly.
Municipalities, private businesses, nonprofit organizations, and other sectors interested in BCUOMA's RCF new infrastructure grants can find out more information at https://bcusedoil.com/infrastr....
Related Articles
Traditionally, waste management companies have operated using a simple "management of waste" approach to operating a MRF. Throughput targets and continuous operation (minimal downtime) were the main driving forces. The industry has changed however, and the focus moving forward is now on optimizing system performance and reliability, in conjunction with increasing recycling rates and a drive for a "greener" and more sustainable tomorrow.
When considering the addition of, or upgrade to, an "intelligent" MRF, for municipalities or private operators, the main factors should always be the client's (operator) current requirements, and evolving market needs, which include throughput, reliability, output quality, and adaptability. Equally important is a full understanding of what is really expected from any proposed system. Having an engaged and focused mindset for the project with the client from the beginning, will impact and drive the entire design process. This then impacts the overall project result, through to the productive, efficient, ongoing operation of the facility itself.