TOMRA launches AUTOSORT line, including robotic technology
Next generation automated sorting to meet demand for faster, more efficient and smarter recycling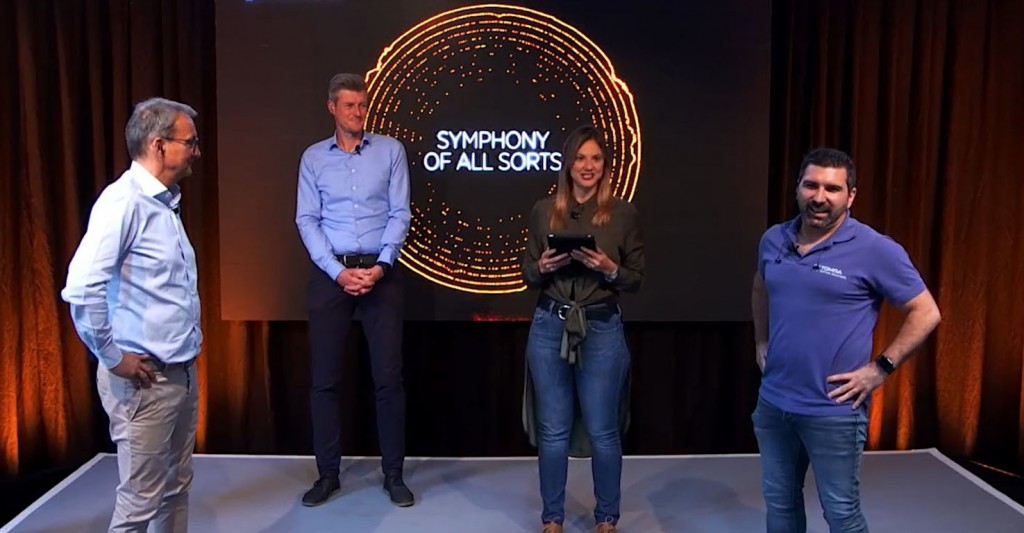 Tuesday, June 9, marked the global launch of TOMRA Sorting Recycling's latest advanced AUTOSORT recycling solutions via an industry-first virtual press conference, which included the company's original "Symphony of All Sorts" musical presentation.
Under the theme of "Symphony of all Sorts," meant to reflect the way in which the latest generation automated sorting technology creates a "harmonized symphony" to sort materials with advanced accuracy and sophistication, TOMRA formally launched the new generation AUTOSORT and AUTOSORT SPEEDAIR. The company also outlined plans for the upcoming launch of a third new solution, AUTOSORT CYBOT robotic recycling technology. According to TOMRA, all three new products are designed to meet demand for faster, more efficient and smarter recyclable material sorting - both now and in the future.
The new generation AUTOSORT
Based on positive feedback received from delegates, TOMRA Sorting anticipates high levels of interest in the most advanced model of its new generation AUTOSORT system. The ultra-compact, highly versatile sensor-based sorting system can be used across a vast range of material sorting applications.
Fabrizio Radice, Vice President and Head of Global Sales and Marketing at TOMRA Sorting Recycling, commented, "We work very closely with our customers to ensure that our products consistently meet their demanding requirements and those of their end customers.
"Our new generation AUTOSORT system is an incredibly exciting development as its use of versatile sensors and intelligent software will enable it to meet the demands of a whole host of current and future sorting applications."

Designed compact, highly flexible and upgradable, AUTOSORT brings together the very latest in TOMRA's technologies to deliver advanced accuracy of complex sorting tasks at high throughput rates. The system can be easily integrated into any existing or new sorting processes, as a great number of initial pilot projects have confirmed.
Being equipped with the broadest range of sensors and using data to classify objects, the machine is capable of separating materials which are difficult, or even impossible to separate using conventional technologies. Incorporated as standard in the latest AUTOSORT is TOMRA's SHARP EYE technology, which increases the light efficiency while maintaining the same energy consumption, enhances sorting sharpness and improves the separation of difficult to target fractions.
The unit also incorporates the latest and improved version of TOMRA's unique and patented advanced FLYING BEAM sensing technology, which delivers a range of benefits. Better light efficiency enables higher performance at low operating costs; compact design enables flexible and easy installation; and enhanced light signal efficiency results in improved detection.
Thanks to the integration of SHARP EYE and FLYING BEAM technology, AUTOSORT consistently delivers high performance in terms of sorting accuracy across all target fractions - even in the most complex of applications, according to TOMRA.
Optional technologies include the new DEEP LAISER, which stands out for its compactness and flexible range of uses. Its object recognition enables a deeper sorting sharpness to significantly improve the performance of the sorting process. Another application area is the use of Artificial Intelligence via Deep Learning. DEEP LAISER is one of the first fully integrated Deep Learning systems on the market.
The new AUTOSORT SPEEDAIR
Delegates of TOMRA's digital launch event also found out about another new product developed by TOMRA - the AUTOSORT SPEEDAIR, an additional component to TOMRA's AUTOSORT range.
AUTOSORT SPEEDAIR is a highly customizable system, designed to stabilize light materials such as plastic films or paper on a high-speed conveyor, thus generating higher throughput and enhancing sorting quality.
With industry demand resulting in the need for higher conveyor belt speed, AUTOSORT SPEEDAIR incorporates speed-controlled, fan-driven air inlets that generate a constant air stream over the conveyor belt to prevent material on the conveyor belt from moving. By doubling the speed of the conveyor belts up to 19.7 ft/sec (6 m/sec), throughput is much higher, and the output quality is consistently high.
Customers benefit from a higher return on investment, as well as lower installation and running costs. As the first system on the market with no belt cover, access to the unit for maintenance is enhanced, chances of material blockage are much lower compared to conventional high-speed systems in the market, and machine downtime is minimized.
A Glimpse of the Future
Looking beyond the launch of the new generation AUTOSORT and AUTOSORT SPEEDAIR, TOMRA also announced the upcoming launch of TOMRA Sorting's first robot, the AUTOSORT CYBOT. The system features a new generation AUTOSORT scanner, an electromagnetic sensor and a robot arm.
According to TOMRA, it is the first robot on the market that combines four technologies at once: Near Infrared (NIR) and Visible Light (VIS) spectroscopy, DEEP LAISER and if required, induction for ferrous and non-ferrous metals recovery. AUTOSORT CYBOT's robotic arm is capable of simultaneously sorting material into four different streams or fractions depending on the infeed material size, color and criteria of the target fractions.
Valerio Sama, Vice President and Head of Product Management for TOMRA Sorting Recycling, said "The addition of a robot arm to our AUTOSORT system opens up a wealth of new opportunities for highly automated applications within the sorting process and will deliver an even higher level of quality control of recyclables such as HDPE, PET and PP."

"We are delighted with how well the digital launch event went," concluded Tom Eng, SVP and Head of TOMRA Sorting Recycling.
"COVID-19 has required new ways of working and communicating, and we were more than happy to test out a digital launch platform for the first and probably not the last time, given its success! The launch provided an opportunity to showcase our range of complementary, connected and perfectly harmonized technologies, which together deliver a symphony that is capable of sorting all types of waste at unparalleled sorting performances and with impressive throughput and yield. Delegates had the chance to listen to the symphony - the sounds of all our machines - and were captivated by it!"
According to TOMRA, the AUTOSORT product launches were originally due to take place at IFAT 2020, but with the event cancelled due to COVID-19, TOMRA adapted its plans and instead launched the new products on a digital platform. The "TOMRA's Symphony of all Sorts" theme was chosen to reflect the way in which the latest generation AUTOSORT, and its complementary products, create a perfectly harmonized symphony to sort all kinds of waste with advanced accuracy and sophistication.
Experts from across TOMRA's global teams delivered presentations about the latest products to roughly 1,000 digital delegates world-wide, including representatives from multiple international and regional press titles. Interactive Q&A sessions enabled delegates to learn more about the new products' capabilities and hear about TOMRA's predictions for the global future of sensor-based sorting.
For more details about TOMRA's latest products and highlights from the June 9th digital launch event, including the Symphony of All Sorts video, visit www.symphonyofallsorts.com/aut....

Related Articles
Traditionally, waste management companies have operated using a simple "management of waste" approach to operating a MRF. Throughput targets and continuous operation (minimal downtime) were the main driving forces. The industry has changed however, and the focus moving forward is now on optimizing system performance and reliability, in conjunction with increasing recycling rates and a drive for a "greener" and more sustainable tomorrow.
When considering the addition of, or upgrade to, an "intelligent" MRF, for municipalities or private operators, the main factors should always be the client's (operator) current requirements, and evolving market needs, which include throughput, reliability, output quality, and adaptability. Equally important is a full understanding of what is really expected from any proposed system. Having an engaged and focused mindset for the project with the client from the beginning, will impact and drive the entire design process. This then impacts the overall project result, through to the productive, efficient, ongoing operation of the facility itself.