New Way Trucks celebrates first 100 percent Mississippi-made Cobra refuse truck
The unit marks the company's first truck manufactured using components entirely sourced from the Booneville plant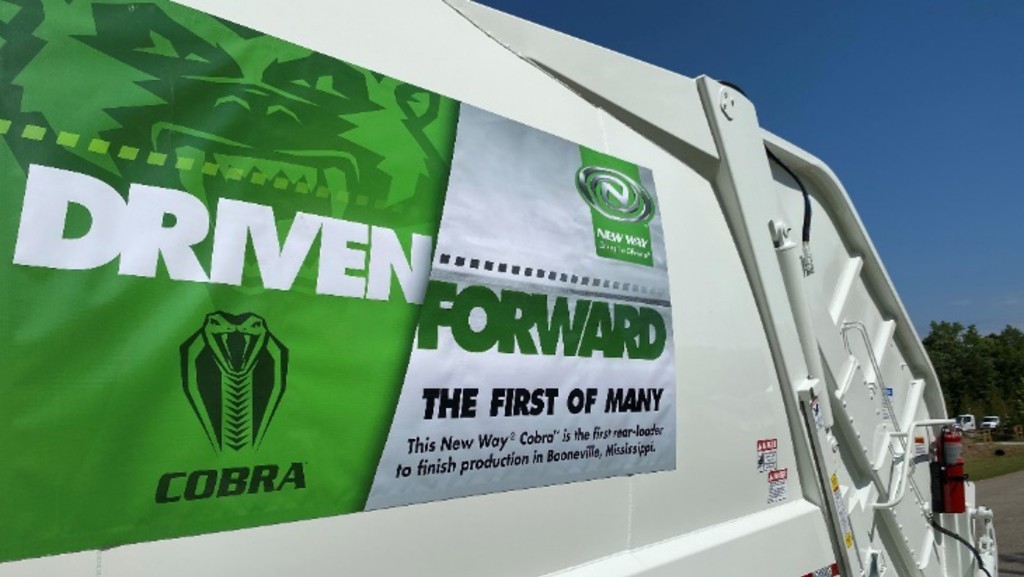 On Wednesday, May 13th, New Way Trucks celebrated its first 100 percent Mississippi-made Cobra refuse truck at its new manufacturing facility in Northeast Mississippi.
Production on the company's Cobra and Viper rear-load line began in January, and a number of trucks have already been completed using a combination of parts and components from New Way's facilities in Iowa. This unit, completed in March, marks the first truck manufactured using components entirely sourced from the Booneville plant.
"Although the COVID-19 pandemic postponed this special event until today, this first, 100 percent Mississippi-made truck marks a momentous occasion in New Way history," said Mike McLaughlin, CEO of New Way Trucks. "The Booneville and Prentiss County community has been nothing but welcoming. We look forward to continuing to hire great people and produce the highest-quality refuse equipment in the industry-right here-in Mississippi."
In addition to the rear-load assembly line that built this Cobra, McLaughlin also announced that the New Way Sidewinder XTR automated side loader (ASL) production line is operational and producing fully ASL.
Although the COVID-19 pandemic has altered how the world does business, hiring is ongoing and will continue through the remainder of 2020 as production continues to ramp up and new products are brought online. Production in Booneville - and at all New Way facilities - continues as scheduled in strict adherence to the latest CDC and OSHA guidelines. In addition to Cobra/Viper and Sidewinder, New Way's ROTO PAC—the world's first auger-driven ASL—has also begun production in Booneville.
More from Collection & Hauling
But we've been successfully sorting paper on the front end with optical sorters since 2005. Why have we been so successful? Because we know it's not JUST about the optical. We focus on your entire operation, so you make the most of your fiber line. Is your optical sorter living up to its potential? Call us at 203-967-1100 for a free system evaluation.
Traditionally, recyclers across Canada have sent a huge percentage of their recovered scrap metal to Hamilton, Ontario, or Pennsylvania in the U.S., via open-top rail cars and truck trailers. The scrap is then melted down and turned into new steel. This is still the case for much of our scrap steel, but recently the growing trend toward containerization has introduced new opportunities for efficient, cost-effective shipping of both non-ferrous and ferrous materials to overseas markets.