Edge releases 80-foot tracked radial stockpiler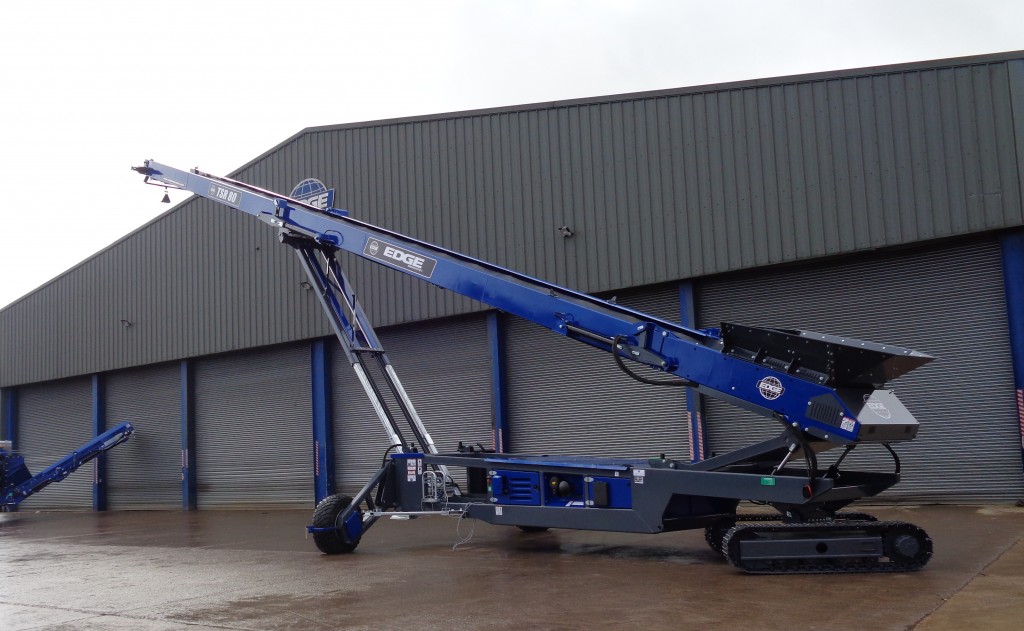 EDGE Innovate, which manufactures equipment used in the quarrying, port handling and recycling industries, has revealed its latest portable material handling offering with the launch of the TSR80.
The EDGE TSR80 is an 80ft long tracked mounted conveyor with radial stockpiling functionality. Essentially, the TSR80 has packaged all the advantages of a mobile radial stacker and that of a tracked mounted stockpiler into one product. The TSR80 has the ability to self-propel across even the roughest terrains and the capacity to create massive radial stockpiles. It is an efficient stockpiling solution for operators who frequently reposition their processing plant or want a conveyor to fulfill a number of different roles on-site.
The TSR80 offers operators a host of design features such as a high torque belt drive, 1200mm (48 inch) wide conveyor, hydraulic variable feed in height, adjustable operating angle, radial stockpiling functionality and quick transition from transport to operational mode. With a maximum discharge height of 11.8m (38'10 inches) and 360° radial capability, the EDGE TSR80 can create stockpile volumes up to 34,237m³ (40,947 cubic yards). In addition, the TSR80 has an optional automatic stockpiling program which combines automatic radial drive functions and self-angle adjustment enabling the TSR80 to create huge radial stockpiles with minimal supervision and prevents material segregation.
The core design principal for the TSR80 has been to provide customers with a conveyor that could create large radial stockpiles and can easily be transported both locally and around site with minimal fuss or cost. The TSR80 has been designed to fold down with it's own power source and to drive onto a range of low boys and low loaders.
More from C&D Recycling
Single-Ram and II-Ram High-Capacity Balers
At Machinex, we've been designing sorting systems for over 35 years, so we know how essential it is for MRF operators to have a baler they can trust and not worry about its operational reliability. This is why we design and manufacture reliable single-ram and II-ram high-capacity balers to specifically help optimize their operations.
Watch the video of our expert who presents the main features of Machinex balers delivering these important benefits:
Easy & accessible maintenance
Reduced maintenance & bale handling costs
Energy savings
Optimal bale density
For C&D recyclers, waste haulers, demolition contractors and landfills, there is a growing opportunity to profit from rethinking processes. Although every operation is different, by streamlining the front end of the C&D operation processes with purpose-built technologies, recyclers can tap into new end markets, accommodate higher material volumes, stay ahead of regulatory restrictions, increase recovery rates and add commodity revenue, while decreasing labor and other costs.
Download the new eBook to learn about:
Finding opportunities in the alternative to landfilling C&D
How facilities can increase their profits from C&D
Using the right C&D processing technology in the right locations