Long-term collaboration pays off in the scrapyard
Mutually beneficial partnership pays dividends for both processor and equipment manufacturer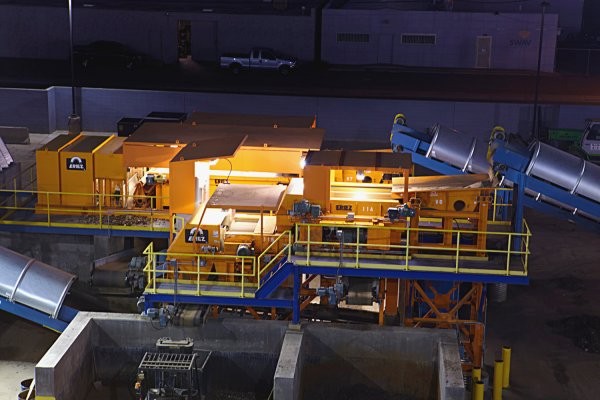 Back in the 1920s, Morris Olgin began collecting scrap and selling it to dealers in Erie, Pennsylvania. Now in its ninth decade, Liberty Iron & Metal Holdings, LLC and its affiliated entities are among the leading processors and brokers of ferrous and nonferrous scrap metals in North America.
It was in the early 1980s when Morris' son, Jerry, purchased his first magnet from Eriez. This was the start of a relationship between two companies who also shared their Pennsylvania hometown. Since then, the Eriez/Liberty association has flourished over the years into a close, unique and mutually beneficial partnership. Now, when Eriez develops new equipment for the recycling industry, Liberty is one of the first scrap yards to test the equipment and help fine-tune it. Eriez' engineers get immediate feedback from the Liberty scrap yard operators and can refine new products before bringing them to market.
Though the relationship between the two companies began in Erie, today, Eriez equipment is tested in other Liberty locations as well. Eriez says this means increased opportunity to subject equipment to weather extremes (the biting cold in the Northeast compared to fierce heat in the Southwest) and elicit feedback from other scrapyard operators. The relationship has been a win-win, according to Steve Olgin, Executive Vice President and General Counsel for Liberty.
"Our family has been in the scrap business since the 1920s and we now have operations in Ohio, Pennsylvania, New York, Arizona and northern Mexico," he says. "We run ferrous and nonferrous in our full-service yards and our customers run the gamut from industrial to commercial accounts."
"We have been collaborating with Eriez for more than 30 years, giving feedback as we use their equipment for our customers," Olgin says. "And Eriez is able to bring their customers to our facilities and run material tests."
"We've had Eriez equipment in our shredders for 20 years or more," he continues. "We installed three new shredders in 2009 and had Eriez downstream equipment in all of them."
In July of 2007, Liberty Iron formed a joint venture with Scholz AG of Essingen, Germany. Today, Liberty and Scholz continue to pursue strategic investment and growth opportunities in North America. With their extensive array of equipment, Liberty is capable of processing in excess of 60,000 tons of material every month.
The company produces high-quality ferrous scrap for its steelmaking and foundry customers, and consumer scrap items such as end-of-life automobiles and appliances as well as industrial scrap are received, tested, sorted and processed at Liberty's various facilities and recycled into the new metal manufacturing process.
Additionally, the company handles a variety of nonferrous scrap, including aluminum, copper, brass, lead, nickel, stainless and high-temperature alloys to support the diverse needs of its domestic and international customers. Liberty's nonferrous warehouse facilities purchase old nonferrous scrap metal from private, commercial and other sources, as well as new nonferrous scrap from industrial customers' production and machine processing operations.
Product testing in a team environment
Two instances typify the long-standing collaboration between Eriez and Liberty. In both cases, Eriez was at the threshold of introducing new recycling equipment and approached Liberty for testing, evaluation and critical feedback.
In 2006, Liberty Iron & Metal LLC – the Erie-based full service yard that handles ferrous, nonferrous, nickel alloys and stainless steel – was in the market for a metal sorter. After having problems with an air-type metal sorter, the company was on the hunt for an airless model, which they say was difficult to find at the time. Liberty heard that Eriez was interested in acquiring and further refining a motorized paddle separator concept.
Early meetings with Eriez President and CEO Tim Shuttleworth and Chairman of the Board Richard Merwin reinforced Liberty's confidence.
"We knew we could design a metal sorter that would fulfill the needs of businesses like Liberty," Shuttleworth recalls.
In the fall of 2006, Eriez installed a 26-inch wide ProSort Airless Metal Recovery System prototype for field testing at the Erie-based Liberty scrap yard. The unit was installed outside in the elements with only a small metal roof over it. Liberty planned to run the machine unrelentingly.
"We decided to run it until it died; but it didn't die. The machine ran and ran. It ran in gritty wind, rain, sleet, snow and ice. It kept running," remembers Joe Plumadore, now the company's Southwest Operations Manager. "We finally had an airless metal sorter that could offer clean, nonferrous recovered metals," Plumadore says.
"We ordered an 84-inch unit and continued to utilize the prototype unit while we awaited its arrival. The prototype was in use until the installation of the new machine."
Another case in which Eriez and Liberty decided to test a new piece of equipment was in 2010. The Eriez P-Rex Permanent Magnetic Scrap Drum was ready for implementation and Eriez was eager to put the machine to work. But this time, rather than testing the new piece of equipment in Erie, Plumadore suggested installing the P-Rex at the newly-opened Liberty Iron & Metal Southwest yard in Phoenix, Arizona.
The Phoenix facility, opened in the fall of 2009, and was using rectifier magnets that were also made by Eriez. About seven months later, those magnets were replaced with two P-Rex Scrap Drums, which were installed at the front end of the downstream shredder system.
Again, Liberty was able to conduct on-site testing while providing feedback to the Eriez staff and product managers. The Phoenix yard processes an average of 1,000 tons of material per day, so the P-Rex Scrap Drums were given an extensive workout.
"We work very closely with Eriez on some of the stuff they develop, so we were willing to put in the new scrap drums," says Plumadore, who has spent 23 years working for Liberty. Very recently, Eriez again called on Liberty to help test some new innovations. Liberty Erie installed Eriez' first traction plate drum shells and underflow drum orientation. According to both companies, these installations are also proving very successful.
Teamwork pays off
Having such a close relationship with Eriez has given Liberty a competitive edge, according to Plumadore. "The relationship works very well. Eriez is always looking for new technology. When they find it, because we have such a good relationship with them, we get first crack at it, which gives us an advantage," Plumadore says.
Today, the Liberty Phoenix and Erie yards are equipped with a variety of Eriez recycling products, and a newly opened yard in Girard, Ohio is built around Eriez equipment. The relationship also extends outside of the U.S. borders, where Eriez is now helping to furnish Liberty's Chihuahua, Mexico operation with its state-of-the-art recycling products.
According to Eriez, it's a combination of successful implementation of state-of-equipment and a solid, mutually beneficial working relationship that began three decades ago in a small scrapyard in Pennsylvania, that keeps Liberty in business with Eriez. And even though global reach is very important (Eriez has 10 manufacturing plants around the globe) it's certainly nice to do business close to home.