​Pyrowave chemical recycling one step closer to commercialization
Microwave-based technology supported by Michelin and other key investors has potential to create new markets for mixed polymers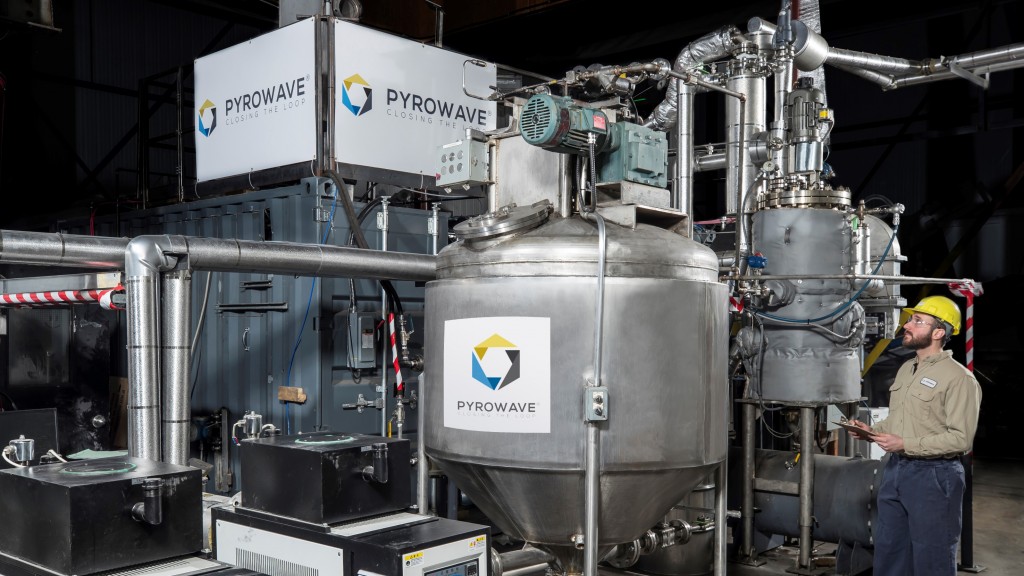 Pyrowave, the Montreal-based clean-tech startup that has spent close to a decade developing a microwave-based system that allows for the efficient chemical recycling of mixed plastics, has announced the closing of their latest round of Series B investment.
The current round of B series investment involves leading global tire manufacturer Michelin, Sofinnova Partners (a European venture capital firm) and Ecofuel, a Quebec-based early stage cleantech venture capital fund.

According to Pyrowave, this latest support marks the next phase of bringing this unique modular technology to market and providing a scalable, viable and sustainable solution in the ongoing fight against plastic waste.

Pyrowave CEO Jocelyn Doucet says the support from Michelin and their capital partners is a very big step towards commercializing their technology.
"This investment marks a turning point in the circular economy of plastics, and the support from Michelin, Sofinnova and Ecofuel sends the signal that the market is ready to implement these solutions," says Doucet.
In a comment from Matthieu van der Elst, from Michelin Ventures, "This investment is a concrete illustration of our venture capital strategy which aims to support the most innovative companies, with a strong growth potential, and focusing on the relevant domains for our businesses. Alongside our current portfolio and our outstanding R&D, this investment strengthens the Michelin's position as a referent in the field of high technology sustainable materials."
According to Joško Bobanović, Partner at Sofinnova Partners, "Pyrowave's unique, game-changing technology brings an immediate answer to plastic waste with a solid, scalable solution. This investment is aligned with Sofinnova Partners' support for exceptional entrepreneurs delivering sustainable solutions to solve an immediate societal, ecological and business challenge."
Pyrowave Technology
Pyrowave's technology disrupts traditional mechanical plastic recycling methods by using a modular microwave-based system that allows post-consumer and post-industrial plastics to be regenerated and restored to their full value. Its patented high-power microwave catalytic depolymerization technology platform is the most advanced worldwide, according to Pyrowave, and is now at the forefront of a new generation for plastics.
"Ours is a proprietary technology that uses microwaves to break polymers down to their base chemicals, which is really something different from other available technology," explains Doucet, adding that by converting plastics back to their molecular state, identical to virgin materials, it allows for infinite recycling of plastics.
"We now have the ability to recover polystyrene, our original focus, as well as polypropylene. Polyethylene will hopefully be added in the near future," continues Doucet.
"This addresses the issue of recovering mixed plastics and multilayer packaging made from different types of polymers, all mingled together. Traditional mechanical recycling cannot efficiently do this. Our technology could ultimately be able to process all of these compounded materials together."
He says that with traditional recycling technologies, the market applications of recycled plastics are very limited because of contamination or plastic degradation during the process which reduces its quality and potential for applications. "New recycling technologies like Pyrowave's decompose the complex chemical structure of plastics back into a simpler form that can be used to make virgin plastics and other products in multiple applications."
According to Doucet, as a company, Michelin, is dedicated to operating in the most sustainable way and supporting circular economy and clean-tech innovation in the market. Michelin's goal is to eventually use the technology for the processing of both polystyrene and styrene.
"Michelin is a big consumer of styrene to make the synthetic rubber that goes into the manufacturing of their tires," explains Doucet. "They announced early last year a plan called Ambition 2048 by which they want to source 80% of their raw material from renewable, recycled, or bio sources."
"Our capability to make recycled styrene, a major component of one of their core products, will help Michelin in reaching this goal."
Beyond end users of plastic styrene and other monomers, such as Michelin, the benefit for recyclers, he says, is that this technology will create market demand for their product. "This is where the value proposition is for recyclers," he says. "And it means recyclers can collect and sell more material that they otherwise wouldn't take because it didn't have any market value.
"Our technology will allow recyclers and plastics material end users to take advantage of mixed plastic streams, and cheaper feedstock, more than they could formally." RPN
More from Plastics Recycling
Single-Ram and II-Ram High-Capacity Balers
At Machinex, we've been designing sorting systems for over 35 years, so we know how essential it is for MRF operators to have a baler they can trust and not worry about its operational reliability. This is why we design and manufacture reliable single-ram and II-ram high-capacity balers to specifically help optimize their operations.
Watch the video of our expert who presents the main features of Machinex balers delivering these important benefits:
Easy & accessible maintenance
Reduced maintenance & bale handling costs
Energy savings
Optimal bale density
For C&D recyclers, waste haulers, demolition contractors and landfills, there is a growing opportunity to profit from rethinking processes. Although every operation is different, by streamlining the front end of the C&D operation processes with purpose-built technologies, recyclers can tap into new end markets, accommodate higher material volumes, stay ahead of regulatory restrictions, increase recovery rates and add commodity revenue, while decreasing labor and other costs.
Download the new eBook to learn about:
Finding opportunities in the alternative to landfilling C&D
How facilities can increase their profits from C&D
Using the right C&D processing technology in the right locations