Anaconda enters tracked crushing sector with J12 Jaw and I12 Impactor
Generic chassis allows for both jaw or impact crushing configuration on one machine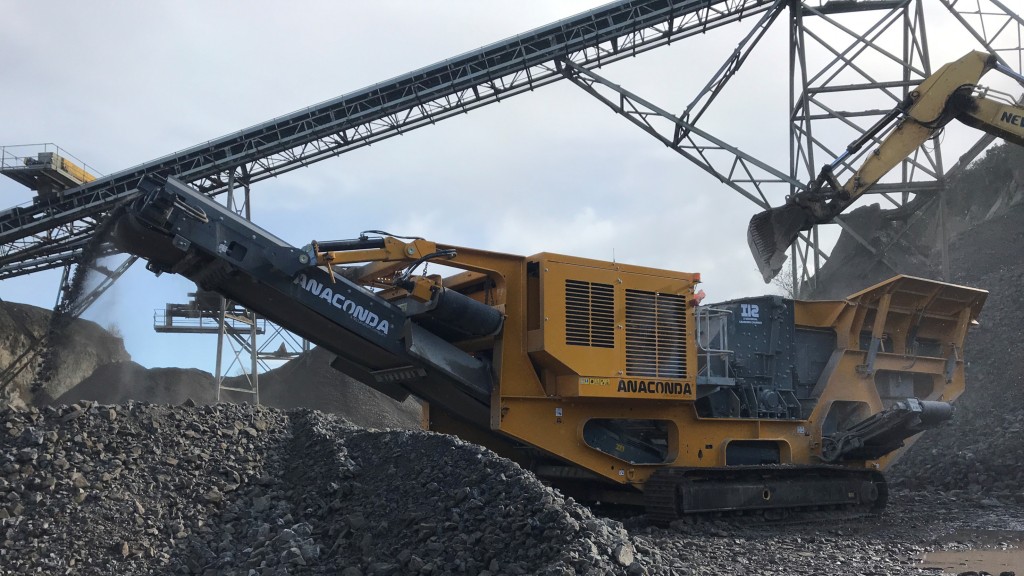 Anaconda, a division of McLanahan Corporation, has diversified its product portfolio with the introduction of a new crushing division. This announcement, made in March at CONEXPO-CON/AGG 2020, brings with it a completely unique addition to the range with the introduction of the J12/I12 series Jaw and Impact Crushers.
A mobile screening plant and material handling equipment manufacturer based in Ireland, Anaconda consolidated their current range of products in 2019 after joining crushing and washing plant specialist McLanahan, which the company says facilitated the transition into the crushing sector.
Alistair Forsyth, CEO and Group Managing President of Anaconda had this to say on the latest crushing division: "This year Anaconda steps firmly into the tracked crushing equipment arena with the launch of the J12 Jaw Crusher and the I12 Impact Crusher.
"The generic tracked chassis is Cummins engine powered and comes as standard with a 14ft (4.3mtr) variable speed vibrating grizzly feeder, hydraulic hopper wing extensions, an overband magnet, and side discharge dirt belt. This generic chassis allows for the placement of either crushing chamber giving the dealer immense flexibility in his rental fleet and the ability to reduce in inventory cost, whilst increasing his fleet utilization by allowing him the versatility of converting the machine from a Jaw to an Impactor and vice versus in minimal time."

Forsyth continues, "The benefit of Anaconda joining the McLanahan family of companies earlier last year means that both units come with Universal Crusher chambers as standard. With over 7000 Jaw chambers, and 1500 Impact chambers placed worldwide over the last 130 years, these chambers are household names in the crushing industry and help give further credibility to the dealer when introducing this line to his customers."
The new J12 Tracked Jaw Crusher
The new J12 Tracked Jaw Crusher is fitted with a 44" (1100mm) x 26" (700mm) direct hydraulic drive Universal Crusher Jaw Chamber. The chamber comes with full hydraulic adjustment and hydraulic tramp release and reset as standard. The direct hydraulic drive means the unit can also be ran in reverse to satisfy a multitude of customer applications. Whilst the I12 Tracked Impact Crusher is fitted with a fabricated 43" (1090mm) diameter 4 bar rotor on a 45" (1140mm) wide Universal Crusher Impact Chamber.
Large access doors on the side, back, and top of the chamber, hydraulic opening upper section of the housing for easy and safe access, along with two independent gravity hung impact curtains that can be individually adjusted from the exterior of the chamber makeup just some of the features on this chamber."
According to Anaconda, the J12/I12 Crushing range have shown the proven ability to deal with the most harsh and strenuous crushing conditions. The versatility allows the crusher to deal with hard and abrasive rock such as basalt and granite. The aim of our crushers is to allow ease of use and productivity to the customer for them to receive the best value for their money.
Paul O'Neill, Senior R&D Engineer who designed the crushing range gave his view on how Anaconda were able to design this range with the customer in mind: "Core to the concept of the J-12 and 1-12 tracked crusher range is that the same running chassis is able to be integrated with either an interchangeable, hydraulically driven, Jaw or Impact crusher chamber. Not only that, the chosen Jaw and Impact crusher chambers have proven pedigree, namely Universal Crusher boxes from McLanahan Corporation.
"To feed these crusher chambers we have provided this machine with a wide and heavy-duty grizzly feeder that can deal with the harshest of feed materials," continued O'Neill. "The feeder is lined with replaceable wear resistant plates and has a robust grizzly screen as standard. This will remove fines from the feed material and improve the performance of the crushers whilst reducing the wear on the crusher plates and blow bars.

"Below the feeder we have two-way chute that allows the user to divert the screened fines either to a wide dirt belt or onto the heavy-duty main conveyor, dependent on application. The main conveyor is of heavy construction with impact bars directly under the crusher discharge area and powered with twin hydraulic drives to convey the heaviest of loads."
O'Neill says the J12/I12 crusher range is powered by Cummins L9 Stage V / Tier 4 Final engine, which has all the power required for the machine in both Jaw and Impactor configuration, all while achieving excellent fuel economy and ensuring the exhaust emissions given off are as eco-friendly as possible.
Units also comes complete with folding hydraulic wing plates as standard, which allows for a hopper capacity of 6.5m3 which allows for a constant steady feeder into the chamber. Fully pre-tested before dispatch, the J12/I12 arrives on site in its transport position. It is then estimated that the crusher can be fully operational within 20 minutes of delivery on site.
More from C&D Recycling
Single-Ram and II-Ram High-Capacity Balers
At Machinex, we've been designing sorting systems for over 35 years, so we know how essential it is for MRF operators to have a baler they can trust and not worry about its operational reliability. This is why we design and manufacture reliable single-ram and II-ram high-capacity balers to specifically help optimize their operations.
Watch the video of our expert who presents the main features of Machinex balers delivering these important benefits:
Easy & accessible maintenance
Reduced maintenance & bale handling costs
Energy savings
Optimal bale density
For C&D recyclers, waste haulers, demolition contractors and landfills, there is a growing opportunity to profit from rethinking processes. Although every operation is different, by streamlining the front end of the C&D operation processes with purpose-built technologies, recyclers can tap into new end markets, accommodate higher material volumes, stay ahead of regulatory restrictions, increase recovery rates and add commodity revenue, while decreasing labor and other costs.
Download the new eBook to learn about:
Finding opportunities in the alternative to landfilling C&D
How facilities can increase their profits from C&D
Using the right C&D processing technology in the right locations