IFAT 2020 scheduled for September is cancelled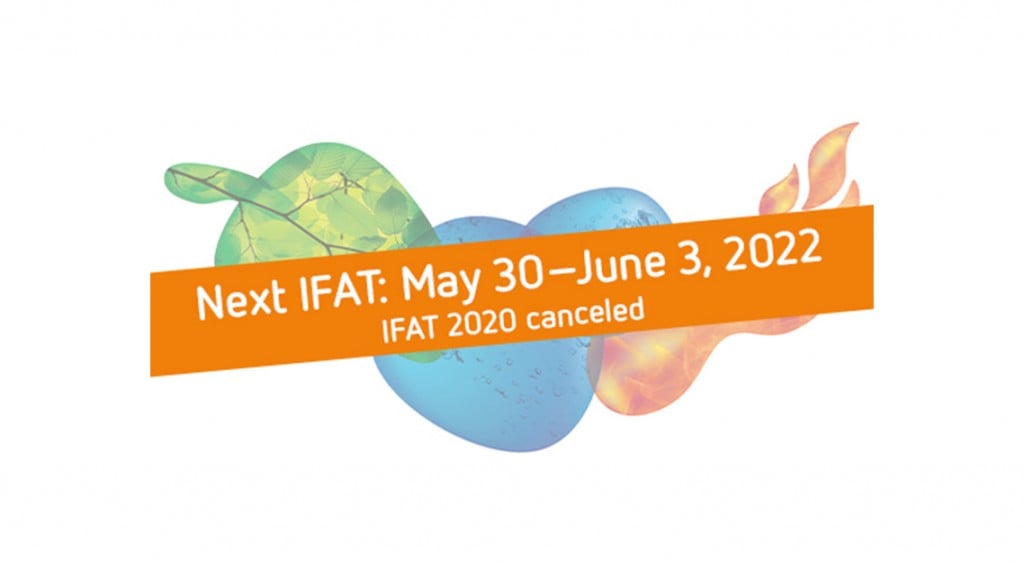 IFAT, the world's largest trade fair and exhibition for water, sewage, waste and raw materials management, originally scheduled for September in Munich, has been cancelled.

According to show organizers, the COVID-19 pandemic has had a massive impact on the global environmental technology industry. In consultation with the Executive Board of the Exhibitors' Advisory Board and the conceptual partners of IFAT, Messe München conducted a survey among the IFAT exhibitors, revealing that most respondents are against holding IFAT from September 7 to 11, 2020.
Hence, IFAT at the planned time would be unacceptable—not only for Messe München but also for the trade fair participants. In addition, according to the latest announcements, major events must not be held until the end of August 2020. In order to provide all customers a reliable basis for planning and in close consultation with the Executive Board of the Exhibitors' Advisory Council, IFAT is canceled.
"A safe and successful IFAT 2020 for all concerned—that was our primary concern. Due to the still unforeseeable circumstances, this objective is unfortunately no longer feasible, even for the new date," explains Stefan Rummel, Managing Director of Messe München.
The fair had already been postponed from May to September. "We therefore cancel the alternative date with a heavy heart. The next IFAT will take place from May 30 to June 3, 2022," says Rummel. Even in this turbulent time, Messe München and the IFAT team see themselves as partners of the industry: "We will continue to develop and digitally complement our platform in order to add fresh impetus to the environmental industry—both at our home base in Munich and internationally."
Clear opinion of the industry
The decision to cancel is based on intensive discussions with industry associations, partners and many exhibitors from all segments of IFAT. A recent survey has confirmed this opinion.
The survey among all exhibitors registered at the fair was carried out online in the week after Easter. 1,933 exhibitor representatives from all over the world took part. 64 percent said that they think it was unjustifiable to hold IFAT in September 2020 due to the coronavirus crisis (737 respondents) or that they would like to pause due to low expectations of the fair's success (507 respondents). 85 percent of those surveyed do not expect the environmental technology sector to recover economically before the first half of 2021.
Further information is available at www.ifat.de/en.
More from Industry News
Single-Ram and II-Ram High-Capacity Balers
At Machinex, we've been designing sorting systems for over 35 years, so we know how essential it is for MRF operators to have a baler they can trust and not worry about its operational reliability. This is why we design and manufacture reliable single-ram and II-ram high-capacity balers to specifically help optimize their operations.
Watch the video of our expert who presents the main features of Machinex balers delivering these important benefits:
Easy & accessible maintenance
Reduced maintenance & bale handling costs
Energy savings
Optimal bale density
For C&D recyclers, waste haulers, demolition contractors and landfills, there is a growing opportunity to profit from rethinking processes. Although every operation is different, by streamlining the front end of the C&D operation processes with purpose-built technologies, recyclers can tap into new end markets, accommodate higher material volumes, stay ahead of regulatory restrictions, increase recovery rates and add commodity revenue, while decreasing labor and other costs.
Download the new eBook to learn about:
Finding opportunities in the alternative to landfilling C&D
How facilities can increase their profits from C&D
Using the right C&D processing technology in the right locations