CleanFarms celebrates 10 years with 50,000 tonnes of Ag-Waste recycled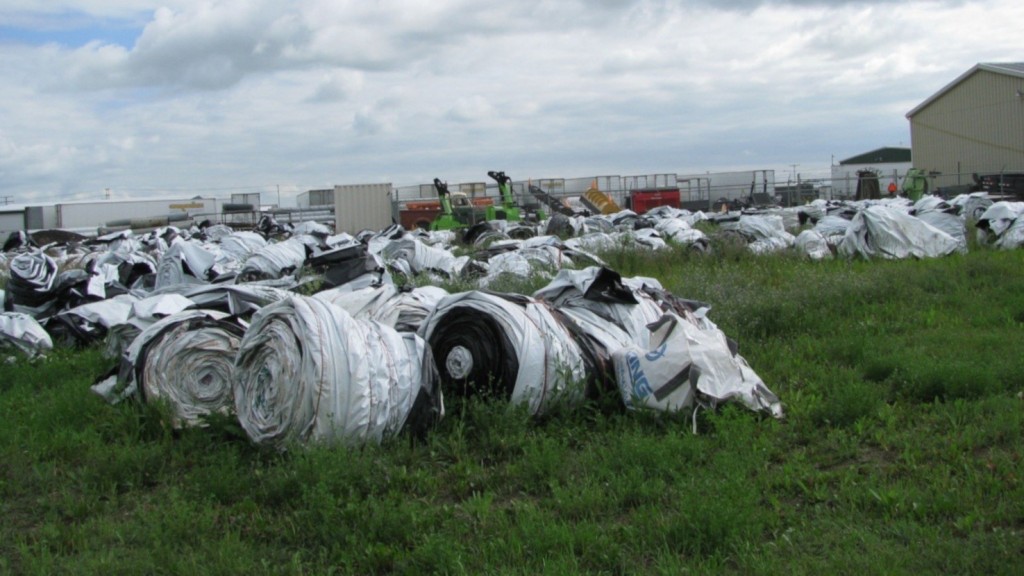 CleanFarms is celebrating a decade of program operations in 2020. The non-profit environmental stewardship organization, based in Etobicoke, Ontario, (with operations also based out of Quebec, Saskatchewan and Alberta) has recovered for recycling or proper disposal 51,600 tonnes of plastic and other non-organic ag-waste from Canada's agricultural sector.
According to CleanFarms GM, Barry Friesen, it's an accomplishment worth celebrating, as Cleanfarms marks its 10th anniversary in 2020, with the unveiling of an anniversary logo.

Providing farmers with stewardship opportunities to manage non-organic waste materials is what sets Cleanfarms apart from other agricultural organizations.
Materials collected and recovered consist of empty agricultural plastic jugs and containers; used grain bags; empty seed, pesticide and fertilizer bags; and old, unwanted pesticides and livestock/equine medications.

"We recognize that we have a moral obligation to farmers and other Canadians to leave our world as good or better environmentally, then when we began," Friesen says.
He admits that with an estimated 40,000 tonnes of ag plastic generated in the agricultural sector annually, recovering it with a zero-waste mindset is a tall order, but promises Cleanfarms is "just getting started".
For example, beginning this spring, Cleanfarms gets underway with a first-of-its-kind national scale research project that will provide critical information to help agricultural plastic producers and Canadian farmers boost their ability to recycle agricultural plastic waste.
Funded by the federal Ministry of Environment and Climate Change Canada, the first part of the study will be to quantify the types and volumes of on-farm plastic wastes and secondly, identify facilities that can manage or recycle these waste streams with the goal of creating a more circular economy for agricultural plastics.
"The work will advance our understanding of the scope of agricultural waste and drive on-the-ground solutions to help manage plastics and other waste materials to increase recycling rates and improve our ability to incorporate higher levels of recycled content in plastic products. Through this, we plan to transition agriculture as a full participant in the zero-waste circular economy. That's one of the ways we hope to contribute to a better environment," Friesen says.
A top ag-waste contender for recycling are empty pesticide and fertilizer jugs. As most pesticides and fertilizers are purchased in the spring, that's when growers find themselves with dozens of empty jugs and containers. The annual recovery rate for empty jugs stands at an average of 65% compared to the number of jugs Canadian farmers use every year, but Cleanfarms wants 100% of them back for recycling.
"Sixty-five percent is good, but it still leaves lots of ag-plastic jugs that are not finding their way back to the recycling collection system every year. Why? We know farmers want sustainable farm operations. So, we are doing everything we can to work with our partners in ag-retail and municipalities to improve convenience and collection. Now we need more farmers to work with us to get everyone of those containers back," Friesen says.
Cleanfarms' mandate is to support agriculture to be both responsible and sustainable in all operations. As a non-profit stewardship organization funded by industry, its vision is to ensure all materials used for food production and animal management achieve the ultimate goal of zero waste.
"Some countries like Germany, France and Brazil have made tremendous strides toward zero waste in agriculture. Cleanfarms believes Canada is a global frontrunner and the same is possible in the next 10 years in Canada," Friesen says.
Cleanfarms Background
By the end of 2018, the organization had recovered 51,664 metric tonnes of non-organic, ag waste from Canada's agricultural sector:
• 45,722 tonnes of empty ag-plastic jugs and containers for recycling
• 1,400 tonnes of used grain bags, film and twine for recycling
• 1,300 tonnes of empty seed, pesticide and fertilizer bags for proper disposal
• 3,242 tonnes of old, unwanted pesticides and livestock/equine medications
Pilot Programs on the Prairies
One of the ways Cleanfarms is making it easier for farmers in Alberta (AB) and Manitoba (MB) to collect and return jugs is by giving them a large return bag when they make their spring pesticide and fertilizer purchases. The bags have been available for awhile in eastern Canada and in Saskatchewan with good results. For example, Quebec farmers return more than 75% of the ag-plastic containers they use on their farms. But in AB and MB, the practice has been to return jugs to collection sites loose or tied together. The large collection bags will give growers in those provinces an easier way to collect and transport empty pesticide and fertilizer jugs from the farm to their municipal collection site and potentially, boost recycling recovery rates.
Pilots and Permanent Programs in Quebec
In Quebec, Cleanfarms is mid-way through a three-year pilot to collect data on recycling agricultural plastics that Cleanfarms hopes will result in the evolution to a permanent industry stewardship program regulated by the province. The program is collecting data on recycling convenience, benefits to the environment and how to achieve low cost operations. Partners in the Cleanfarms pilot include the Montérégie Région and five of its municipal regions, the regional UPA associations and several ag retail collection sites.
And in Quebec, Ontario and the Maritimes, Cleanfarms is running programs to collect seed and pesticide bags for proper disposal. In Québec, this program has just expanded to include fertilizer bags.
Manitoba Transitioning to Regulated Recovery Program
Recovery rates for a range of ag-waste materials should see a lift in Manitoba this year as the province prepares to transition from a government-funded to an industry-funded, regulated stewardship program. Manitoba has been ground zero for testing collection programs for grain bags, bale and silage wrap and twine since 2013 allowing Cleanfarms to gain hands-on recycling experience and to determine what collection and processing options are available. In 2018, Cleanfarms collected 34 tonnes of film and twine for recycling.
Saskatchewan Grain Bag Regulated Recycling Seeing Excellent Results
Cleanfarms is rolling out the Saskatchewan grain bag recycling program under the province's Agricultural Packaging Product Waste Stewardship Regulations (2016). It is the only government-regulated extended producer responsibility program of its kind in Canada.
Alberta Ag-Plastic. Recycle It! Pilot Recycles Gain Bags and Twine
Taking learnings from Manitoba and Saskatchewan, Cleanfarms launched its newest pilot, the 'Alberta Ag-Plastic. Recycle It!' program last fall on behalf of the Agricultural Plastics Recycling Group. The three-year pilot is being funded through a grant from the Government of Alberta and administered by Alberta Beef Producers. Estimates are that 5,500 tonnes of agricultural plastic (grain bags and twine) is available to be collected for recycling each year.
Unwanted Pesticides and Livestock/Equine Medications Program Continues
In 2020, Cleanfarms will be running its long-standing Unwanted Pesticides and Livestock/Equine Medications collection program, in partnership with the Canadian Animal Health Institute. The targeted regions this year will be in BC's Vancouver Island (October 5 - 9) and the Fraser Valley (October 12 - 16), as well as southern Saskatchewan (October 26 - 30), Quebec (September 21 - October 8) and PEI (November 2 - 13).
"Cleanfarms has ag-plastic waste in the bag". See RPN's 2019 article about this incredible organization at this link.