Sennebogen distributor takes head start in central Mexico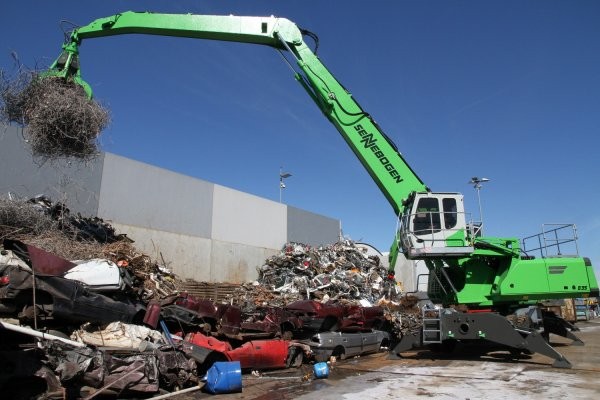 Recyclers, port operators and other heavy equipment owners witnessed a sudden flurry of SENNEBOGEN sales activity in central Mexico last summer, months before the regional Ascendum offices were named as the territory's authorized distributor. In May, Constantino Lannes, President of SENNEBOGEN LLC, announced that Ascendum Mexico had officially joined the SENNEBOGEN sales and service network, effective November 2012.
According to the CEO of Ascendum Mexico, Marco Liz, there was no need to hold back his sales team until the paperwork was complete.
"From the moment we first met with SENNEBOGEN, we knew it would happen," he claims. "We already had our eye on a project before we had our agreement in place!"
Liz's confidence in his relationship with SENNEBOGEN was well founded. Ascendum Mexico is a member of the Portuguese-based Ascendum Group and also a sister company to ASC Construction Equipment. ASC is a long-time business neighbor of SENNEBOGEN's head office for the Americas in Charlotte, NC, and has also been a successful SENNEBOGEN distributor for several years.
Discussions with his counterparts at ASC convinced Liz that SENNEBOGEN material handlers would be the right fit for his customers, and that Lannes' team would be the right business partners for his organization.
"Our philosophy is to provide a complete line of products for each of our customers," Marco Liz continues. "There has always been good synergy between our wheel loader line and SENNEBOGEN product lines."
Coast to coast coverage
With its head office located in Mexico City, Ascendum is well positioned to support Mexico's industrial heartland. A branch on the Gulf coast will focus on applications for port facilities there, and a west coast branch will service customers in the Guadalajara region.
To the north, SENNEBOGEN customers are serviced by Maqro, based in Monterrey.
Liz notes that all Ascendum sales staff will receive factory training on SENNEBOGEN machines, but he also plans to name a specialist to support the sales team in material handling applications. Currently, Ascendum is moving at full speed to bring SENNBOGEN to the forefront in its area.
"We are going ahead with customer contact even while training is still in progress," Liz explained. "After all, we are really only three hours from the SENNBOGEN head office - we know we can get support right away when we need it."
SENNEBOGEN has been a leading name in the global material handling industry for over 60 years. Based in Stanley, North Carolina, within the greater Charlotte region, SENNEBOGEN LLC offers a complete range of purpose-built machines to suit virtually any material handling application. Established in America in the year 2000, SENNEBOGEN LLC has quickly become a leading provider of specialized equipment solutions for recycling and scrap metal yards, barge and port operations, log-handling, transfer stations and waste facilities from coast to coast. A growing network of distributors supports SENNEBOGEN LLC sales and service across the Americas, ensuring the highest standard of professional machine support and parts availability.