Kimco is running strong more than a century on
Kingston, Ontario's Kimco Steel Sales relies on unparalleled service and cutting-edge equipment to stay competitive in the ever-evolving world of scrap recycling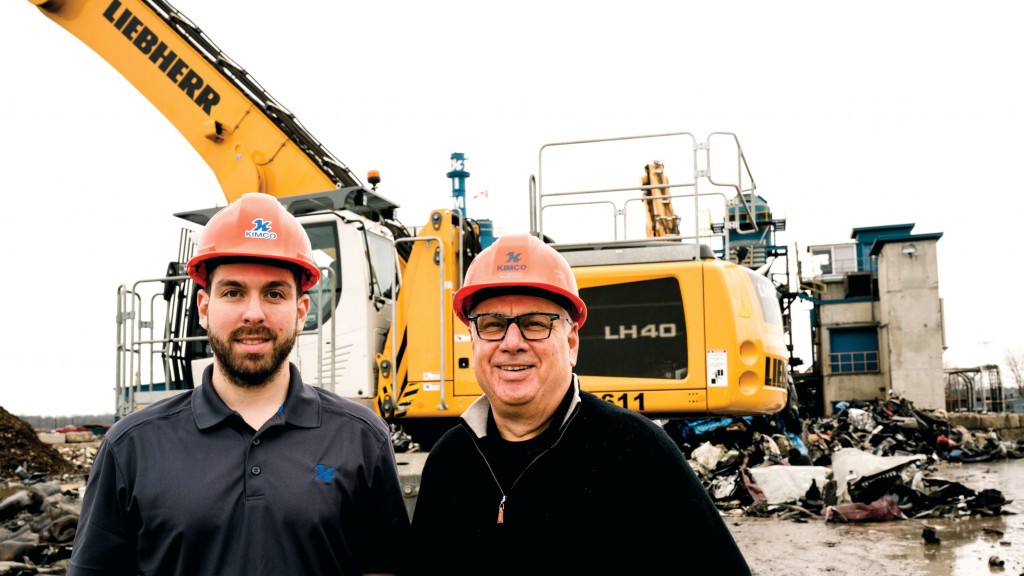 Kimco Steel Sales Ltd., operating on a 65-acre site in Kingston, Ontario, is one of Canada's most innovative and modern steel service centres, scrap metal and recycling facilities. The origins of the company date back to 1911, when Hyman Rosen, a 16-year-old immigrant, began collecting used rags and bottles with a horse and buggy.
Rosen opened his first shop in 1918 under the name of H. Rosen, and later moved to a larger lot and rebranded to Kingston Scrap Iron & Metal Co. By 1950, Hyman Rosen was joined by his son Irving and they soon after added a baling press to compress end-of-life automobiles. In the 1960s, Kimco expanded into new steel sales and began its refuse collection operation serving industrial, commercial and C&D customers.
Kimco moved to its present location on John Counter Blvd. in Kingston in 1975 and then further expanded with a new steel service centre, ferrous and non-ferrous metal division, recycling centre and container services. In 1977, Kimco Steel Sales Ltd. was named the Most Outstanding Recycling Operation in Canada by the Canadian Association of Recycling Industries.
Gregg Rosen, Kimco's current president, joined his father Irving in the family business in 1979 and, like his father before him, took on the role of modernizing the company. By the early 2000s, for example, they had installed their on-site auto shredder which is still running strong today.
Currently, the Kimco Steel Sales recycling division processes up to 400 tons per month of non-ferrous and about 2,000 ELV automobiles, as well as approximately 150,000 tons of ferrous yearly.
As both a scrap recycler and a new steel distribution centre, Kimco sells its processed scrap to steel mills and then buys finished product back from mills for distribution.
"Having integrated these separate but related businesses, we can better respond to market fluctuations," explains Rosen. "Last year was a great new steel distribution year. The year before was an amazing scrap year. Our size and approach allows us to take advantage of these kinds of swings."
Another relatively small Kimco division provides containerized refuse, construction and demolition pickup service within an approximate 50-mile radius of their yard in Kingston. They run a fleet of 60 trucks and 200 trailers, with about 650 containers in the field (as of the start of 2020).
Rosen admits that while business is good, the past few years have been challenging ones for the scrap metal industry.
"There has been a great deal of consolidation in our industry, and a lot of our large industrial customers have moved out of Ontario," he says. "With the reduction in plants in our region, and our distance (approximately 275 km) from the Greater Toronto Area (GTA), we have had to be extremely creative in finding ways to grow our business."
He adds that in the past they could handle a wide range of materials, from garbage and scrap metal, to cardboard, plastic and e-waste. "We could do it all," he says. "Now we've got tons of competition from large players like Triple M, American Iron & Metal and CMI, so we've had to be extremely strategic in finding areas in which we can continue to be profitable and 'out-service' the big guys."
For Kimco, long-term success as a relatively smaller player in the scrap recycling industry (with about 230 employees at their one location) is about providing a level of service that others do not. "We want to be the best we can be and we pride ourselves on giving value to our customers who we treat like partners," explains Rosen. "If a customer values that kind of reliability, dependability and service, then they are going to do business with us. If they are just looking for the lowest price, well then I'm maybe not going to win out."
A long-time supplier partnership
Rosen has worked with Liebherr Canada as a key equipment supplier since they bought their first machine in 1990.
He says they used to run cable cranes before the introduction of the hydraulic excavator in the late 1970s, and even back then, when hydraulic excavators were first introduced, the Rosen family considered Liebherr to be the "Rolls-Royce" of this category of equipment.
"At first, we felt like we could not afford a Liebherr hydraulic excavator for our business," explains Rosen. "We ended up buying a competitor's piece of equipment as our first machine of that size. My father and I considered it a really big deal back then and we thought the lower-priced machine was a better value for us." In the end, he says that first machine did not work out to be a great investment for Kimco. "We got what we paid for and realized we needed a better option," Rosen recalls with a grin.
In the early 2000s, around the time their auto shredder was installed, they brought in their first Liebherr hydraulic excavator.
"Ever since then, I've owned nothing but yellow Liebherr cranes," he says. "Today we have 14 of them and it's the only brand you will see in our yard."
Rosen continues, "We need to be cost-effective everywhere, so our Liebherr dependability is a very big thing.
"The most expensive thing for me is a breakdown. Whether it's a truck, crane or a shredder. When something so critical to our business goes down, I need it fixed quickly and efficiently.
"Liebherr never lets me down when it comes to this."
Rosen says they have built an amazing relationship with Liebherr Canada, including their current point of contact, Rick Koen, whom he has known for several decades.
"They treat me as well as they treat anybody else and I'm only a small guy," he says. "I only buy two to three pieces of equipment per year but Rick and the rest of the team are always there for me. And they always stand behind their products. Liebherr has helped Kimco grow, and I truly believe they're a big part of our success.
"We're in Kingston, Ontario, and they're located in Burlington and Montreal, but they still look after us. I can't ask for more than that."
Rosen continues, "Everything's going to break at some point. Especially when you work your equipment as hard as we do.
"The bottom line is, can your supplier provide the required service? Can they look after you?
"Liebherr certainly does," he says.
"After all the changes in our business and in our industry over the last 30 years, they're still my go-to people."
Fresh plant
In February, Kimco brought two new Liebherr material handlers into their yard - an LH 40 and an LH 50, which have since been operating ten hours per day on average.
"We rotate our equipment after so many hours," explains Rosen. "We decided to replace some of our older Liebherr 934s with a 40 and a 50 model. Our LH 40 will sit in a smaller area, it doesn't need to do as much work. Our LH 50s and LH 60s are our true workhorses."
According to Rosen, there's genuine excitement when they get new equipment, for multiple reasons, including increased efficiency and improved operating costs. And it's a morale booster for everyone in the scrapyard.
"Our operators are very appreciative when we get a new crane in the yard," he explains. "They've got all the latest technology and operator comforts. If you're an operator and you get the opportunity to work in a shiny new crane, it really makes you proud of the work you are doing. We don't have multiple operators for our cranes. So if 'John' gets the new crane, it's John's crane, and he treats it as if it's his own. This raises morale and productivity."
He says they also use some excavators that have different shears on them, but their Liebherrs are rubber-tired material handlers (also called hydraulic cranes) with grapples and magnets.
"Our yard is paved and clean, so they get around relatively quickly. They're beasts! Our Liebherr cranes don't stop all day long."
Kimco's new LH 40 is a compact material handling crane on rubber tires designed specifically to be quick around a scrapyard, to go wherever it is needed. Rosen says it is used in multiple applications, for loading stainless or aluminum, or sorting loads of copper or wire, or it may be needed to pile material at the shredder.
Their other new Liebherr, one of several LH 50s in the yard, along with their larger LH 60 model, while mobile, are used as more stationary machines, working in a set spot.
"We use our larger models primarily in one location on site at the shredder to maximize feeding, because of their long reach, capability and high capacities," says Rosen. "The LH 60 is closest to the shredder, with the LH 50s behind it, feeding sorted material forward. Everything needs to be pre-sorted by the LH 40 and smaller machines to make sure there are no unshreddables. It is all fed to the LH 60 which all day long is loading the conveyor to the shredder."
According to Rosen, their aim is to produce between 8,000 and 10,000 tons of shred every month.
"That's an average, but everything is still market-driven," he says. "Some months we do more than others, depending on the market and various factors."
Rosen adds that it is very important to provide a consistent supply to the mills. "The mills can rely on us because they know what they are going to get month to month. There is no sense sending 15,000 tons tomorrow, and then next month turning around and sending only 5,000 tons.
"I like to be somewhat consistent, and I like to keep some scrap on hand to play the market a bit. If I can keep some scrap behind to wait for a drought, it's good. If it looks like there may be a pick up in the market, it's great to have lots of material on hand. If the market goes down, I'll start saving scrap again."
An eye to the future
According to Rosen, as the third generation to lead the family company, he is very proud to have had the opportunity to expand Kimco into the multifaceted, modern company it is today.
"Our capabilities now include innovative materials handling, efficient transportation systems, environmental management and of course the refinement of scrap metal processing," he says, adding that his grandfather's philosophy is still alive and well to this day: "Focus on the needs of your customers and the future will take care of itself."
"It's a long time to be surviving in this business," concludes Rosen. "There's been hundreds of companies that we've known, that have gone by the wayside over the years.
"And now I am so fortunate to welcome the fourth generation to the family business, as my son Cody joined the company a few years ago.
"I can already see how he's taking us into the future the way I did when I came on board, and the way my dad did when he went to work with his father." RPN
This article was originally published as the cover story in the March 2020 edition of Recycling Product News, Volume 28, Number 2.