Progressive Waste Solutions leads conversion to CNG for waste and recycling fleets in Canada
Canada's largest natural gas waste and recycling collection fleet to grow significantly over next two years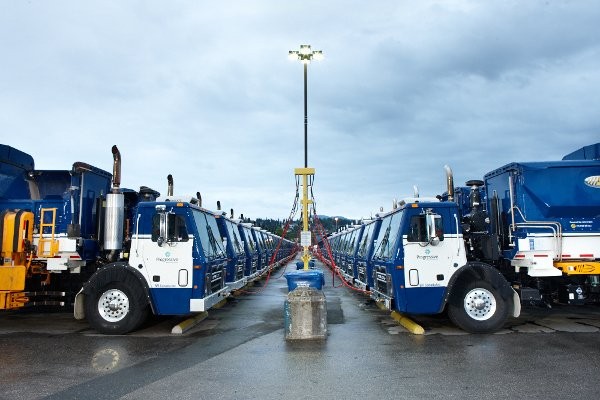 Progressive Waste Solutions Ltd., which currently runs Canada's largest waste and recycling collection fleet of natural gas powered vehicles, has announced plans to significantly increase the number of natural gas powered trucks it purchases. The Company made the announcement on May 30, the first day of the Federation of Canadian Municipalities annual conference, held in Vancouver, British Columbia.
"This is a business decision that supports our Company's commitment to sustainability," said Joseph Quarin, Vice Chairman and Chief Executive Officer, Progressive Waste Solutions. "Compressed natural gas ("CNG") is a cleaner source of fuel from well to wheel and, by converting to it, we offer our customers a more environmentally friendly approach to collecting residential and commercial waste and recyclable materials."
Currently, Progressive Waste Solutions has more than 110 natural gas powered vehicles on the road in Canada, with fleets in Surrey, B.C., and Simcoe County, Ontario. This represents approximately 10 per cent of its Canadian fleet. The company expects to have nearly 150 natural gas powered vehicles in Canada by the end of 2013, with the addition of trucks in markets including Montreal, Quebec. In 2014, Progressive Waste Solutions expects that 50 to 55 per cent of the total number of vehicles it purchases in Canada and the U.S., through the normal course replacement of its fleet, will be fuelled by CNG. In North America, the company currently has a total fleet of approximately 4,000 waste and recycling trucks, as well as 126 collection operations, 67 transfer stations, 49 MRFs and 30 landfills.
According to Dan Pio, Vice President and Canadian Chief Operating Officer, Progressive Waste Solutions, with respect to the number of natural gas powered trucks currently on the road in the waste and recycling sector, Canada is leading the way in North America. And he says B.C. is leading the way in this country. He adds that the trend owes at least some of its success to government programs, like the government of B.C.'s Greenhouse Gas Reduction Targets Act (passed in 2007) which set reduction targets for the province's greenhouse gas emissions (GHGs) of 33% by 2020 and 80% by 2050.
"This trend is also being driven largely by the communities who have been asking for the technology," says Pio. "They want to see cleaner burning vehicles, and in B.C. clearly it [the conversion of diesel powered vehicles to CNG] fits well with the provincial program, and strategy to use made in B.C. natural gas and reduce GHG emissions. And that fits in very well with our current strategy."
Pio also points to their partnership with their natural gas supplier FortisBC as key to their strategy going forward. In British Columbia, FortisBC offers incentives for operators to convert diesel trucks to compressed natural gas to promote the use of domestic B.C. natural gas as a transportation fuel, and generate both environmental and economic benefits. The incentives encourage the conversion of heavy duty fleet vehicles and the implementation of related natural gas fuel infrastructure. The program was made possible following the creation of the Government of B.C.'s Greenhouse Gas Reduction regulations.
The collection fleet vehicles used by Progressive Waste Solutions are Mack trucks with natural gas engines powered by Cummins Westport of Vancouver, B.C., and use fuelling technology from IMW Industries of Chilliwack, B.C., a leading supplier of technology for CNG equipment for vehicle fuelling and industry. According to Progressive Waste solutions, for short haul fleets – trucks that operate in a limited, local geographical area – the switch to natural gas is simpler, as companies can build their own refuelling stations, as they have done in Surrey, B.C., in partnership with FortisBC, and in Simcoe County, Ontario. The company says they plan to build natural gas fueling stations in additional Canadian markets including Montreal, Quebec, as it converts its fleet.
"We're planning on building anywhere from one to two natural gas fuelling stations per year for the next one to three years," says Pio. He says it takes approximately one year to go through the permitting and regulatory processes, as well as the construction of a new CNG fuelling station, and that the cost for a CNG refuelling station runs anywhere from approximately $1 million to $1.5 million, with a return on investment, cash-on-cash payback, of approximately 2.5 to three years.
Natural gas is an economical and environmentally friendly fuel choice for transportation, and is ideal for return-to-base fleets like waste haulers, courier trucks, buses, tractor trailers and marine vessels. Its benefits include more than 20% reduction in carbon emissions, compared to older diesel trucks, historically lower fuel costs of 20-25% compared to diesel, as well as reduced dependency on foreign oil.
According to Progressive Waste Solutions, new waste or recycling collection trucks powered by natural gas typically cost about 15 per cent more than a conventional diesel powered truck. However, as natural gas costs less than diesel, the company expects a return on this investment within an attractive timeframe.
Progressive Waste Solutions is one of North America's largest full-service waste management companies, providing non-hazardous solid waste collection, recycling and disposal services to commercial, industrial, municipal and residential customers in 13 U.S. states and the District of Columbia, and six Canadian provinces.
"Converting our fleet to natural gas helps municipalities meet targets for reducing greenhouse gas emissions and reduces pollution in the neighbourhoods we serve," concludes Pio. "We're on the brink of a monumental industry shift, and Progressive Waste Solutions is leading the conversion to natural gas fleets in Canada."