Environmental Solutions Group acquires Curotto-Can Company and announces new Triple Bottom Line program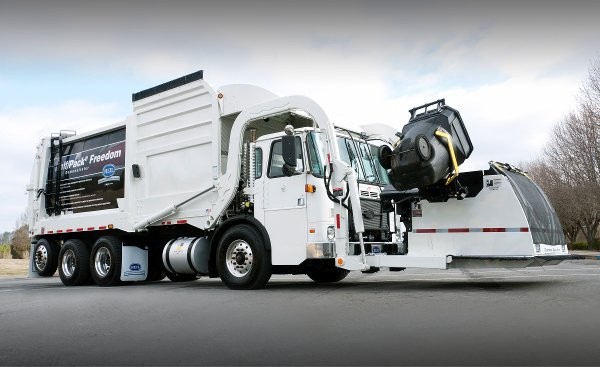 Environmental Solutions Group (ESG) announced just prior to this year's Waste Expo (May 20-24) their acquisition of The Curotto-Can Company of Sonoma, CA. The Curotto-Can is known for their automated carry can that mounts to the forks of a commercial front loader, converting the unit to an automated front loader. This system enables a commercial refuse collection unit to also be used for residential pickups, with efficiency and versatility superior to that seen in automated side loaders.
Pat Carroll, president of ESG said, "We are very excited to have John Curotto and his team as part of Environmental Solutions Group. John is a fourth-generation hauler and an industry pioneer who approaches product design from the hauler's perspective. This maximizes benefits for the end user, which aligns directly with our philosophy at Heil and ESG."
John Curotto, president of The Curotto-Can, agrees. "Being a part of Environmental Solutions Group will help us do more for haulers in our industry. Pat Carroll and the ESG Team aren't satisfied with the status quo. They are innovating for today and tomorrow. They have the right philosophy and an energetic, experienced team, which makes all the difference when it comes to helping customers be more profitable. We want to be a part of that."
"We have been working with Heil for the past two years to integrate our automated carry can into their Heil Half/Pack® and Half/Pack Freedom™ front loader designs," Curotto continued.
"This close collaboration has resulted in the development of a completely integrated system that represents the next generation of automated collection. We could not be more excited about being part of Environmental Solutions Group and about what this means for haulers who need to address an increasing number of collection and financial challenges. Now they can use one seamlessly integrated unit to handle both commercial and residential routes more efficiently than ever before. Working with ESG will enable us to make product innovations happen at a much faster pace and with a greater positive impact on our customers' bottom line."
According to ESG, independent studies and direct customer feedback have shown that the Curotto-Can significantly improves productivity while lowering operating costs per hour. In addition, both companies cite enhanced safety as a major benefit. With the Curotto-Can, the driver is able to perform the automated collection process from within the security and comfort of the cab while keeping his eyes looking forward during the entire operation, thereby improving safety and ergonomics.
Additionally, extra bulk next to the cart can be loaded with the same truck, eliminating the need to "chase" the truck with a manual rear loader. While loading bulk items the operator is at the front of the truck instead of at the rear, placing the operator in a more safe location and reducing the possibility of being struck by another vehicle. Also, the superior maneuverability of the Curotto Can dramatically reduces productivity losses from slow and potentially unsafe backing events while navigating cul-de-sacs.
ENVIRONMENTAL SOLUTIONS GROUP LAUNCHES CUSTOMER PROGRAM FOCUSED ON TRIPLE BOTTOM LINE
Officially launched at Waste Expo in New Orleans, May 21-23, 2013. Under the theme "Your People. Your Profit. Our Planet.", Environmental Solutions Group (ESG) has aligned its product and service solutions to address the Triple Bottom Line needs of its customers in the solid waste and recycling sector.
The concept behind Triple Bottom Line (TBL) is that a business enterprise must measure its success using a combination of social, economic, and environmental criteria. These criteria are often described as the three pillars of TBL and are commonly referred to as People, Profit, and Planet. With the intensified global focus on environmental preservation and green initiatives, this concept has caught the attention of municipalities and other organizations in the solid waste and recycling industry who have adopted it as a way of measuring their success in terms of sustainability.
According to Pat Carroll, ESG's president, the customer's use of TBL concepts fits seamlessly with ESG's corporate mission and vision. "We are hearing from the marketplace that more and more organizations, especially municipalities, are thinking about their businesses in terms of Triple Bottom Line. ESG is perfectly aligned to understand their issues and provide long-term solutions that address their specific goals in terms of people, profit, and planet. The pillars succinctly summarize ESG's approach to the products and consultative services we offer through our Heil, Marathon, and Bayne brands. There's no company in our industry better equipped to do this than ESG."
The term "Triple Bottom Line" was coined by John Elkington, a global authority on corporate responsibility and sustainability, in his 1997 book Cannibals with Forks: the Triple Bottom Line of 21st Century Business. TBL uses all three pillars equally to measure business success.
The "People" pillar, which is the social component of TBL, seeks to align an organization's activities around employee safety and well-being on the job and at home, job creation, and giving back to the local community.
The "Profit" or economic pillar focuses on not only an organization's individual financial health but also the economic impact it has on the community in which it operates.
The "Planet" or environmental pillar emphasizes a company's commitment to environmental responsibility, both by minimizing the use of raw materials and natural resources and by reducing or eliminating the production of waste and byproducts that could harm the environment.
ESG's integrated program involves a holistic approach to problem solving where ESG representatives work directly with customers to identify their TBL goals and then help them choose the products and processes best designed to achieve those goals for waste stream management. Processes can involve refining the waste stream at the point of collection or developing recycling capabilities that can generate revenue through the sale of baled recyclables.
In waste-to-energy applications, this may include applying unique and proprietary anaerobic digestion systems, offered in concert with alliance partners such as Zero Waste Energy, to use organic waste to generate compressed natural gas for CNG-fueled refuse collection vehicles. Zero Waste Energy is the exclusive provider of KOMPOFERM™ and SMARTFERM™ systems.
According to Geoff Apthorp, ESG's vice president of engineering and business development, "Our consultative approach to working with customers enables us to clearly understand their short- and long-term goals. For us, it's about more than just providing customers with high-quality equipment. It's about helping each customer prosper in terms of the three pillars of TBL. That's a defining measure of success for our customers and, when our customers succeed, so do we."