Liebherr scrap handlers on display at Conexpo-Con/Agg 2020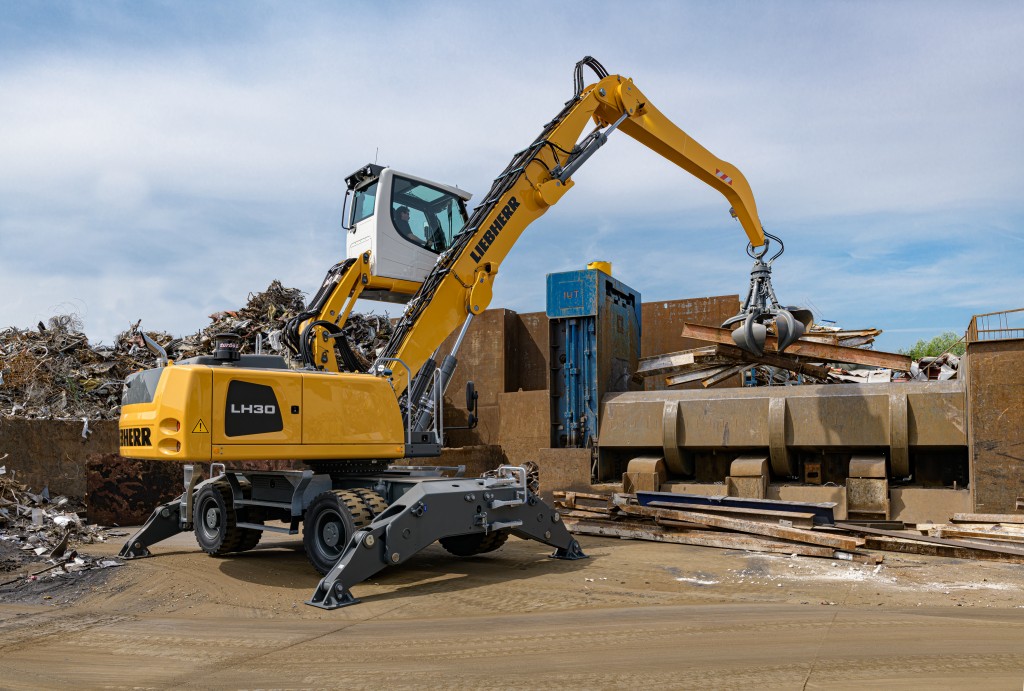 The handling of scrap steel metal and other metals is one of the toughest applications in industrial material handling. Especially when loading and unloading trucks and ships, loading shredder conveyors or sorting out different kinds of metals, robust, reliable, high-performance and also economical material handlers are required.
Liebherr addresses the challenge to produce extremely robust machines designed for the toughest requirements, which are also extremely efficient and economical, through the in-house manufacture of many components, among other things. Requirements necessary in later applications are already integrated in the development of these components, so Liebherr material handlers are optimally prepared for every working situation. Parts and components such as the injection system, hydraulic cylinders and electronics are adapted optimally to each other and thereby contribute towards the capability and efficiency.
Redefined Performance: The Liebherr material handler LH 30 M Industry Litronic
The powerful LH 30 M Industry Litronic with an operating weight between 58,400 and 64,200 lb (26.5 - 29.1 t) impresses with its versatility and demonstrates maximum handling capacity in all applications. Thanks to the optimally designed engine power of 140 kW / 188 HP, a high torque is available to the system for powerful and fast movements.
The separate hydraulic pump in the closed slewing circuit only supplies hydraulic fluid to the swing mechanism. The maximum delivery volume is always available for swiveling the uppercarriage, thus making possible fast and overlapping movements.
The generously dimensioned cooler with large meshes also guarantees excellent cooling at full power of the machine, ensuring high machine availability.
Quality in every detail: The Liebherr material handler LH 60 M Industry Litronic
With an operating weight between 121,300 and 134,500 lb (55 - 61t) and an engine output of 190 kW / 255 HP, the LH 60 M Industry Litronic is designed for heavy-duty scrap handling.
The hydraulic cab elevation, which can be variably adjusted for different loading situations, gives the driver an optimal view of his working area at all times. Cameras allow optimal monitoring of the rear and side of the machine, increasing work safety. The perfect overview provides a feeling of security and ensures safe handling of the machine at all times.
Wide non-slip steps, gangways and platforms allow optimum access to all maintenance points and ensure easy and safe entry and exit. In combination with the foldable left arm console, entry and exit into and from the driver's cab is particularly convenient. Equipment such as cab protective grid, impact-resistant laminated safety glass and piston rod protection for cylinders are specifically developed for the tough use in scrap handling and guarantee maximum reliability in the toughest conditions.
The right solution for every application: Equipment, attachments and quick coupling systems
These two material handlers can be equipped in a variety of different ways to ensure they are always optimally coordinated for the application they are intended for.

In order to increase also the productivity of the machines, Liebherr offers a broad selection of attachments. Special multi-tine grapples are available for many different applications in the area of industrial material handling.
Machines can also be equipped with a Liebherr quick coupling system, which increases the productivity of the machines by up to 30 percent.
Company info
Related products