Bunting to showcase stainless steel separation conveyor at ISRI 2020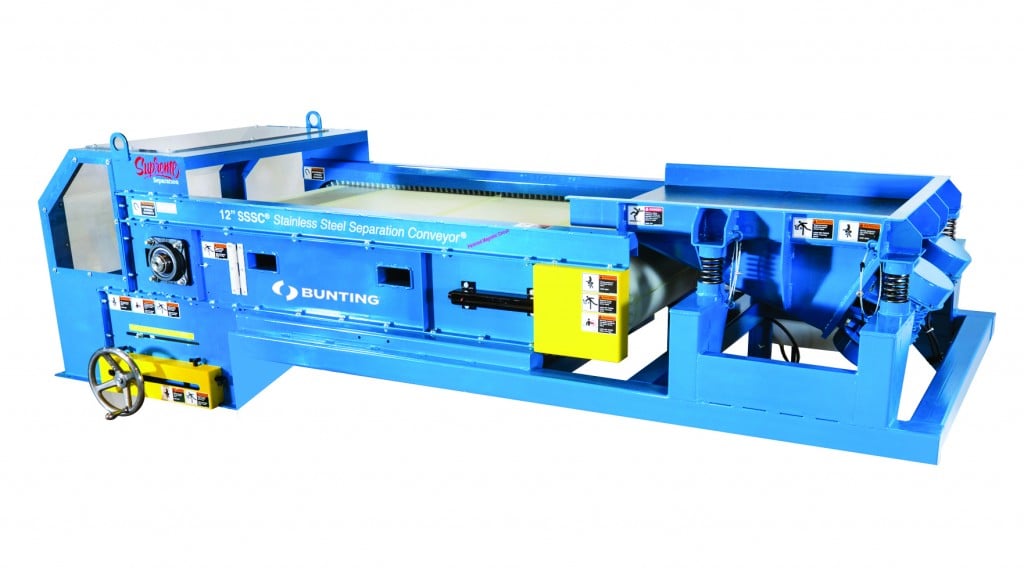 This year at ISRI, Bunting will be showcasing a strong lineup of products, including the patented SSSC (Stainless Steel Separation Conveyor). This piece of equipment utilizes its patented magnetic circuit design of high-intensity neodymium magnets to maximize the recovery and removal of stainless steel in applications such as wire chopping streams, auto shredding and general recycling.
The intense power of the SSSC enables recovery of up to 94% of large fraction stainless steel and up to 98% of small and mid-fraction 300 series stainless steel from ASR Zurik lines. By achieving the maximum removal of ferrous dust and stainless steel from wire fraction, Bunting's SSSC provides users with the purest Zurik and the greatest scrap metal recovery profitability.
Also, according to Bunting, no other product available on the modern recycling market allows for the high stainless steel recovery levels that the SSSC delivers. Every feature on the SSSC has been designed to maximize separation efficiency while streamlining operations.
The SSSC is equipped with 8" and 12" diameter patented high intensity neo magnetic circuit head pulleys that are capable of holding all sizes of 300 series stainless steel, as well as VFD controllers operating between 30 and 120 fpm to deliver effective separation. General capacities run about 1,000 #/hr/ft width on small fraction, 1,500 #/hr/ft on mid-fraction, and 2,000 #/hr/ft on large fraction. In addition to these features, Bunting offers extensive custom design options, and our engineers will work with you to deliver the optimum piece of equipment for your facility.
According to Bunting, higher product purity correlates directly to profitability in many industries, but especially in the greater recycling industry. When product is of a higher purity, profits become higher as well—and the same is true in reverse.