Making the shift to a free market model for end-of-life tires in Ontario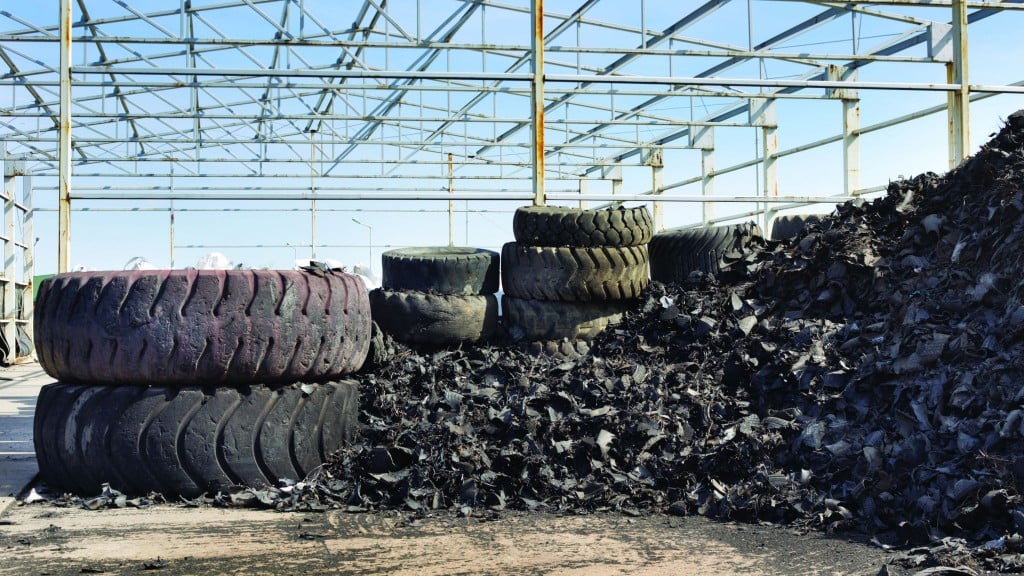 In 1990, millions of stockpiled used tires burned for 17 days in Hagersville, Ontario, creating a serious environmental hazard. This laid the foundation for a sustainable tire recycling industry in Canada. The incident was a clarion call to the government that highlighted the need to establish an effective approach for management of used tires across the country.
Since then, the tire recycling industry has made some major strides, with robust used tire recycling programs and industry bodies established across all Canadian provinces to manage sustainable and environment friendly recycling of end-of-life (EOL) tires.
Evolution of an EOL tire
A tire is considered EOL when it can no longer be used on any vehicle (after having been re-treaded or re-grooved). While all tires eventually turn into EOL tires, the bulk of them come from passenger vehicles such as cars and trucks. The typical passenger tire contains 30 types of synthetic rubber, eight types of natural rubber, eight types of carbon black, steel cord, polyester, nylon, steel bead wire, silica and 40 different kinds of chemicals, waxes, oils and pigments.
Disposing of EOL tires in an environmentally friendly way has become the top priority across the tire ecosystem, requiring consistent collaboration among individual tire manufacturers, global governments and the tire industry. This is especially important considering that we generate an estimated one billion EOL tires globally, each year.
According to the World Business Council for Sustainable Development (WBCSD), EOL tire management approaches can fall under three broad frameworks: industry responsibility, government/community responsibility and a free market approach.
Industry tire responsibility puts the onus on tire distributors and manufacturers to collect EOL tires based on the number of units sold each year. This is usually managed by a separate not-for-profit organization. This model has become popular across Europe, Japan, Korea, Turkey, and now Ontario.
Government/community responsibility typically involves a government body that becomes responsible for EOL tires, with an allocated budget set aside for this purpose.
Lastly, the free market approach allows third party companies to operate independently to support the resource recovery process, which is how countries such as Austria, Germany, Ireland and the U.K. operate.
How it rolls in Ontario
Closer to home, there are over 12 million new tires sold each year in Ontario alone. But the province's tire recycling industry witnessed a tectonic shift when it became the first in Canada to embrace the Individual Producer Responsibility (IPR) model, a legal regulation governing tire recycling (Regulation 225/18) which took effect on January 1, 2019.
This regulation made tire manufacturers responsible for:
• Registering and working with the Resource Productivity and Regulatory Authority (RPRA) to keep records, submit timely and consistent reports to increase transparency, measure performance and ensure compliance;
• Providing a free, convenient tire collection network that provides a minimum number of collection sites across Ontario;
• Meeting resource recovery standards for the collection and management of tires;
• Educating consumers to increase public awareness and promote public participation in the resource recovery of tires.
As a result of the IPR model, each producer now has to either make their own arrangements to collect and manage tires in order to meet their mandatory individual targets, or use Producer Responsibility Organizations (PROs) to help them meet their responsibility.
A PRO enters into contractual relationships with service providers on the tire producer's behalf and works to organize the collection and recovery of EOL tires. The PRO also participates in research and development activities for new recovery processes, liaises with local authorities, and helps producers comply with reporting obligations.
As the largest PRO in Ontario, eTracks manages over 80 percent of the collection and recovery obligations on behalf of tire producers in the province. It was incorporated by the Tire and Rubber Association of Canada (TRAC) to help tire manufacturers responsibly manage and dispose EOL tires in Ontario as required by the Ontario Resource Recovery and Circular Economy Act (RRCEA). eTracks is a not-for-profit company and is not motivated by gain but, rather, by outcome. With a breadth and depth of knowledge of product stewardship and supply chain management in Canada, eTracks is committed to building strong and productive relationships in the tire recycling industry through ethical and transparent business practices.
Resource Recovery - EOL tire derivatives
A mindset shift has taken place with respect to EOL tires. They are now being viewed as a resource rather than waste, which has proportionately increased producer responsibility and the need for collaboration within the industry. EOL tires can be recycled into a number of items including crumb rubber, ground rubber, modified asphalt, gravel substitute, construction materials and wastewater treatment filters. These products can be used in a variety of ways.
For example, crumb rubber can be used to make rubberized flooring for playgrounds, hockey arenas or athletics facilities. Recycled tires can be used in place of gravel in roadway sublayers, drainage ditch aggregate and highway embankments. Other uses include welcome mats, landscaping mulch additives, and as cost-effective asphalt cement, an alternative material for construction of road and highway systems.
Environmental issues continue to be a driving force behind EOL tire recycling. As the industry evolves, it is becoming clear that there can be significant benefits when collaboration between tire manufacturers, retailers and governments occurs. Now, in a huge range of industries, including at mines located in Northern Canada where there are hundreds of tonnes of tires stockpiled, what once may have been destined for the landfill is being diverted to facilities for recycling.
Today, most industry organizations in developed countries have tire recycling management programs in place to ensure that EOL tires are managed sustainably and safely. However, this progress should be seen as just the beginning. Continued efforts are imperative to help increase awareness about EOL tires as a resource, and to encourage innovation through research and development programs that find new, effective and environmentally sound uses for EOL tires.
Steve Meldrum is CEO, eTracks Tire Management Systems.
Prior to leading eTracks, Steve spent the last 13 years as President and CEO of an environmental waste treatment technology company that grew from a start-up organization to an industry leader in the CleanTech space. He also spent 10 years in Management Consulting roles working closely with many start-ups and global Fortune 500 companies. In addition, he has been a board member for many private companies as well being President of the Board of Directors for a Toronto-based not-for-profit. Steve lives with his family in Mississauga and enjoys sports and music in his free time.
This article was originally published in the January/February 2020 edition of Recycling Product News, Volume 28, Number 1.