Peterbilt unveils all-new ergonomic, efficient interior for low-cab forward Model 320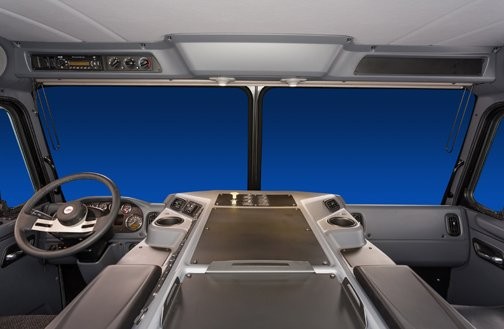 Peterbilt Motors Company unveiled its all-new Model 320 interior during the Waste Expo show in New Orleans, La, held from May 20-24. The new ProBilt interior for Peterbilt's low-cab forward vehicle features ergonomic improvements, system enhancements and improved overall visibility for maximum operator efficiency and comfort.
"The Model 320's new interior delivers unparalleled fit and finish and provides drivers a comfortable and productive operating environment for outstanding performance in this specialty market," said Robert Woodall, Peterbilt Director of Sales and Marketing. "Inside and out, Peterbilt's Model 320 performs the most challenging jobs with uncompromising durability and quality."
Ergonomic, efficient design
The Model 320 interior underwent a floor-to-ceiling re-design, beginning with the new ergonomic dash layout.
"The new instrumentation panel includes LED backlit gauges that are easy-to-read and are easily visible through the new steering wheel, along with the new Driver Information Display that provides critical vehicle data, as well as rocker switches that are within easy reach," said Landon Sproull, Peterbilt Chief Engineer. "All of these new features help to ensure that the driver is operating at peak efficiency and productivity."
An in-mold process embeds color directly into the dash for a durable, long-lasting finish, which virtually eliminates fading, scratching and peeling. Removable dash panels allow easy access to electrical and HVAC components. An improved HVAC system maintains reliable performance and consistent heating and cooling throughout the cab. The new header includes overhead HVAC controls and toggle switches for body devices and the ConcertClass audio system.
The cab's B-pillar has been re-designed to include cab corner windows for increased visibility. A lowered dash brow and a large, retractable sunshade that spreads the length of the front windshield also contributes to improved overall visibility.
The new interior includes a large, multi-purpose centre console. Removable panels allow for easy installation and convenient access to body controls. Storage space is abundant, with multiple large storage compartments, a space designed specifically for a small lunch cooler, driver and passenger side cup holders as well as a USB charging port and 12VDC charging outlet.
"The interior is symmetrically designed to make sure the driver enjoys the same convenient comforts whether the cab is a left hand or right hand drive configuration," said Sproull.
The cab features the extensive use of contemporary LED lighting, including two directional dome lights in the header, as well as two over-the-door lights and one large light on the back wall. LED lighting reduces eye fatigue and power consumption and also provides extended bulb life.
Safety and comfort were key considerations in the new pedal position package.
"Our engineers consulted with numerous customers during the design process to get their input regarding the pedal placement and space between the throttle and the brakes," said Sproull. "This resulted in an optimized pedal layout that provides a more comfortable driving position."
Additional features include:
• Padded headliner for improved thermal and acoustic performance;
• 4-speaker audio system;
• Vertical-parked windshield wipers;
• Header and over-door storage capacity;
• Padded door panels with power controls for windows and mirrors;
• Tilt/telescoping steering wheel;
• Multi-function turn-stalk;
• Heated seats;
• Available in left-hand and right-hand drive configurations.
The ProBilt interior is available in Titanium Gray.
The foundation of Peterbilt's rugged Model 320 is the huck-bolted aluminum cab that features lap seam construction and bulkhead style doors on a zinc-coated, steel subframe for maximum durability and corrosion resistance. In applications where stopping distance is critical, the 320 comes standard with air disc brakes, which improve brake life and reduce service time. An industry-leading, 65-degree cab tilt provides technicians easy access to key service points for improved serviceability and reduced downtime. Use of LED marker lights, instead of incandescents, extends service intervals.
A 90-degree door opening with multiple grab handles and an impact-resistant, bolt-on step provides easy entry and exit. The exclusive use of taper leaf front springs provides an increasingly smooth ride. An impressive 44-degree wheel cut allows drivers to easily maneuver in congested urban environments. The Model 320 offers a full range of axle selections in single, tandem or tri-drive configurations, plus a full complement of liftable axle options and a tandem steer front axle configuration rated at 36,000 lbs.
In addition, the Model 320 is available in Compressed Natural Gas (CNG) or Liquefied Natural Gas (LNG) with the Cummins Westport ISL G and ISX 12 G Engines. Both configurations provide flexibility to locate the fuel tanks either off the frame rail or integrated with the body.