Sennebogen material handlers bridging borders for W. Silver Recycling
Recycler's operations in the U.S. and Mexico benefit from interchangeability and international service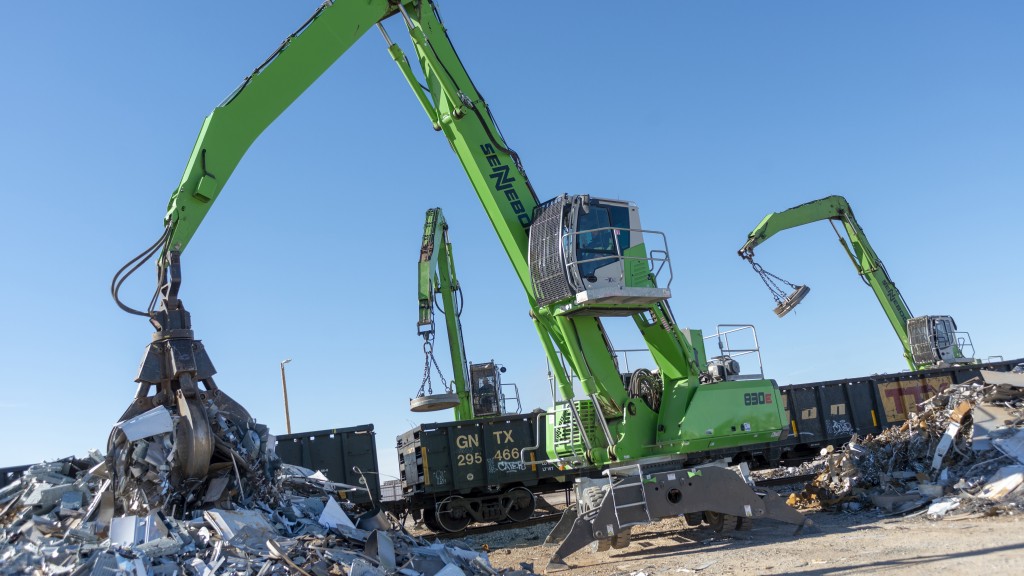 SENNEBOGEN purpose-built scrap handlers have become a strategic choice for W. Silver Recycling's operations. With headquarters in El Paso Texas, multiple locations along the U.S.-Mexico border, and operations as far south as Mexico City, the scrap recycler has benefitted from a strong international dealer network supporting their machines, interchangeability and free factory training.
When John Korey of W. Silver Recycling took delivery of their latest machine, a SENNEBOGEN 825 M scrap handler at ISRI 2019, he knew exactly what he was getting into. "We are the only full service recycler with complete coverage along the US-Mexico border," Korey says. "We use SENNEBOGEN machines in all our ferrous operations all through our cross-border footprint. We really needed an international company that could support us on either side of the border. The commonality of design and support we find in SENNEBOGEN allows us the flexibility to move any unit within our operating environment, if we need to."
Korey's fleet includes both tracked and wheeled versions of the SENNEBOGEN 825 and 830 models, along with one larger 835 model. While some machines carry a lifting magnet and others have a grapple attached, each one is equipped with a magnet controller. For Korey and his team, it's all about interchangeability.
Interchangeable equipment and skills
"We will deploy a piece of equipment wherever it's required to suit to market conditions," Korey explains. "Then we have no worries from a support standpoint. Can somebody run it? Do we have parts? Can we can get service? If I needed to send a machine from one of our US locations to a Mexican location, we wouldn't have a second thought about putting it on a truck. It's not like we're moving equipment every month, but several times throughout the year, we'll move machines to mirror local demand." As well as meeting production demands, this approach also allows better balancing of W. Silver Recycling's machine utilization, so units aren't left idle at one site while others are being overworked elsewhere.
Korey notes that, with the way his fleet is built, he has flexibility with both his equipment and his people. "There have been times where an operator has been out for an extended period and we'll just fill in with one of our other operators. The instant they're on the ground, they're off and running."
"It's the same with the serviceability of these machines. I can take any of our maintenance guys to any of our facilities, and he's up to speed and functioning at a high level the minute he has boots on the dirt."
A proven model
Korey says W. Silver Recycling's fleet development follows the "Southwest 737" model, reflecting Southwest Airlines' strategic decision to build on the latest aircraft from Boeing to maintain the highest level of commonality in equipment, parts and skills.
W. Silver Recycling keeps stocks of common parts in strategic locations throughout its own network, and SENNEBOGEN has also placed some of its key components within W. Silver Recycling's regional centers to support the fleet. With SENNEBOGEN dealers located on both sides of the border, every W. Silver Recycling facility has access to nearby factory support.
Shared experience
Because they all work on the same machines, their maintenance crews at different facilities are able to support each other and share their experience with the machines. Some techs have taken advantage of the free training programs offered to them at SENNEBOGEN's factory Training Center in Stanley, NC. They, in turn, can pass along what they've learned to their co-workers in each yard.
Along with the familiarity of their SENNEBOGEN machines, the technicians at W. Silver Recycling also appreciate the simplicity of servicing them. "They're elegantly designed from a maintenance standpoint," according to Korey. "They aren't overly dependent on computers; you don't need a computer scientist to get into them. They are very robust machines and they don't use a lot of proprietary parts. Some other brands, if you don't have their parts and their software, you're dead in the water. With Rexroth and Bosch hydraulics, Cummins engines, the availability of these parts and their dealers in our operating territories has really played into our decisions to stay with SENNEBOGEN."
Company info
Related products