SICON wins German Excellence Award 2020 for Ecoscan Online
World's first X-ray based scrap analyzer provides a digital link between scrap and steel industries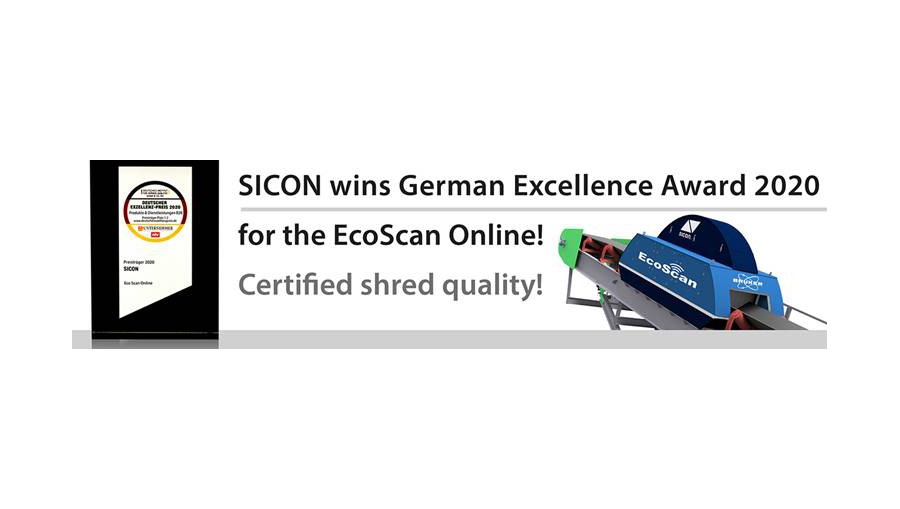 SICON was awarded a German Excellence Prize for outstanding achievements in business on January 23, 2020, in Berlin, for its latest development, the EcoScan Online -- the world's first x-ray based scrap analyzer designed to connect the scrap and metal industries.
EcoScan Online
EcoScan Online is designed to provide a digital link between the scrap industry and the steel industry. Using modern X-ray technology, scrap is analyzed directly after processing and its composition and quality parameters are analyzed. The data obtained in this process can be given to the steelworks in the form of a certificate or transmitted digitally, so that steelworks can react directly to quality fluctuations and know the composition before the melt occurs.
According to SICON, for steel production by means of EAF (electric furnace), FE scrap is required for melting, which is provided by the scrap metal industry. But, there is no direct link between the scrap industry and the steel manufacturer, as both industries generally operate separately.
The steel industry needs high-quality scrap for steel production. The scrap industry provides this scrap only to a limited extent and often the scrap composition is unknown. In recent years, increasing quality problems have become apparent, which are clearly visible in successively in-creasing and extremely fluctuating copper contents. These incalculable fluctuations limit the use of shredder scrap, especially for those steel qualities which only allow a very low copper content. EcoScan Online is meant to be a solution to this challenge.
At the awards in Berlin, January 23rd, the German Institute for Service Quality, the DUB UNTERNEHMER magazine and the news channel n-tv selected 46 winners in 23 categories. The jury underlined the innovative power and technical excellence that SICON has demonstrated with this development. The gala brought together successful managers, start-up founders, digital experts and creative people from a wide range of industries.

SICON,director Heiner Guschall accepted the award in Berlin. The award was presented by Brigitte Zypries, former Federal Minister and patron of the German Excellence Prize.

In his acceptance speech Heiner Guschall pointed out the importance of this award for his company: "SMEs in Germany make a very important contribution to the German economy. We are also very proud to receive this prestigious award for the EcoScan Online. As a specialized medium-sized plant engineering company, networking is especially important for us. Together with our partner BRUKER, we have created a particularly innovative product in this area, thus optimally combining the competencies of both companies. For the SICON team, this award is an incentive to continue developing great innovations with the best partners in the future."