Doosan announces two new pieces of equipment to be displayed at the 2020 ISRI convention
Doosan will display its DL280-5 wheel loader and DX210WMH-5 material handler at the exhibition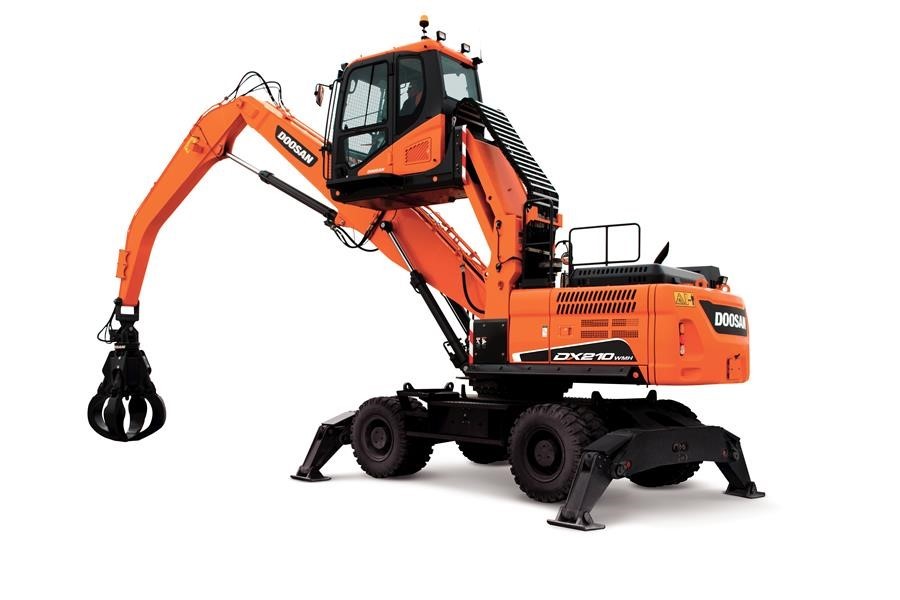 Doosan will display its DL280-5 wheel loader and DX210WMH-5 material handler at the 2020 Institute of Scrap Recycling Industries convention and exposition.
The Doosan DL280-5 wheel loader provides operators with enhanced performance and comfort, as well as increased uptime protection. The wheel loader features include an optional wide fin radiator that provides better cooling with larger fin spacing and reduced clogging.
Heavy-duty axles deliver additional machine performance in harsh applications such as scrap and recycling. The heavy-duty axle allows owners to use solid tires to improve uptime in applications where pneumatic tires are susceptible to puncture.
Meanwhile, the Doosan DX210WHM-5 material handler provides scrap and recycling professionals with improved fuel efficiency, versatility and productivity. Designed to work in a variety of scrap-handling applications, the material handlers excel at working in scrap yards, recycling facilities, solid waste centers and transfer stations.
Doosan material handlers are factory fitted with standard hydraulic cab risers for increased visibility, straight boom and droop nose arm for optimal performance and improved machine guarding for maximum uptime.
The DX210WMH-5 manages the balance of fuel consumption and machine power to working conditions with four selectable power modes that allow customization for different jobsite requirements.
In addition, the material handler features a Lifting work mode. The Lifting work mode provides increased pump torque, low engine rpm and an automatic power boost to improve operator precision when lifting and placing materials.