EDGE VS420 slow speed shredder provides a high degree of customization
Twin-shaft design ensures resistance against wear, material wrapping, and contaminants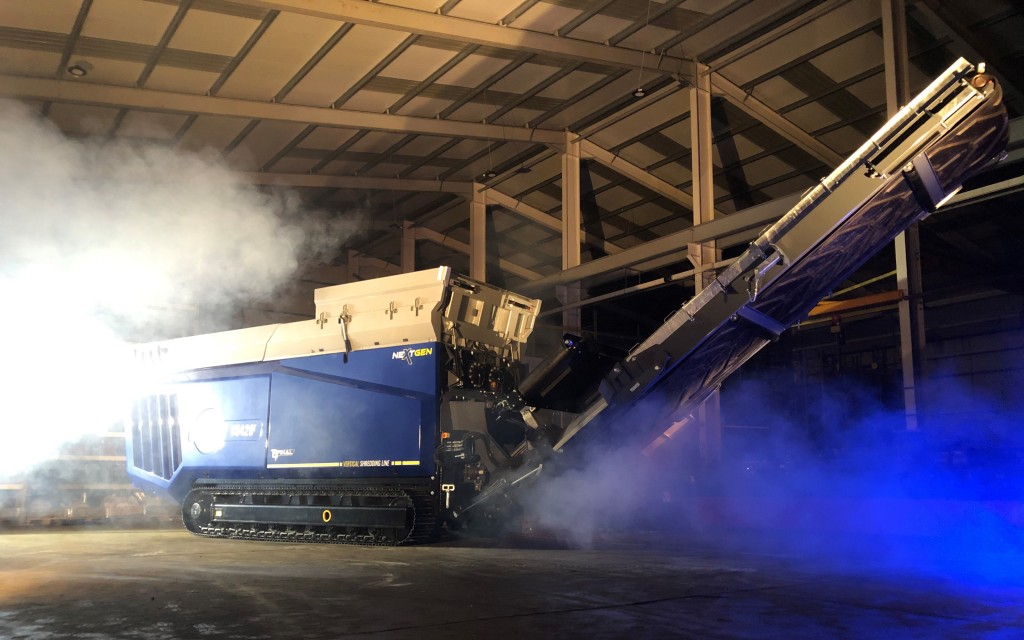 EDGE Innovate is set to introduce the EDGE VS240 high-capacity shredder in North America at the upcoming CONEXPO-Con/Agg 2020 in March. These new models are ideal for processing materials such as green waste, MSW, C&D waste, biomass and end of life tires. According to EDGE, they have taken decades of experience in designing, manufacturing and commissioning industrial waste shredders in order to create the exceedingly customizable and high capacity VS420.
At the heart of the VS420 are 2m (6'7") long synchronised twin high torque shredder shafts which can be customized to suit exact applications and desired product piece sizes. The twin shaft design ensures less wear, promotes self-cleaning, prevents material wrapping and features a high resistance to contaminants via an intelligent operating system which incorporates tramp metal protection, therefore preventing asset damage.
With a range of both rapid volume reduction and intricate piece sizing chambers available, the EDGE VS420 series can be modified to be used as either a primary or secondary shredder.
Powered via a Caterpillar C9.3B Tier 4 Final / Stage IV ACERT engine, the shredder also reduces engine emissions and offers an improvement in fuel consumption compared to other engine options. The VS420 offers a series of design features such as hydraulic hopper extensions with hydraulic locking mechanisms, a large automatic tipping hopper with remote functionality, hydraulic height adjustable twin pole magnet and a "One Point" service area which makes daily maintenance checks possible from one vantage point.
EDGE has also introduced a control philosophy that gives operators a larger scope for customization. Further operator control is provided via EDGE's VS Status Lighting system which provides a quick and simple communication link between the machine and the operator. It allows the operator to know the status of the shredder, when to continuing loading material, when not to load or if there is a blockage, thus ensuring maximum throughput while preventing material overload.
More from C&D Recycling
Single-Ram and II-Ram High-Capacity Balers
At Machinex, we've been designing sorting systems for over 35 years, so we know how essential it is for MRF operators to have a baler they can trust and not worry about its operational reliability. This is why we design and manufacture reliable single-ram and II-ram high-capacity balers to specifically help optimize their operations.
Watch the video of our expert who presents the main features of Machinex balers delivering these important benefits:
Easy & accessible maintenance
Reduced maintenance & bale handling costs
Energy savings
Optimal bale density
For C&D recyclers, waste haulers, demolition contractors and landfills, there is a growing opportunity to profit from rethinking processes. Although every operation is different, by streamlining the front end of the C&D operation processes with purpose-built technologies, recyclers can tap into new end markets, accommodate higher material volumes, stay ahead of regulatory restrictions, increase recovery rates and add commodity revenue, while decreasing labor and other costs.
Download the new eBook to learn about:
Finding opportunities in the alternative to landfilling C&D
How facilities can increase their profits from C&D
Using the right C&D processing technology in the right locations