Ropax Jumbo compacts container material by up to 80%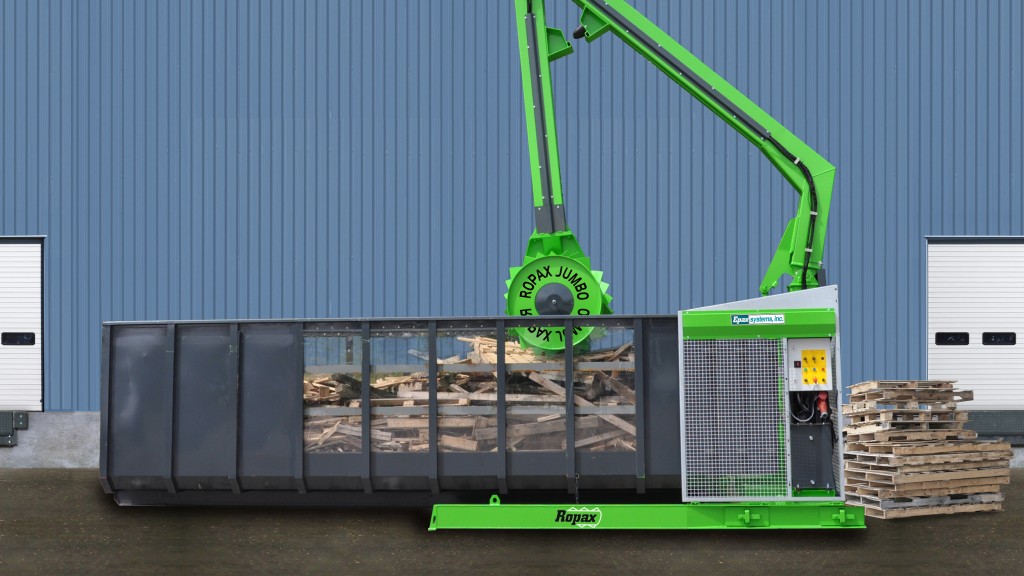 The ROPAX Jumbo Rolling Compactor from Epax Systems uses a rolling drum with sharp metal teeth to crush, macerate, tear, rip and compress waste in large open top containers/dumpsters.
The Ropax Jumbo rolling drum, which weighs over 2 tons to aid in compaction, is attached to an articulating boom which moves it from one end of the container to the other and back again crushing and compacting waste all along the way.
Prior to compaction, most containers have large voids and air pockets resulting in container utilization of only about 20% of actual capacity. The ROPAX Jumbo's high compaction rate allows for significant improvement in utilization with rates as high as 80%. This dramatic improvement means containers need to be replaced or emptied less frequently resulting in less downtime, improved worker productivity, and reduced waste hauling and disposal charges.
The ROPAX Jumbo provides effective compaction of a wide variety of items including cardboard and other packaging, wood pallets and crates, cable reels, paper, film and foil, green waste, encapsulated polystyrene, household goods, light metals and other bulky items.
An intuitive control panel provides the option of manual operation, continuous operation or timed operation (up to 30 minutes). Unlike other compactors, the ROPAX Jumbo accepts additional waste even during the compaction process. Alternative drum configurations including different teeth geometry or patterns are available to maximize compression rates based on the type of items disposed.
ROPAX Compactors require no special site preparation and take up only minimally more space than the container itself. They are ideal for municipal waste facilities, recycling centers, distribution centers, warehouses, manufacturing facilities, hotels and restaurants, apartment and condo complexes and retail stores.
Related Articles
Traditionally, waste management companies have operated using a simple "management of waste" approach to operating a MRF. Throughput targets and continuous operation (minimal downtime) were the main driving forces. The industry has changed however, and the focus moving forward is now on optimizing system performance and reliability, in conjunction with increasing recycling rates and a drive for a "greener" and more sustainable tomorrow.
When considering the addition of, or upgrade to, an "intelligent" MRF, for municipalities or private operators, the main factors should always be the client's (operator) current requirements, and evolving market needs, which include throughput, reliability, output quality, and adaptability. Equally important is a full understanding of what is really expected from any proposed system. Having an engaged and focused mindset for the project with the client from the beginning, will impact and drive the entire design process. This then impacts the overall project result, through to the productive, efficient, ongoing operation of the facility itself.