World's largest cold weather fleet of CNG waste and recycling trucks on the road in Winnipeg
Emterra Environmental running 60 CNG powered trucks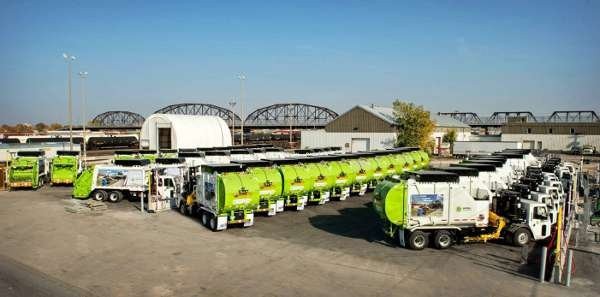 Emterra Environmental, headquartered in Burlington, Ontario, and part of the Emterra Group takes the "environmental" portion of its name seriously. When it came down to which supplier could best help Emterra switch from traditional diesel-powered vehicles to CNG units, General Manager of Metro Vancouver, Nevil Davies, did some very comprehensive research. The overall goal Davies said, is to support Emterra's corporate sustainability effort to dramatically reduce the environmental impact of its collection of waste and recyclables. The company, one of the largest waste management companies operating in Canada, has over 400 trucks, 800 employees and 15 material recovery facilities stretching from Ontario to B.C.
"To put it simply, we cold-called Heil Environmental," begins Paulina Leung, Emterra's Business Development Manager. "We liked everything we could find related to their proven CNG program, especially how seamlessly their fuel-delivery service was integrated between a chosen chassis and the Heil loader body."
According to Leung, it wasn't just Heil's promise to lower Emterra's fuel and maintenance costs, reduce idling noise and cut down on emissions that captured their attention. "To say that the Heil response was timely and attentive is a vast understatement," says Leung. "Their rep. was on the ground within days to see first-hand our requirements so that he could accurately propose just which Heil products would best suit our objectives."
Also within days, Heil had arranged for several members of the Emterra decision-making team to tour, not only the Heil design and manufacturing facility in Fort Payne, Alabama, but to also visit a few current Heil customers.
"Heil made sure we also spoke directly with the equipment operators...so we could learn the good, and frankly the not-so-good points about all the equipment purchases we were considering for the city of Winnipeg and additional projects," states Leung. "Right there, that kind of unlimited access gave us a strong feeling that we were dealing with a company that would stand 100 percent behind everything it sold to us."
"Heil has done hundreds of CNG installations matching ours," adds Leung. "Their process, their history, their products...all contributed to our choice. We have no margin for error when we undertake our extremely tight municipal contracts."
In Winnipeg, where Emterra began working with Van Dyk Recycling Solutions in 2012 to upgrade their state-of-the-art 100,000 tonnes per year MRF, temperatures sometime drop to below 40 degrees C. For their upgraded Winnipeg operations, a CNG fuelling station was established in the fall of 2012 to support some 60 new Heil bodies, a mixture of Rapid Rail continuous-pack automated side loaders and PT 1000 high-performance rear loaders. All bodies were mounted on Crane Carrier chassis and some retrofitting was commissioned. This gives Emterra what the company says is the world's largest fleet of CNG waste and recycling trucks operating in a cold-weather climate.
"We added extra-large driers to our fuelling station and large block heaters to all the Heil units," says Leung. "It comes down to how well CNG performs during a Winnipeg winter. In a way, our order is a learning experience for Heil, too. To date, there have been no proven successes – by any CNG equipment supplier – in such frigid environments."
The Heil Rapid Rail side loader, with a lift capacity of 1,600 pounds, and a lift cycle time of just eight seconds, features a patented paddle packer that continuously sweeps (and thus cleans) the hopper so that the operator never has to pause between stops to activate the loader arm. This means far less downtime and greatly improved productivity. In addition, Heil says, there's never a need to clean behind the packer blade either – a great convenience for the vehicle's driver. Plus, there are no shoes, guide tracks or guide rails to ever wear out.
"The unique paddle mechanism results in low cost of maintenance and low cost of ownership," says Leung. "Plus, its arm has an extended reach (96 inches), an ability to maneuver in very tight spaces, and a wonderful overall track record."
Heil's PT 1000 rear loader, with compaction up to 1,000 pounds per cubic yard and a packing cycle time of 15 to 17 seconds, comes equipped with a three-cubic-yard hopper and reloads in a very quick five to six seconds.
"Fer-Marc Equipment, our Canadian dealer, did an extraordinary job demonstrating the superior payload capacities and low-maintenance benefits of Heil's Rapid Rail and PT 1000 loaders to Emterra," said Tom Binder, Heil's Western Regional Manager. "Fer-Mac's support, from the initial inquiry to the actual deal, enabled Emterra to make a confident equipment choice."
"We don't just talk the 'green' talk – we actually walk the walk," said Leung. "CNG is the next big step in our mandate to become an even stronger leader in environmental responsibility. With Heil as our partner, we'll get 'there' sooner versus later."
In March, Emterra was recognized by FortisBC, part of one of the largest distribution utilities in Canada, for its commitment to "greener" collection and transport of waste. In February, Emterra announced their purchase of a 13-acre parcel in Saskatchewan's Global Transportation Hub (GTH) where it will build the company's fifteenth world-class processing facility for recyclables in Canada. Emterra is building the facility as a result of winning a 10-year contract with the City of Regina to process and market an estimated 25,000 tonnes of recyclables collected annually in the city's coming curbside single stream recycling program. Emterra says their total investment in the land, building and processing equipment tops $18 million.
The 45,000 square foot material recovery facility, which will have a total recyclables processing capacity of 50,000 tonnes annually, is set to begin operations on July 1, 2013, coinciding with the start of Regina's recycling program. Initially it will employ between 25 and 30 workers with expectations that the number will grow as Emterra expands to meet the solid waste management needs in Saskatchewan's municipal and industrial, commercial and institutional sectors.
"This operation in Saskatchewan will be Emterra's flagship facility," said Leung. "It's our first presence in the province and the first MRF built from the ground up with a full commitment to environmental responsibility and sustainability."
Company info
1122 Pioneer Road
Burlington, ON
CA, L7M 1K4

Website:
emterra.ca
Phone number:
905-336-9084
Read more