Editor on the road: CWRE and CWRC 2019 in review
A round up of a great week in Toronto, on tour, in session and on the show floor at the 22nd Waste & Recycling Expo Canada and Canadian Waste to Resource Conference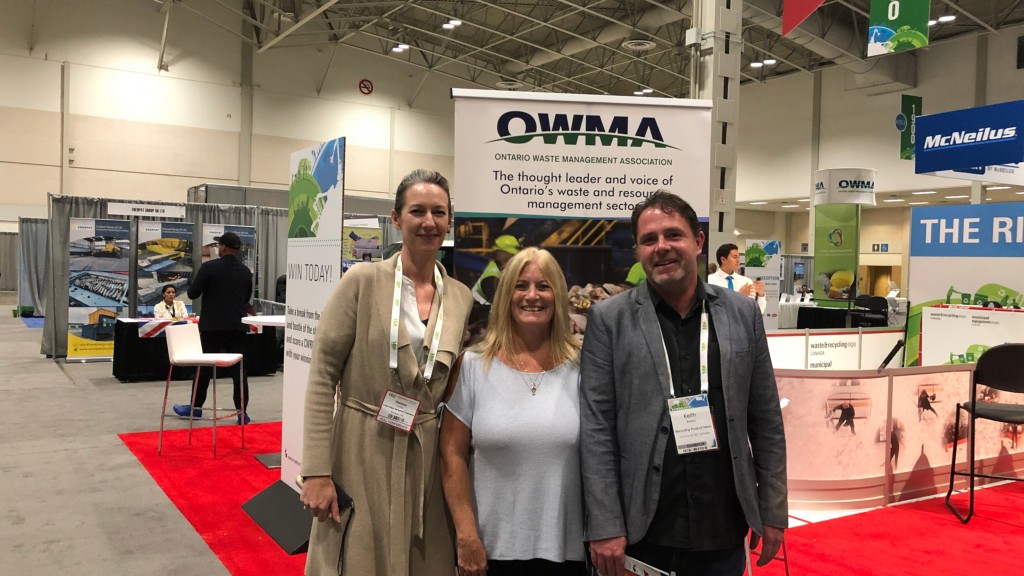 The Recycling Product News team was in Toronto, from October 8th through 10th, at this year's 22nd Waste & Recycling Expo Canada (aka CWRE based on the show's old name - the Canadian Waste & Recycling Expo) and the co-located 10th Canadian Waste to Resource Conference (CWRC) put on by the Ontario Waste Management Association (OWMA). Along with over 200 exhibitors and hundreds of attendees we were fortunate to spend several days networking and learning about the latest innovations, strategies and expertise in the industry.
As the official media partner at this year's event, the Recycling Product News team was kept busy, starting with a full day of GTA (greater Toronto area) waste facility tours. The opening gala for both shows took place after the facility tours, Tuesday night at a Toronto brew pub, with the CWRE trade show and CWRC seminars, running concurrently October 9-10. The shows were located across the street from one another, at Toronto's Enercare Centre and Beanfield Centre respectively.
See our brief show-floor interviews with various innovative exhibitors from Waste & Recycling Expo Canada. LINK>
As part of the CWRC event, organized by the Ontario Waste Management Association (OWMA), on Tuesday October 8th a collection of over 20 municipal representatives, press and other waste management pros were taken on a day-long tour of five cutting-edge recycling and waste management facilities, located in the Greater Toronto Area. The tour day started at the City of Toronto's Disco Road anaerobic digestion facility, where they divert and convert-to-energy over 75,000 metric tonnes of residential and commercial organics yearly. Next, the group was transported to Triple M Metals Brampton facility for a tour of their ferrous scrapyard where the company is scheduled to add a 100-ton per hour Mega-Shredder by 2020, and a visit to Triple M's co-located nonferrous recycling facility as well as the aluminum re-melting plant (owned by Triple M sister-company Matalco Inc.).
The third stop on our tour was at a 100-tonnes-per-day e-waste recycling operation owned by the newly formed Quantum Lifecycle Partners LP. An amalgamation of Shift Group and GEEP Canada, Quantum is now Canada's largest vertically integrated ITAD services and WEEE processing company.
The CWRC tour continued on to Canada Fibers' 27-acre Resource Recovery and Recycling Campus, home to their Urban Polymers plastics processing operations and their single-stream Arrow Road MRF - one of the largest, most technologically advanced residential materials recovery facilities in North America. Finally, the tour took the group out to Veolia North America's lamp recycling facility in Pickering, Ontario where they capture all mercury from lamps and use a cutting-edge Balcan MP8000 lamp recycling machine capable of processing 5,000 four-foot fluorescent lamps hourly.
Stay tuned for more details and images from this year's OWMA GTA waste facility tour.
CWRC educational seminars this year focused on a wide range of topics, from food waste management innovations to the current changes in Ontario's EPR infrastructure. On Tuesday, the luncheon keynote speaker, Frank Denton, CEO of Ontario's Resource Recovery & Productivity Authority (RPRA) spoke to hundreds of attendees about the success so far and challenges to come with respect to Ontario's current transition to EPR-based waste diversion programs, for everything from tires to Blue Box curbside residential materials.
Commenting on the CWRC, Denis Goulet, Chairman of the OWMA Board of Directors and President of Miller Waste Systems, said "There are several areas that stood out this year, the feedback on the quality of speakers, conference format and sessions has been exceptional; I think it was our best yet.
"This was also one of the most, if not the most, highly attended Canadian Waste to Resource Conference (CWRC) to date, including public, private and associate members, but also some new faces, such as producers, consultants and more attendees from outside of Ontario and aboard. I think this speaks to the current level of engagement when such a variety of stakeholders come together to discuss current and future challenges in waste. The CWRC provides a truly world class stage for waste industry professionals to connect and learn about a rapidly changing sector."
On the CWRE 2019 show floor, besides over 200 equipment, technology and service providers, additional educational sessions provided tips for waste and recycling pros on everything from effective social media strategies to managing all the new regulations governing the burgeoning cannabis waste management industry.

Stay tuned for more about this year's educational sessions, from the CWRC and CWRE, as well as innovations and the latest equipment from the CWRE, online and in our upcoming November/December edition.
Company info
3200 Windy Hill Road, Suite 500 West
Atlanta, GA
US, 30339

Website:
cwre.ca
Read more