On the show floor with TY Cushion Tire at CWRE 2019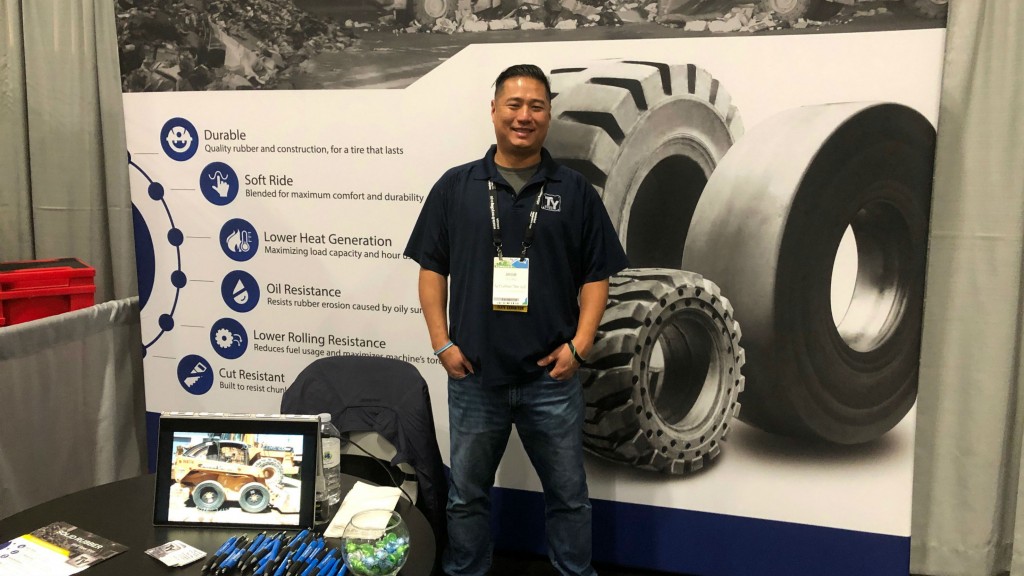 The Recycling Product News team was in Toronto this week for the Waste & Recycling Expo Canada (aka CWRE) annual trade show and convention. We interviewed representatives from some of the innovative companies exhibiting on the show floor.
Following is our brief interview with Jesse Chuang, business development, TY Cushion Tire.
Keith Barker: How long has TY Cushion Tire been in the recycling industry?
Jesse Chuang: We've been around for 22 years and we're based out of Ontario, California.
KB: How long have you been coming to CWRE?
JC: About 16 years or so.
KB: What is the core competency of TY Cushion Tire?
JC: We are a solid tire manufacturer that sells solid tires for heavy equipment such as wheel loaders, skid steers and forklifts that are being used in waste handling, transfer stations, scrap recycling and other facilities.
KB: What's the latest innovation or the latest model that you're promoting here at the show?
JC: We use the show to promote our solid brand of tires for heavy equipment.
KB: What do you expect to get out of the show this year?
JC: We always like to get more leads and new customers. There are people coming here from all parts of Canada and some parts of the U.S. so it's always good for lead generation.