Scholz adds third Sennebogen material handler to manage increased metal volumes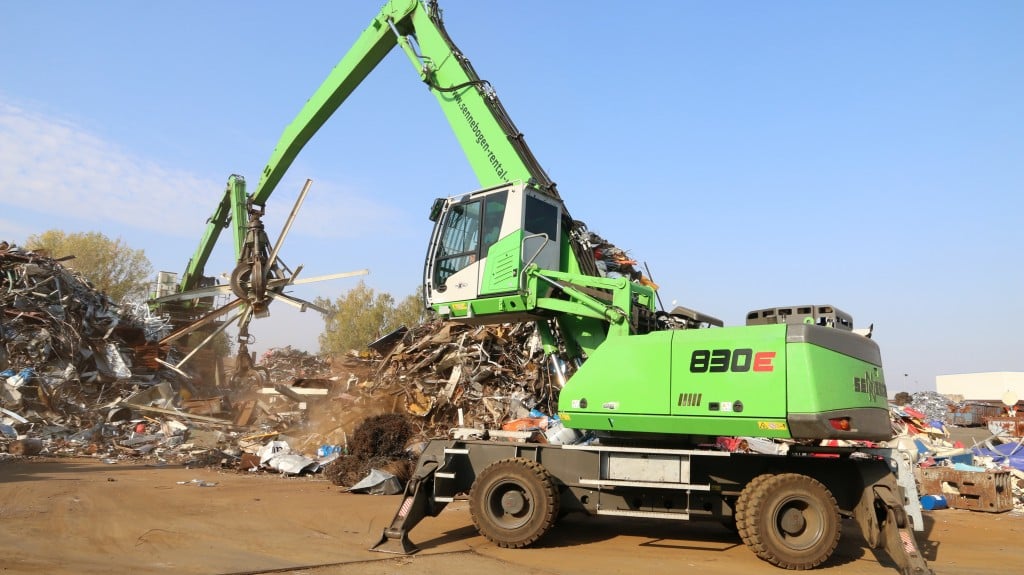 With a growing automotive industry in its backyard, Scholz Recycling GmbH is keeping up with flexible, heavy-duty solutions to streamline its business operations.
The town of Zwickau, Germany is considered a relatively new entrant into the country's automobile industry, but cars have been rolling off the lines here for leading OEMs since the 1990s. As more manufacturers have come here to build, the supply of old and new scrap has been growing. Where there's scrap in Germany, you also find Scholz Recycling. Each year, the Scholz facilities in Zwickau ship more than 32,000 tons of old scrap and 95,000 tons of new scrap.
To keep the material moving, Scholz has learned to rely on SENNEBOGEN purpose-built material handlers, including a stationary electric-drive machine as well as an 825 M. Last year, Scholz turned to SENNEBOGEN again for a new 830 M E.
Fleet expansion for greater efficiency
The decision to expand the site's SENNEBOGEN fleet was driven simply by the growing volume of material to process.
Marc Schaefer, Scholz' Purchasing Manager in Zwickau, explains: "We now have to stage 12,000 tons to ship across Europe each month. With the new 830 M, we can now respond to the larger scrap volumes with much greater flexibility."
The 830 has a reach of more than 55 ft, (16.8 m) and a 1-yard grapple. It fits perfectly into our operation by bringing feedstock to the stationary unit to feed the shears. The elevated cab lets operators work comfortably and safely at an eye-level of 18 ft. (5.5 m) so they have a view over their entire work area.
Reduced operating costs offer competitive edge
SENNEBOGEN's past performance was a key factor in selecting the new 830. "In the past, we have had very positive experiences with SENNEBOGEN," Schaefer continues. "They have provided us with efficient, purpose-built solutions. All three of these machines won us over with their durability, long service life and low operating costs."
Schaefer thanks SENNEBOGEN's "Green Efficiency" power system for the cost savings delivered by his mobile machines. "Its automatic Idle and stop controls reduce unnecessary fuel consumption. It also adjusts speed up or down, depending on the power required for the job. These make the scrap handler more efficient overall, and give us a competitive edge over the long term."
Company info
Related products
More from Metals Recycling
But we've been successfully sorting paper on the front end with optical sorters since 2005. Why have we been so successful? Because we know it's not JUST about the optical. We focus on your entire operation, so you make the most of your fiber line. Is your optical sorter living up to its potential? Call us at 203-967-1100 for a free system evaluation.
Traditionally, recyclers across Canada have sent a huge percentage of their recovered scrap metal to Hamilton, Ontario, or Pennsylvania in the U.S., via open-top rail cars and truck trailers. The scrap is then melted down and turned into new steel. This is still the case for much of our scrap steel, but recently the growing trend toward containerization has introduced new opportunities for efficient, cost-effective shipping of both non-ferrous and ferrous materials to overseas markets.