Recycling Partnership offers online tool to help clarify recyclable materials messaging
Customizable DIYSigns can help educate consumers at home, at work and at play, on what to recycle, what not, based on local capabilities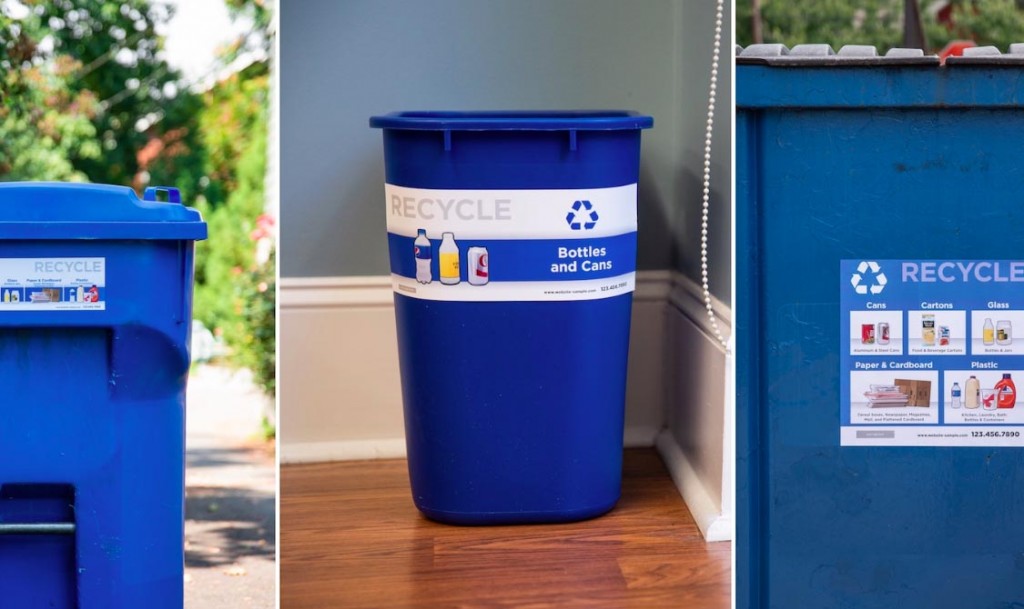 The Recycling Partnership has announced the public beta launch of DIYSigns, the debut of a free online resource that anyone can use to help people know what to throw into their recycling bins. Whether at home, at the office, at school, at a sports stadium, or anywhere, education is needed to show what is recyclable and where.
"We know that consumer confusion is one of the top reasons why trash still ends up in recycling bins and carts. Our community partners have asked for our help in creating free and customizable posters, labels and signs and we were happy to deliver. Anything we can do to help public and private sector recycling succeed is a boost for the industry," said Keefe Harrison, CEO of The Recycling Partnership, during her announcement onstage at the Resource Recycling Conference in New Orleans, La. "This tool, available to anyone who needs it, connects to our tested and proven campaign materials and will enable recycling programs to more easily deliver top-rate communications with their public."
DIYSigns is an online tool with editable templates available in a variety of sizes from a bumper sticker to a poster - to fit just right wherever it's needed. The tool is available by going to The Recycling Partnership's website and signing up with contact information at recyclingpartnership.org/DIYSigns. No special software is needed to edit the signs. Through the online tool, all sizes of the signs, labels, and posters can be customized for any company, any jurisdiction, and any type of recyclables.
"Engaging consumers on what can and cannot be recycled is key to limiting trash or other non-recyclables from making their way into recycling containers," said Cody Marshall, Chief Community Strategy Officer at The Recycling Partnership. "Residents need to be informed with clear, concise and consistent education in order for recycling systems to be successful. Our DIYSigns tool complements our other free resources and technical assistance to better inform residents on what they can recycle."
The Recycling Partnership offers technical, operational and educational assistance to communities in the form of free resources and grants to drive change in recycling programs across the country.
A great place to start is the Contamination Kit- it includes all the documents communities need to stimulate conversation and walks through how and when to use them. Second, the Campaign Builder helps customize and design a recycling education campaign.
All of these resources are offered free to anyone looking to transform recycling in their community for good, and help North Americans waste less and recycle more.
More from Collection & Hauling
Single-Ram and II-Ram High-Capacity Balers
At Machinex, we've been designing sorting systems for over 35 years, so we know how essential it is for MRF operators to have a baler they can trust and not worry about its operational reliability. This is why we design and manufacture reliable single-ram and II-ram high-capacity balers to specifically help optimize their operations.
Watch the video of our expert who presents the main features of Machinex balers delivering these important benefits:
Easy & accessible maintenance
Reduced maintenance & bale handling costs
Energy savings
Optimal bale density
For C&D recyclers, waste haulers, demolition contractors and landfills, there is a growing opportunity to profit from rethinking processes. Although every operation is different, by streamlining the front end of the C&D operation processes with purpose-built technologies, recyclers can tap into new end markets, accommodate higher material volumes, stay ahead of regulatory restrictions, increase recovery rates and add commodity revenue, while decreasing labor and other costs.
Download the new eBook to learn about:
Finding opportunities in the alternative to landfilling C&D
How facilities can increase their profits from C&D
Using the right C&D processing technology in the right locations