Wet processing technology key to enhanced C&D recycling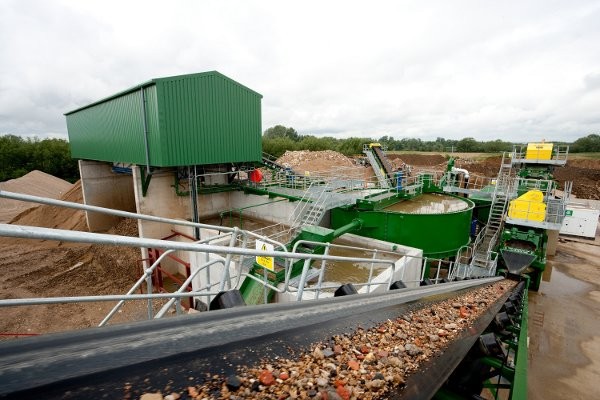 Sheehan Haulage & Plant Hire, part of The Sheehan Group, is a UK-based contractor specializing in sustainable and recycled aggregates, waste removal, as well as civil engineering and equipment supply, among other endeavours. The company recently announced an enhancement to their C&D waste recycling infrastructure in Oxford, England, following a multi-million pound investment in a new wet processing (washing) plant from CDE Global. The Sheehan Group originally proposed a new waste recycling plant in 2006 and the plant was finally commissioned in June 2012.
"We knew that there was a need for investment in more advanced recycling technology for construction and demolition waste in the Oxford area and fought for five years to have this recognized," says Chris Sheehan, Managing Director of The Sheehan Group.
"While we regret the loss of 500,000 tonnes of C&D waste recycling due to the planning process we are now pleased to say that the new plant offers our customers a greatly improved product offering with a wide range of high value applications."
Before operating from their new 150-hectare complex The Sheehan Group had an existing recycling facility at Slape Hill, near the village of Woodstock on which the lease expires in 2014. This facility employed dry crushing and screening to process 60,000 tonnes per year of C&D waste which was primarily applied in low value applications such as cover or general fill.
"The enhanced recycling capability that our new washing plant offers enables us to progress this material up the waste hierarchy and offer a real alternative to virgin aggregates," explains Tara Sheehan, The Sheehan Group.
According to The Sheehan Group, prior to the start up of their new facility, 50,000 tonnes of C&D waste was being sent to landfill each year as a result of their limited capability. Now, all of the C&D waste material that The Sheehan Group handles is processed through their CDE washing plant, and their licence permits 100,000 tonnes per year.
The process
Sheehan's new washing plant contains a range of equipment from the CDE Global product portfolio including a feed system, AggMax portable logwasher, Prograde aggregate screens and an Evowash sand washing plant. In addition the system employs full closed circuit water recycling, including an Aquacycle thickener and GHT Filter Press.
As material is delivered to the plant an overband magnet on the feed conveyor removes any metals before it is sent to the AggMax. This involves four stages of processing on a single unit – pre-screening, attrition, trash removal and aggregate dewatering. The pre-screening stage allows for any -5 mm particles to be liberated and delivered to the sand washing phase. The +5 mm aggregate material enters the integrated Rotomax logwasher and is subjected to a high level of attrition from the twin shaft machine. This further liberates more -5 mm material while also floating off any lightweight contamination at the rear of the unit. This is subsequently dewatered on the trash screen and while the trash material – plastics, polystyrene, rubber and wood – is discharged into a bay, the -5 mm material and wastewater are also sent to the Evowash sand washing plant to maximize recovery of the sand fraction.
As the scrubbed aggregates are discharged from the Rotomax they are delivered to a dewatering screen where they are given a final rinse before being sent to an aggregate sizing phase. At this stage a Prograde P275 dry sizing screen produces four recycled aggregate products: 5-10 mm, 10-20 mm, 20-40 mm and +40 mm. The -5 mm material is washed to produce two recycled sand products via the Evowash 102 dual sand plant.
The results
Fully operational since June 2012 the Sheehan Group reports that their CDE washing plant has achieved what was intended, with all of their recycled sand and aggregate products proving very popular with customers. The end uses for the material to date have included pipe bedding, drainage material and paving, with recycled sands being applied in concrete manufacture and concrete block making. Approximately 50 percent of the material overall is used by the Sheehan Group on its own construction and civil engineering projects with the remaining 50 percent sold to the local private construction market.
"We are transporting material within a 25 mile radius when using it on our own projects but haulers collecting material ex-pit are moving it further than this," explains Sheehan. "All the demand at the minute has come from the private sector, but we are currently tendering with various local authorities in the hope that they will come on board and embrace the use of recycled materials on their projects."