Multi-Stream Recycling Stations allow fast and easy source separation of recycling streams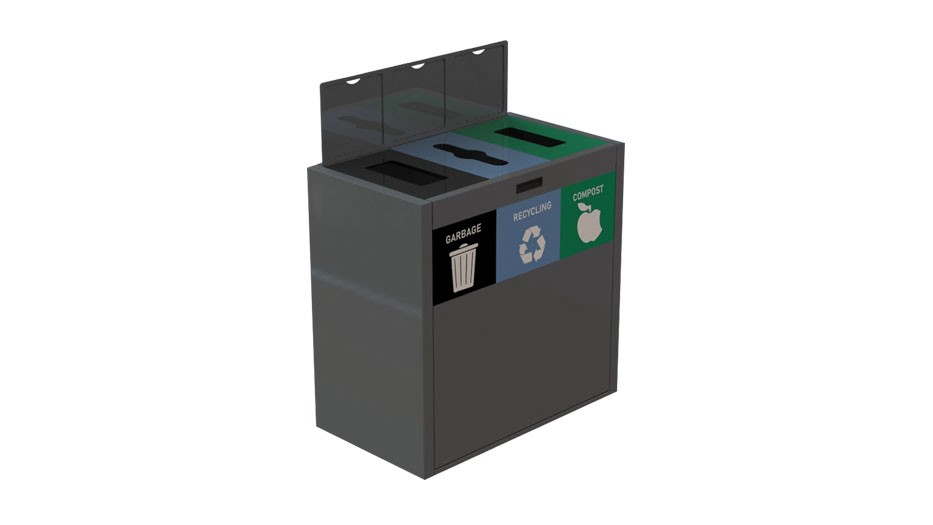 Paris Site Furnishings introduces the MSRS series Multi-Stream Recycling Station for the fast and easy source separation of recycling streams. Available with 3 - 23 gallon-per-stream containers, or 2-34 gallon-per-stream containers, these user-friendly recycling stations feature a large graphics area above each container opening to clearly identify its intended contents. A recessed plastic pull handle on the front panel allows quick access to the durable plastic containers for servicing, while gas assist dampers are included for assisted door opening. Well suited for high-traffic areas indoors or outside, Multi-Stream Recycling Stations are ideal for collection of recycling streams in parks and recreational areas, streetscapes, public areas, corporate campus settings, retail/mall environments, schools and institutions, sports venues, hotels/motels, and other environmentally friendly areas.
Manufactured of Galvanized sheet metal which is coated with durable polyester powder coating in a variety of standard colors or custom colors to match existing color schemes. Measuring less than 42-inches wide and less than 2-feet deep, these compact units easily fit within existing environments.
Manufactured in Princeton, ON and available factory direct or through distributors and dealers throughout North America.
Paris Site Furnishings and Outdoor Fitness manufactures a broad range of aesthetically pleasing, comfortable, functional and durable site furnishings. Their benches, waste and recycling receptacles, picnic tables, shade structures, planters, bollards, and bike racks, are available in varied materials including steel, hardwood, aluminum, and recycled plastic. In addition to standard products and designs, custom designs are available to suit any need. Whether custom or standard, Paris Site Furnishings create lasting impressions within parks, streetscapes, schools and universities, retail or corporate environments, public venues, transit facilities, sports venues, green spaces, and more. In addition to site furnishings, they manufacture a full line of outdoor fitness equipment, providing a revolutionary way to exercise outdoors. All products are manufactured with a combination of modern technology and personal craftsmanship, using the finest materials and adhering to strict standards.
Company info
Related products