VIZIO receives distinguished e-Stewards enterprise designation
Representative also elected to e-Stewards leadership council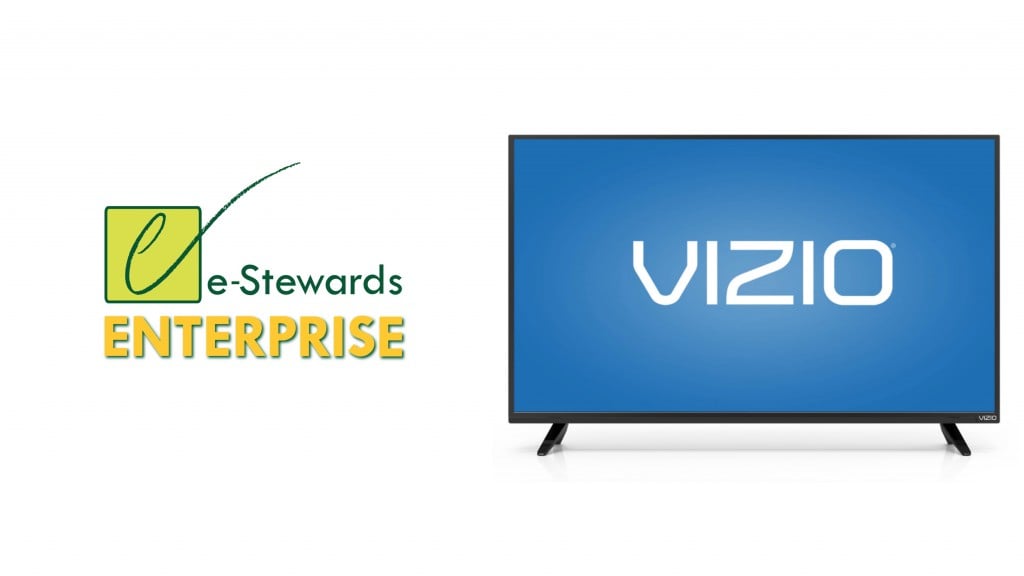 VIZIO, a manufacturer of high-definition televisions (HDTVs) recently joined the elite list of e-Stewards® Enterprise companies. e-Stewards Enterprises are corporations and institutions committed to using the world's most globally responsible electronics recycling companies that are certified to the e-Stewards Standard. The e-Stewards standard is the only electronic waste recycling and refurbishment standard that disallows exporting hazardous electronic waste to developing countries and employs the most rigorous criteria to prevent data breaches from discarded hardware.
Besides being one of the leading manufacturers of consumer electronic products, VIZIO is a company known to be passionate about reducing the industry's overall environmental impact. They have committed to the green design of their product lines, including ensuring easy and responsible ways to refurbish, reuse and recycle their electronics. In the past five years, VIZIO has recycled more than 200 million pounds of electronic waste.
"VIZIO has had a long-standing commitment to using third-party certified recyclers and collaborating with other organizations to protect the environment through the responsible recycling of electronic waste," said Caitlin Sanchez, Senior Counsel of Social Responsibility and Regulatory Affairs for VIZIO. "Joining e-Stewards as an enterprise organization aligns perfectly with VIZIO's goal of improving the overall global landscape for responsible recycling by working in tandem with other brands and stakeholders who are equally as environmentally-conscious."
In addition, e-Stewards is proud to announce that VIZIO's Ms. Caitlin Sanchez has been elected to serve on the e-Stewards Leadership Council. Other e-Stewards Enterprise companies serving on the prestigious advisory body include Iron Mountain, Bank of America, Wells Fargo, Samsung, LG, and Sony.
"We are thrilled to have VIZIO fully embrace our efforts to foster a new ethical circular economy," said Jim Puckett, Executive Director of the Basel Action Network - creator of e-Stewards. "They are clearly one of the electronics industry's leaders and we have been impressed to see that market role translate to leadership in maintaining the highest levels of environmental and social standards as well."
e-Stewards Certified recyclers undergo rigorous third-party audits annually to ensure they do not export hazardous byproducts to developing nations or dump in municipal landfills. To further verify strict conformity with proper recycling, e-Stewards recyclers agree to be subject to unannounced inspections at any time, as well as the random, clandestine use of GPS trackers to track their e-waste flows downstream. e-Stewards Certified recyclers also ensure that confidential personal and business data is securely and completely sanitized, and that their operations protect workers and the environment.
Besides the gold recycling standard, e-Stewards offers partnership programs including the e-Stewards Digital Equity program, which fosters re-use for community good by refurbishing computers for the needy, and the recently announced partnership with NAID (National Association for Information Destruction) to enhance responsible data management. Last year e-Stewards also began offering Enterprise companies the EarthEye™ GPS tracking program as an adjunct program to ensure downstream due diligence.